Vietnam, Cambodia beef up defense ties
Phnom Penh |

Mon, June 6, 2016

| 09:38 pm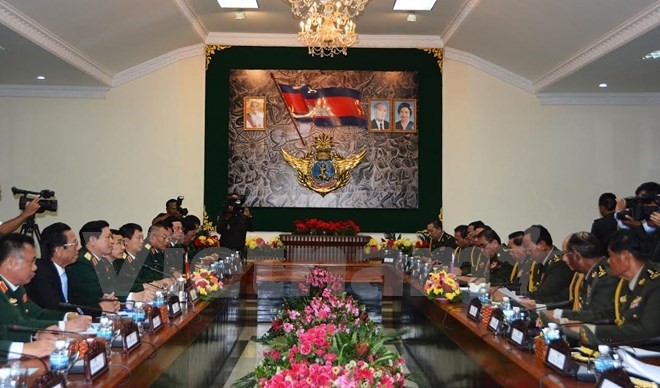 Vietnam's Defense Minister General Ngô Xuân Lịch and Deputy Prime Minister and Minister of National Defense of Cambodia General Tea Banh meet in Phnom Penh Sunday. (.VNA/VNS/-)
Vietnam and Cambodia have agreed to fully and effectively actualize protocols on defense cooperation in order to enhance mutual understanding and trust, ensure a peaceful and stable environment for their economic development and foil plots to weaken their relations.
To that end, they will conduct regular exchanges of information and delegations in all areas, as consented by Vietnam's Defense Minister General Ngô Xuân Lịch and Deputy Prime Minister and Minister of National Defense of Cambodia General Tea Banh during their talks in Phnom Penh on Sunday.
They will also cooperate in protecting land and marine border security and create optimal conditions for border demarcation and marker planting by competent agencies.
In a parallel effort, the two sides will coordinate with each other more closely to prevent cross-border crimes, facilitate border trade and share experience in training.
General Lịch affirmed Vietnam's consistent policy of developing friendship and comprehensive cooperation with other countries, especially in traditional friends and neighbors.
The guest said his selection of Cambodia as one of the first countries to visit in his capacity as Defense Minister showed that Vietnam attached great importance to the friendship and all-round cooperation it has with the nation.
Tea Banh said Lich's visit was significant as it helped accelerate the implementation of bilateral defense agreements and charted orientations and measures for the collaboration, continuing defense links as one of the pillars in relations between the two countries.
During his two-day official friendly visit to Cambodia, the Vietnamese minister was received by President of the National Assembly Heng Samrin and Prime Minister Hun Sen on Wednesday.
The Cambodian leaders promised to create the best possible conditions for the bilateral defense links on the basis of agreements reached by the two Governments and defense ministries.
For his part, Lịch said the Vietnamese defense ministry would continue the close and effective partnership with its Cambodian counterpart in order to contribute to the two countries' relationship.– VNS
You might also like :
Comments