Laos, Vietnam to further enhance special ties
Phaisythong Chandara

Vientiane Times/ANN
|

Thu, June 9, 2016

| 09:22 am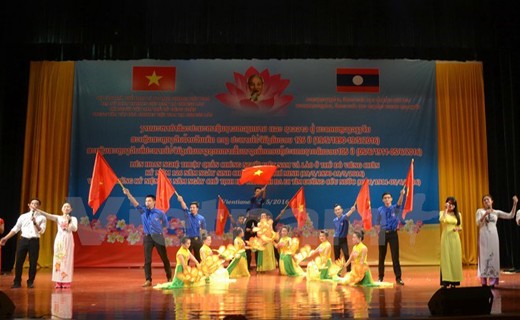 A performance of the Vietnam-Laos amateur art program. (VNA/-)
Laos and Vietnam will jointly organize various activities to mark the 55th anniversary of the establishment of diplomatic relations between the two countries next year.
The two parties have plans to work together to join celebration the 40th anniversary of the signing of the Lao-Vietnamese Treaty of Friendship and Cooperation in 2017.
The two governments will also closely work together to enhance their cooperation ties in supporting each other on the regional and international stages.
This information was outlined Wednesday by the Lao Ministry of Foreign Affairs during the visit to Vietnam by Minister of Foreign Affairs Saleumxay Kommasith and his delegation from June 8-10.
The short-working visit of Saleumxay and his delegation was in response to an invitation by Vietnamese Deputy Prime Minister and Foreign Minister Pham Binh Minh.
The visit's aim was to reflect the special friendship ties and to strengthen the friendly relations between the two countries, especially the two ministries.
Another objective was to expand cooperation to further foster the friendship between the two countries.
The ties between Vietnam and Laos are of great importance to the Parties, states and people of the two countries, and have made significant contributions to maintaining independence and political stability, as well as raising the countries' prestige in the region and the world.
During meeting with his counterpart, the two countries highly valued their bilateral cooperation, especially in the fields of political, defense, security, economic, information and culture, as well as external relations.
Citing the cooperation ties, Vietnam has reaffirmed its commitment to assist and support Laos to host the ASEAN Chairmanship in 2016.
Besides that, the two nations have agreed to the on-going implementation of various agreements, especially the agreements of the two ministries from 2014-2020 as well as the MOUs among the departments and future cooperation plans in their respective fields of interest.
Laos and Vietnam have seen many great achievements in cooperation towards each other's development, recorded high economic growth and markedly improved their peoples' living conditions.
The two countries have effectively implemented various economic cooperation projects, including construction, hydropower, roads, and rubber plantation projects.
The traditional friendship, solidarity and comprehensive cooperation between Laos and Vietnam has been consistently consolidated and developed in both scale and depth in the fields of politics, economics, culture, security, national defense and external relations.
The two countries welcomed concrete progress in deploying the comprehensive cooperation between the two countries, particularly the advances in economic cooperation in trade and investment, transport, energy, hydropower, industrial tree-planting, and mining.
During this visit to Vietnam, Saleumxay and his delegation will take the opportunity to pay a courtesy visit to Vietnamese President Tran Dai Quang and Vietnamese Prime Minister Nguyen Xuan Phuc.
Saleumxay and his delegation will also take the opportunity to visit tourist sites and other places in Vietnam.
Topics :
You might also like :
Comments