Muslim insurgency being waged in Myanmar
Dhaka |

Thu, December 15, 2016

| 05:43 pm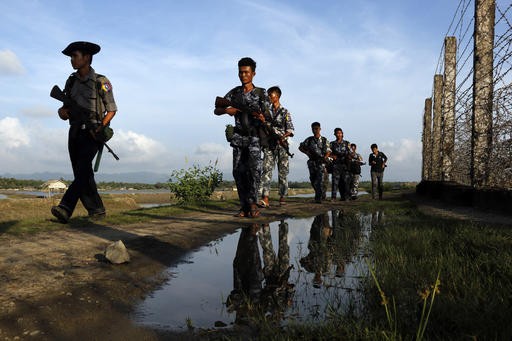 Myanmar police officers patrol along the border fence between Myanmar and Bangladesh in Maungdaw, Rakhine State, Myanmar, Oct. 14, 2016. (AP/Thein Zaw)
Important new details about the situation in western Myanmar have been revealed through International Crisis Group's interviews with several members of the armed group that carried out attacks against government forces in October and November and also other sources, says a report of Time magazine.
The group, which refers to itself as Harakah al-Yaqin or Faith Movement in Arabic, was established after the deadly riots between Buddhists and Muslims in 2012.
Some 200 people were killed and more than 120,000, almost all of them Muslim were displaced in the conflicts. Most have long been denied citizenship and they face draconian restrictions on freedom of movement.
This new armed group is overseen by a committee of Rohingya émigrés based in Mecca. The public face of its operations in northern Rakhine State is Ata Ullah (known by several aliases), who is the main speaker in several videos released by the group.
He was born in Karachi to a Rohingya father and grew up in Mecca. He is part of a group of 20 Rohingya who have international experience in modern guerrilla warfare and are leading operations on the ground in northern Rakhine. Also with them is a senior Islamic scholar, Ziabur Rahman, a Saudi-educated Rohingya mufti with the authority to issue fatwas, according to the report.
To enhance its religious legitimacy further, al-Yaqin has obtained fatwas from senior clerics in Saudi Arabia, United Arab Emirates, Pakistan and elsewhere, giving backing to its cause under Islamic law.
This has helped the group gain significant support among Rohingya in northern Rakhine. It has spent at least two years training hundreds of local recruits in guerrilla warfare and explosives.
Several hundred Rohingya refugees in Bangladesh have also traveled to Rakhine in recent weeks to join up. The current heavy-handed security response is very unlikely to dislodge al-Yaqin; rather, it is creating further despair and animosity among the population, which may further entrench violence.
The emergence of this well-organised and apparently well-funded group is a game-changer in the government's efforts to address the complex challenges of Rakhine State, the report mentions.
Though there have been some small insurgent groups in recent decades, mostly based out of Bangladesh, in Myanmar, the Rohingya have never been a radicalized population, and the majority have eschewed violence, seeing it as counterproductive to improving their lot.
But impoverished and oppressed, they struggle to survive and have little hope for their future; over the past year, the sense of desperation has been increasing.
Though there are some indications of training and solidarity links with international jihadist organisations, the aims and actions of al-Yaqin involve insurgency against security forces, rather than being terrorist or transnational jihadist. It has not attacked civilians or religious targets. Its stated aim is to secure the rights of the Rohingya as citizens within Myanmar — although its violent approach has set back that cause immensely.
Its tactics are sophisticated. On October 9, it launched predawn attacks on three border police bases, including an audacious assault on the headquarters, a key security installation.
The headquarters was overrun in a complex attack involving several hundred assailants that included planting improvised explosive devices and setting an ambush on the approach road, delaying the arrival of army reinforcements, while the attackers looted the armoury.
A further clash on November 12 killed a senior army officer. These actions represent the actions of a determined, well-trained insurgency that will likely launch further attacks.
Feeling its dignity affronted and taking casualties, the military employed disproportionate force and failed to adequately distinguish attackers from civilians.
At least 1,500 homes have been burned down — almost certainly by the military, according to satellite analysis released by Human Rights Watch on December 13.
Some 30,000 have been internally displaced and 27,000 have so far sought refuge in Bangladesh. The area where the military is focusing its crackdown has been almost entirely sealed off, which has made it difficult to verify multiple allegations of serious human-rights abuses; but as more people arrive in Bangladesh, a clearer picture is starting to emerge.
Aung San Suu Kyi has said little publicly on the situation, has not travelled to the area or criticised the crackdown. The state media she controls have issued blanket denials of abuses, risking reinforcing the impunity of troops on the ground. And tensions with the Muslim world are rising.
This article appeared on The Daily Star newspaper website, which is a member of Asia News Network and a media partner of The Jakarta Post
You might also like :
Comments