Indonesia to make Riau Islands hub for economic diplomacy
Tama Salim

The Jakarta Post
Jakarta |

Tue, April 11, 2017

| 08:05 pm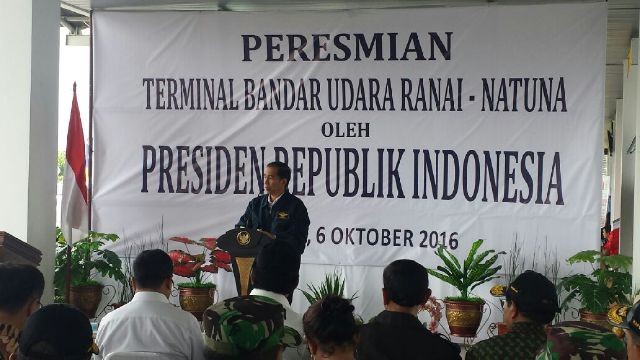 President Joko "Jokowi" Widodo speaks during the inauguration event of new terminal of Ranai Airport in Natuna of Riau Islands province on Oct. 6, last year. (JP/Fadli)
The Foreign Ministry, in cooperation with the Riau Islands provincial administration, plans to make the archipelagic province a hub for Indonesia's economic diplomacy.
Riau Islands province comprises 2,408 islands, including Natuna Islands, a stretch of resource-rich islands jutting at the frontiers of the South China Sea and bordering Vietnam, Cambodia, Singapore and Malaysia.
During a promotional event highlighting the province on Tuesday, Deputy Foreign Minister AM Fachir announced that the government would make Riau Islands a hub for Indonesia's foreign dealings.
"Last year we organized the first ever event in Riau Islands, where we managed to gather ambassadors from Jakarta and Singapore," Fachir said in his opening remarks.
"This will become our annual event, with the blessing of Pak Governor," he added, referring to Riau Islands Governor Nurdin Basirun, who will host a gathering of envoys in October.
Fachir stressed the important role foreign ambassadors played in helping promote Indonesia in their home countries.
Jakarta and the Riau Islands provincial administration would continue brainstorming new ways of packaging the region's economic potential and improving ease of conducting business, he said.
Meanwhile, Nurdin said his administration was well aware of its proximity to Indonesia's neighbors, particularly its maritime borders in the South China Sea.
He thanked the ministry for helping them to promote Riau Island's potential in a green economy, tourism and other business sectors such as the maritime industry.
"We would like to support the nation's movement," he said, referring to a global maritime fulcrum plan launched by President Joko "Jokowi" Widodo.
Topics :
You might also like :
Comments