Baby elephant killed in Malaysian highway accident
News Desk

The Star/Asia News Network
Ipoh, Malaysia |

Mon, June 19, 2017

| 03:09 pm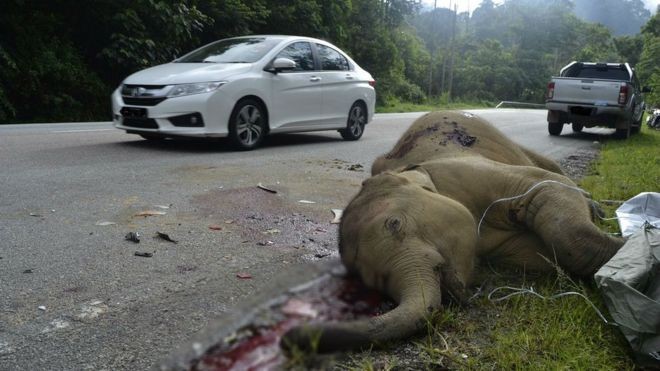 Activists say elephants are increasingly being seen near busy Malaysian highways (The Star /Alicia Solana Mena/ MEME)
A two-year-old elephant was found dead in a pool of blood by the roadside of the Gerik-Jeli Highway in Gerik, some 130 kilometers from Ipoh.
Perak Department of Wildlife and National Parks (Perhilitan) director Loo Kean Seong said state officers found the carcass at around 7 a.m. last Friday.
"While incidents like this do not happen often, we would like motorists to be extra careful when driving along this highway.
"We have already erected signboards to notify motorists that there would be elephant crossings along the stretch of the highway, so they need to be more responsible, especially when they are driving late at night or early in the morning," said Loo.
Loo also urged motorists throughout the country to report to their respective state Perhilitan if they knocked into any endangered or protected species like elephants, tigers, tapirs or leopards.
"This is so that we can at least investigate and bury the carcass instead of leaving it to rot at the roadside," he added.
Ecotourism and Conservation Society Malaysia (Ecomy) co-founder and chief executive officer Andrew Sebastian said the particular stretch of the highway itself should be viewed as a heritage road with potential for ecotourism.
Join the discussions