Bali tourism development getting out of control: Communities
Ni Komang Erviani

The Jakarta Post
Denpasar, Bali |

Fri, April 8, 2016

| 02:05 pm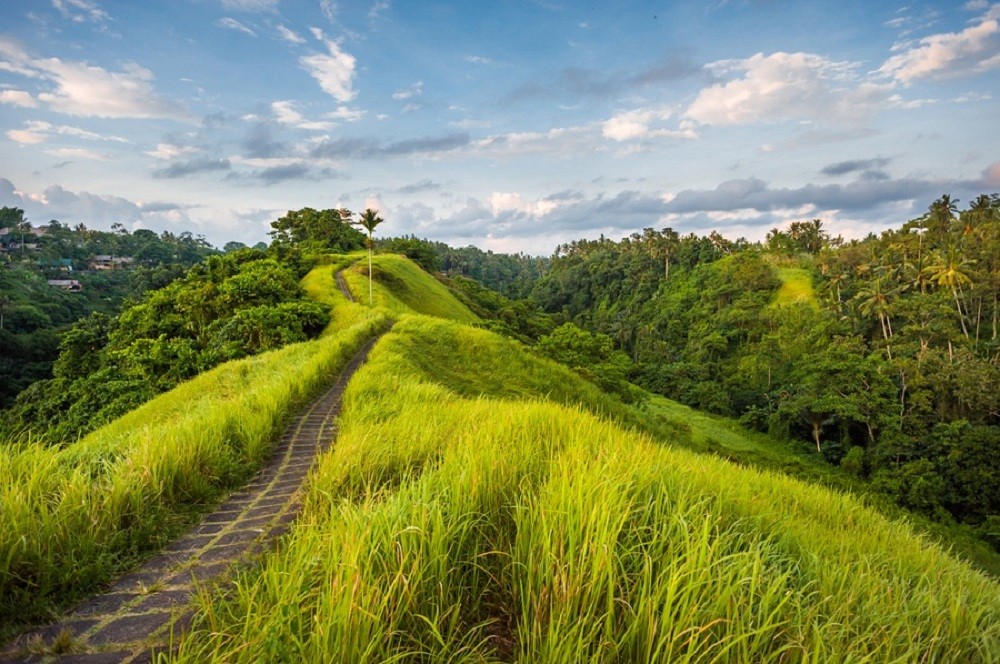 A stone road at the top of a hill in Ubud, Bali. Agung Suryawan Wiranatha of the Bali Community Leaders Alliance (ATMB) says government policies are needed to control the rapid development of Bali tourism. (Shutterstock/-)
Balinese community leaders have called on the government to implement policies that encourage sustainable tourism on the island.
"We urgently need government policies to seriously take control of the rapid development of Bali tourism," said Bali Community Leaders Alliance (ATMB) coordinator Agung Suryawan Wiranatha.
Established last year, many Balinese community leaders have joined in the alliance, including tourism practitioners.
Agung said ATMB had given several recommendations to government institutions, including the Tourism Ministry and Bali Tourism Agency regarding the suggested policies.
Among the alliance's recommendations is a moratorium on new hotel construction in southern Bali. It said that Bali needed to stop developing new tourist accommodation for at least the next five to 10 years.
"The increasing number of tourist accommodation in Bali has caused unfair business competition, which led to a hotel price war," Agung said.
The Indonesian Hotel and Restaurant Association (PHRI) Bali chapter recorded a total of 120,000 hotel rooms across Bali at the end of 2015, most of which were located in southern Bali. The agency alleged that many people offering rooms had not obtained the necessary permits to do so.
PHRI Bali chairman Tjokorda Oka Artha Ardhana Sukawati said the price war had hit Bali's tourist sector, as many new hotels were offering low prices. An oversupply of hotel rooms has also caused low occupancy.
"The average hotel occupancy rate is now around 60-70 percent. If this situation persists, many hotels will cease operations," said Ardhana, who is also a member of the alliance.
The increasing number of tourists to the island in the last decade has boosted tourism-related investment. Bali has seen 15 percent foreign tourist arrival growth each year.
Last year, more than 4 million foreign tourists visited the destination, excluding foreign tourists traveling to Bali indirectly via domestic flights and sea transportation. The island also welcomed at least 7 million domestic tourists in 2015.
"Unfortunately, the development of Bali tourism is not being controlled. We allege that there are many hotels operating without legal permits. The development of new facilities also tends to damage the surrounding environment," Agung said.
Besides a moratorium on new hotel construction, the alliance also urged the government to consistently enforce Bali's spatial planning and culture tourism bylaws, which were aimed to protect the region's culture and nature from uncontrolled development.
Bali's 2009 spatial planning bylaw offers stronger protection for the island's ecological integrity by strictly regulating development plans at vulnerable sites such as the construction of tourist and business facilities near sacred sites, on cliffs, riverbanks, lakeshores and coastlines.
The alliance also urged the government to implement the one island management principle for Bali.
"Bali is a small island with limited natural resources. It should be managed properly as one island," Agung said.
"Priorities should be given to tourism development in the northern, eastern and western part of Bali. We urge the government to improve transportation infrastructure to ease access to other parts of Bali," he added.
You might also like :
Comments