Singapore Airlines rolling out more planes with premium economy cabins
Karamjit Kaur

The Straits Times/Asia News Network
Singapore |

Tue, January 3, 2017

| 02:21 pm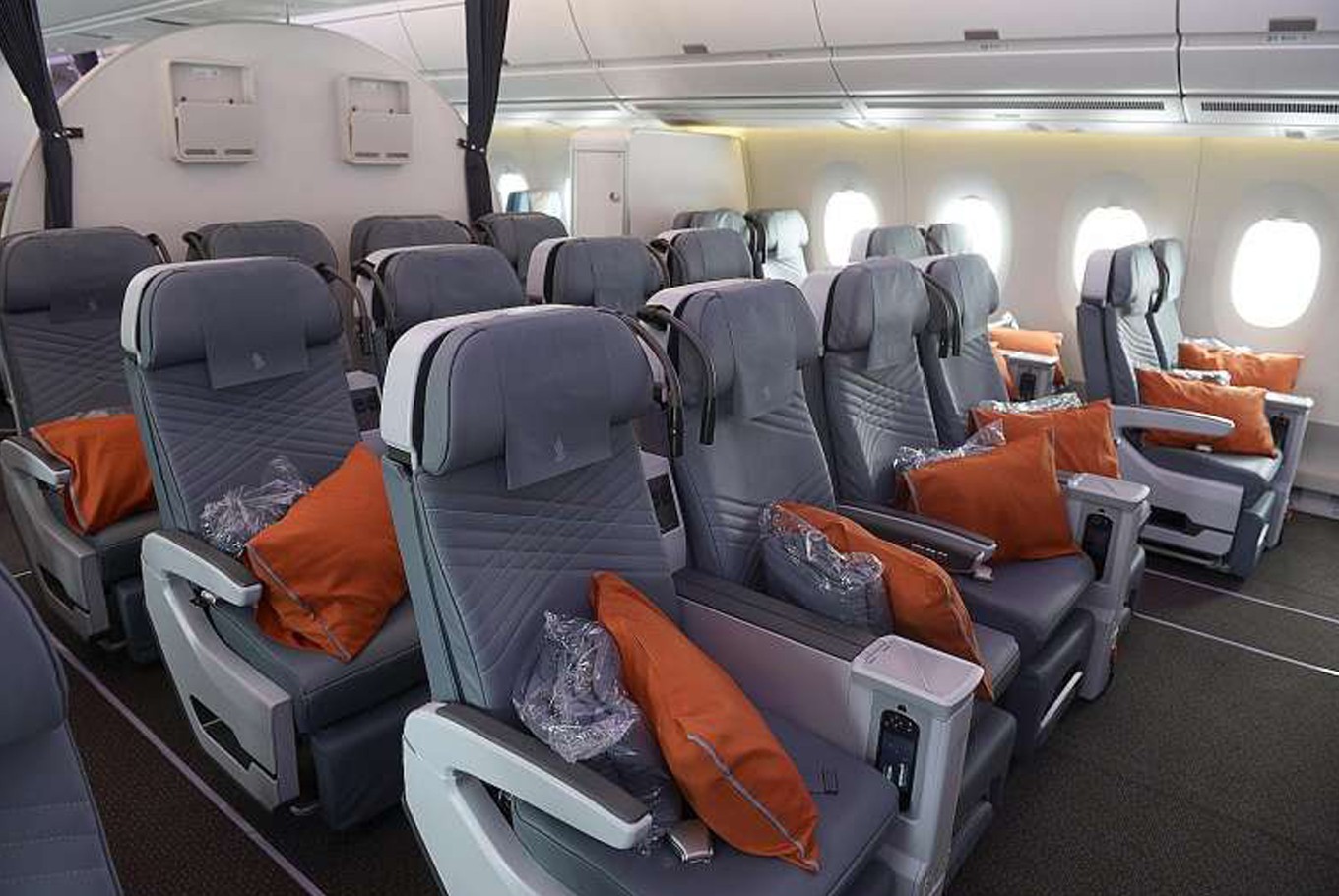 Singapore Airlines' premium economy cabins boast features such as wider seats with greater recline and more legroom, as well as perks that include better food. (The Straits Times/File)
Singapore Airlines (SIA) is banking on premium economy services to entice travelers to pay more for extra comfort.
About four in 10 SIA planes now offer the service, slightly more than a year since it rolled out premium economy cabins, which offer perks such as more legroom and better food.
And the carrier said it will continue to retrofit more aircraft with such cabins to meet travelers' needs.
Demand is especially strong on long-haul routes, said SIA spokesman Nicholas Ionides.
The premium economy cabin includes features such as wider seats with greater recline and more legroom.
First introduced more than two decades ago, such cabins are now found on more than 50 carriers worldwide, including American, European and Asian airlines.
(Read also: Interesting facts about your in-flight meals)
Apart from SIA, airlines that have rolled out such cabins in recent years include Hong Kong's Cathay Pacific, which introduced them in 2012.
Middle Eastern airlines, which have so far resisted the option, are now considering it as well.
Premium economy services have caught on as they are popular with travelers who do not mind paying more for extra comfort, especially on long-haul flights.
Cost-conscious businesses are also turning to them as an option for their executives on work trips, experts said.
A premium economy ticket can cost up to 1 ½ times more than the economy fare, though this also varies depending on routes and time of travel.
"The difference between the economy and premium economy fares for last-minute bookings can reduce significantly to just around 20 per cent to 30 per cent in some cases," said Akshay Kapoor, director (Asia-Pacific) at CWT Solutions Group, which manages travel for corporate clients.
While most airlines have taken a keen interest in the premium economy product, most tend to roll this out rather cautiously, he said.
(Read also: Four common traits of Indonesian tourists)
The number of premium economy seats is typically below 10 per cent of the total number of seats on the aircraft, said Kapoor.
One concern that airlines have is that instead of economy travelers upgrading, business travelers could end up downgrading.
Brendan Sobie, a Singapore-based analyst at the Centre for Aviation think-tank, said: "The idea is always to get economy class passengers to upgrade rather than to cannibalise business class.
"However, there is always some cannibalisation - generally not a significant amount but there's always the risk."
At Cathay Pacific and SIA, premium economy passengers are a mix of those who have downgraded from business and those who used to fly economy but are increasingly drawn to premium economy, especially on long-haul flights to North America and Europe, for example.
(Read also: Qantas to make Sydney-Denpasar flights available all year long)
However, given the uncertain global economic outlook, experts expect more business travelers to downgrade.
Kapoor said: "With continued economic uncertainty expected over the next few quarters, we believe that organisations will increasingly be seeking avenues to drive savings in their travel spend without having to cut down on the amount they travel.
"Taking premium economy over business class could save 60 to 70 per cent of the airfare and allow for more trips to a destination for the same dollar amount."
Rayman Som, 51, a human resource director who travels four to five times a year, has flown twice on SIA's premium economy class on company expense.
He said he took a short flight to Hong Kong the first time, so it did not make much difference. But he flew to Paris the second time and it proved a different experience.
"The wider seat, more legroom and greater recline were much welcomed on the longer flight," he said.
He added: "Would I pay out of my own pocket for premium economy? For a short flight, no. For longer journeys, it makes sense if the price is right. I think 30 to 40 per cent more is reasonable."
Topics :
This article appeared on The Straits Times newspaper website, which is a member of Asia News Network and a media partner of The Jakarta Post
You might also like :
Comments