Enjoy Nyepi at these 6 hotels
News Desk

The Jakarta Post
Jakarta |

Mon, March 20, 2017

| 01:21 pm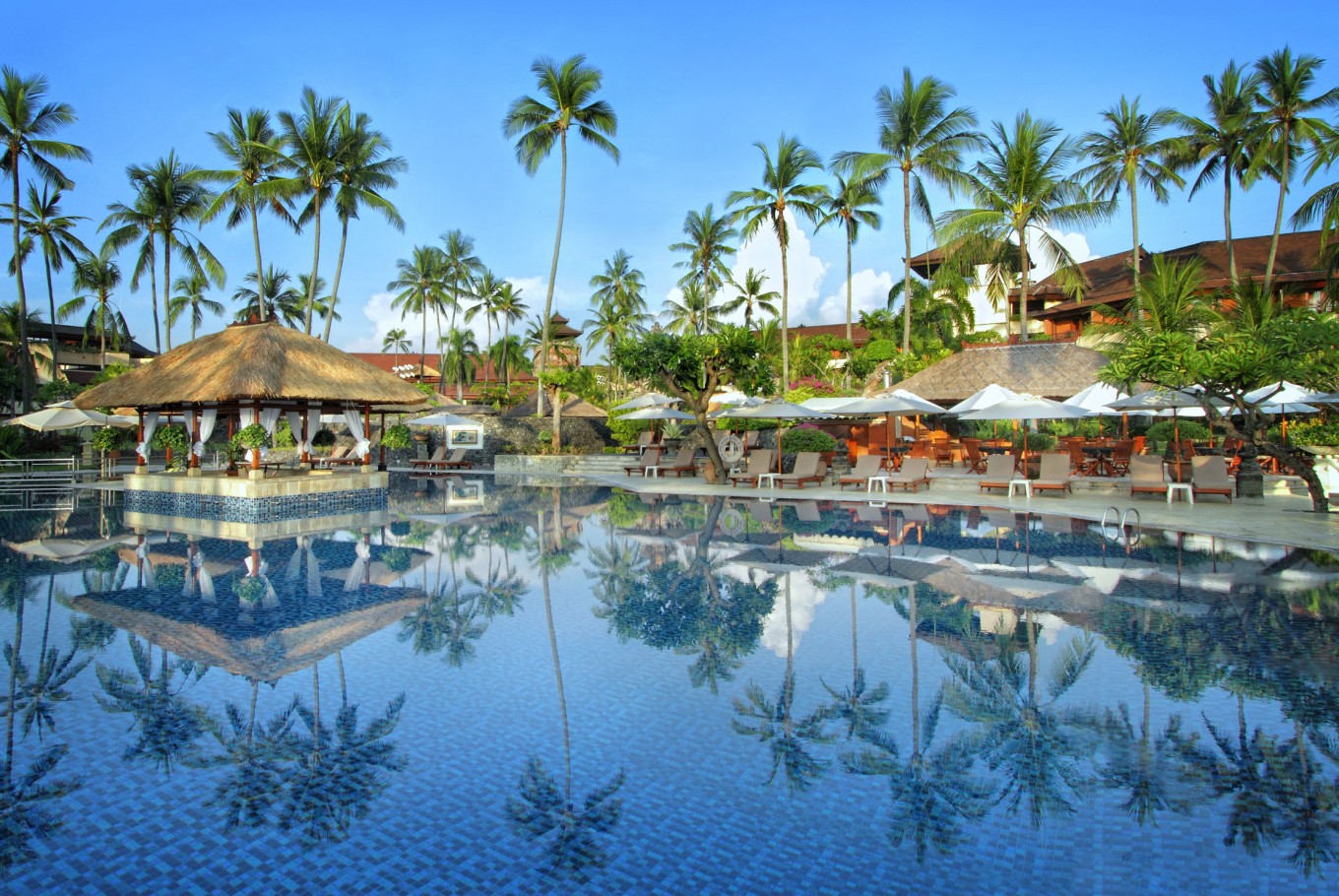 Swimming pool at Nusa Dua Beach Hotel and Spa in Nusa Dua, Bali. (Nusa Dua Beach Hotel and Spa/File)
Nyepi (Hindu Day of Silence) is commemorated every year in Bali. This year's Nyepi falls on March 28.
This special moment is also the perfect time for individuals to get away from the noise of everyday life.
The ANVAYA Beach Resort Bali
The dazzling blue ocean view and tranquil breezes of the ANVAYA Beach Resort Bali provide a serene backdrop for reflective moments, making it the perfect location to rest and rejuvenate after being worn out by long days of unending activities.
The resort's package offers a two-night stay in a deluxe room inclusive of one lunch of Asian and Western dishes and one Rp 100,000 beverage voucher with a room rate of Rp 3,300,000 (including tax) per night.
The resort's Nyepi package offers more than just special room rates: on March 27, a day ahead of Nyepi observation, the hotel will feature an ogoh-ogoh (Balinese giant effigies) parade symbolizing the exorcism of demons from a village.
Contact [email protected] or call ( 0361 ) – 759991.
Hilton Bali Resort
Enjoy the local tranquility and breathtaking oceanic views from your room's balcony, as well as an extensive list of facilities and benefits the resort has to offer to you and your family members to unwind and relax on this occasion.
Benefits include a daily buffet breakfast for two. Guests are also entitled to a free special Nyepi buffet dinner for two adults and one child on March 28 at La Terrazza restaurant.
Children also get free access to the Jungle Kids Club, with its indoor and outdoor playgrounds, trampolines, rock climbing and other daily activities.
This offer starts from Rp 1.75 million ++ per night and is valid for a two-night-minimum stay, from March 27-29.
For further information and reservations, call ( 0361 ) 773377 or send an email to [email protected]
Conrad Bali
Luxury beachfront resort Conrad Bali is partaking in this religious occasion with a special package designed to help its guests enjoy an authentic Nyepi holiday during this day reserved for selfreflection.
A stay at the Conrad Bali during Nyepi makes for a unique experience. Nyepi is a special day when no one may roam the streets, work, make noise or turn on lights.
The Conrad Bali, with its 358 guestrooms and suites spread across four low-rise wings, offers tranquil beachfront surroundings. Each of these rooms boasts a private patio or balcony that offers panoramic views over the resort, ocean, lagoons or gardens.
A stay in a Deluxe Room with thoughtful services and luxurious amenities is available for US$299. Guests also have the option of picking a more luxurious Conrad Suite that offers an exceptional level of preferred treatment and special pampering, with rates going at $525.
This package provides guests with the best in facilities, entertainment and food. These rates are available for a three-day, two-night stay for guests arriving on March 27.
The promotion also includes a daily breakfast buffet, one-time lunch and one-time dinner for two guests.
By booking Conrad Suites, guests will experience breakfasts, evening cocktails, complimentary laundry and dry cleaning. Children under 12 get a complimentary extra bed.
Guests at the Conrad Bali can treat themselves to the resort's superb selection of Asian and international cuisine while enjoying a 15 percent discount. This offer is valid for guests throughout their stay.
For further details and reservations, e-mail [email protected]
Plataran
Experience the peacefulness of Bali amid the untouched nature of West Bali National Park. At the Plataran Menjangan Resort & Spa, guests can stay at a Luxury Ocean villa for Rp 6.75 million ++.
For those seeking an ultimate peaceful retreat in an authentically crafted villa that harmoniously blends with the Balinese surroundings, stay at Plataran Canggu Bali Resort & Spa at a One Bedroom Pool Villa at Rp 5.4 million ++.
Or stay in the heart of the island, Ubud, to meditate amidst lush greenery at The Plataran Ubud Hotel & Spa at a Deluxe Room for Rp 6.07 million ++.
A short flight away from Bali, head to Komodo Island and stay at Plataran Komodo Resort & Spa for a relaxing staycation at a Deluxe Beachfront Villa, priced at Rp 12.15 million ++.
Alternatively, plan a getaway to any of Plataran's Hotels & Resort outside of Bali located in destinations that feel a world away from the city, where Nyepi packages are valid for the entire month of March.
The Plataran Borobudur Resort & Spa offers authenticity and elegance at its Executive Suite starting at Rp 8.8 million ++ for two persons for three days and two nights.
Plataran Puncak allows you to escape the hustle and bustle of the city amidst the lush greenery of Gede and Pangrango mountains with panoramic vistas. A three day and two-night stay in a two bedroom villa starts from Rp 6.76 million ++ on weekdays and Rp 7.36 million ++ on weekends.
Nusa Dua Beach Hotel & Spa
A day before Nyepi day, the streets are filled with 'Ogohogoh' processions, a parade of demonic figures from bamboo and paper symbolizing negative elements or malevolent spirits. In Nusa Dua area, guests are welcome to join the carnival located within walking distance outside the Nusa Dua complex. Nusa Dua Beach Hotel & Spa's very own Ogoh-Ogoh display/ procession will take place from the hotel lobby to the beach on Monday, 27 March 2017 at 6 p.m.
During Nyepi, the Nusa Dua Beach Hotel & Spa has a list of restrictions it will put into place to respect this religious day. Guests are required to stay within the resort's grounds but they still can use the beach garden and pool area. Using the beach or swimming in the ocean is not allowed from 6 a.m. on March 28 until 6 a.m. the following day.
As for the hotel services, some restaurants open until 5 p.m. but Room Service is available for 24 hours and a Nyepi buffet dinner is offered at Wedang Jahe Restaurant.
Nusa Dua Beach Hotel & Spa has created a very special 2-night Nyepi package to experience the day of silence, a very important date on the Balinese Hindu Calendar. Please visit www.nusaduahotel.com for more information. For reservations, please email to [email protected] or dial +62 361 771210.
Ayodya Resort Bali
Its "AYODYA – Silence Day" package provides a two nights stay between March 27 and 29, along with daily breakfast and complimentary lunch and dinner buffets on Nyepi.
This offer is priced at Rp 3 million for a Deluxe Room and Rp 3.6 million for a Grande Room, plus an additional 21 percent for tax and services.
The resort will provide guests with activities during Nyepi, such as billiard tournaments, dart tournaments, ping-pong tournaments and fun for the kids, such as fish feeding and treasure hunts. For more information or to make a booking, e-mail [email protected] or call ( 0361 ) 771102 extension 3912. Visit the website www.ayodyaresortbali.com
Join the discussions