Jakpost guide to Pasar Baru
Jessicha Valentina

The Jakarta Post
Jakarta |

Sun, April 23, 2017

| 02:45 pm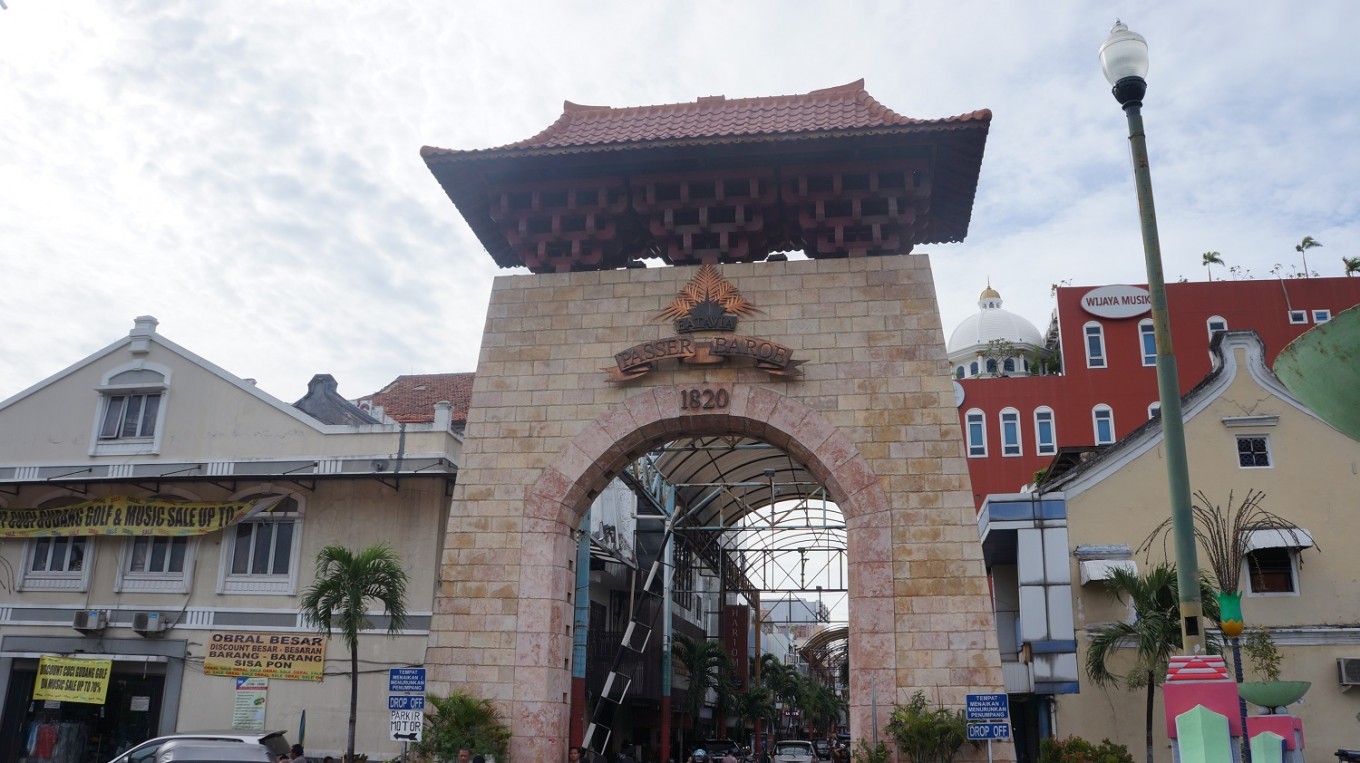 The entrance to Pasar Baru in Central Jakarta. (JP/Jessicha Valentina)
Built in 1820, Pasar Baru, previously known Passer Baroe, in Central Jakarta is one of the oldest shopping complexes in the capital. The area is a melting pot of Indonesian, Chinese and Indian cultures, resulting in a one-of-a-kind attraction for both local and foreign visitors.
Pasar Baru includes three different areas and is quite expansive, allowing visitors to find almost everything under the sun, such as clothes, footwear, musical instruments, beauty products, watches, cameras and more.
In addition to being a shopping paradise, Pasar Baru also offers legendary noodle shops and street food as well as religious spots.
Those planning to visit Pasar Baru may want to check the recommended activities list below.
How to get there
It is quite easy to reach Pasar Baru as there is a Transjakarta bus stop in front of the main gate.
Those coming from Blok M in South Jakarta can hop on a Transjakarta bus via the Kota route. However, passengers will need to hop off at Harmoni bus stop and board another Transjakarta bus along the Pasar Baru route.
The same applies for those coming from Central Jakarta as they can board a Transjakarta bus from Pasar Senen via the Harmoni route. For this route, passengers will need to hop off at Juanda bus stop and board a Transjakarta bus via the Pasar Baru route.
Those departing from East Jakarta can use Transjakarta buses by hopping on at Kampung Melayu via the Harmoni route. The passengers need to change buses at Harmoni to the Pasar Baru route.
Meanwhile, those coming from North Jakarta can board Transjakarta buses at Tanjung Priok via the Pluit route. Passengers will need to stop at the Jembatan Merah bus stop and board a Transjakarta bus on the Kampung Melayu route. Passengers should disembark at the Pasar Baru Timur bus stop and continue with a mikrolet (public minivan) on the M12 Senen-Kota route.
Pasar Baru is also located near the Juanda train station, for those coming from Bogor, Bekasi or the Pasar Minggu area.
What to wear
Pasar Baru, which includes Jalan Pintu Air Raya, Metro Atom Plaza and Harco Plaza Pasar Baru, is relatively big, requiring visitors to come in comfortable outfits, such as jeans, t-shirts and athletic shoes. However, Jalan Pintu Raya has a canopy, which makes it comfortable for visitors to walk around during the day.
Read also: Jakpost guide to Kota Tua
What to see
Pasar Baru is a shopping complex with hidden gems. In addition to its shopping spots, tourists can also visit Sin Tek Bio temple.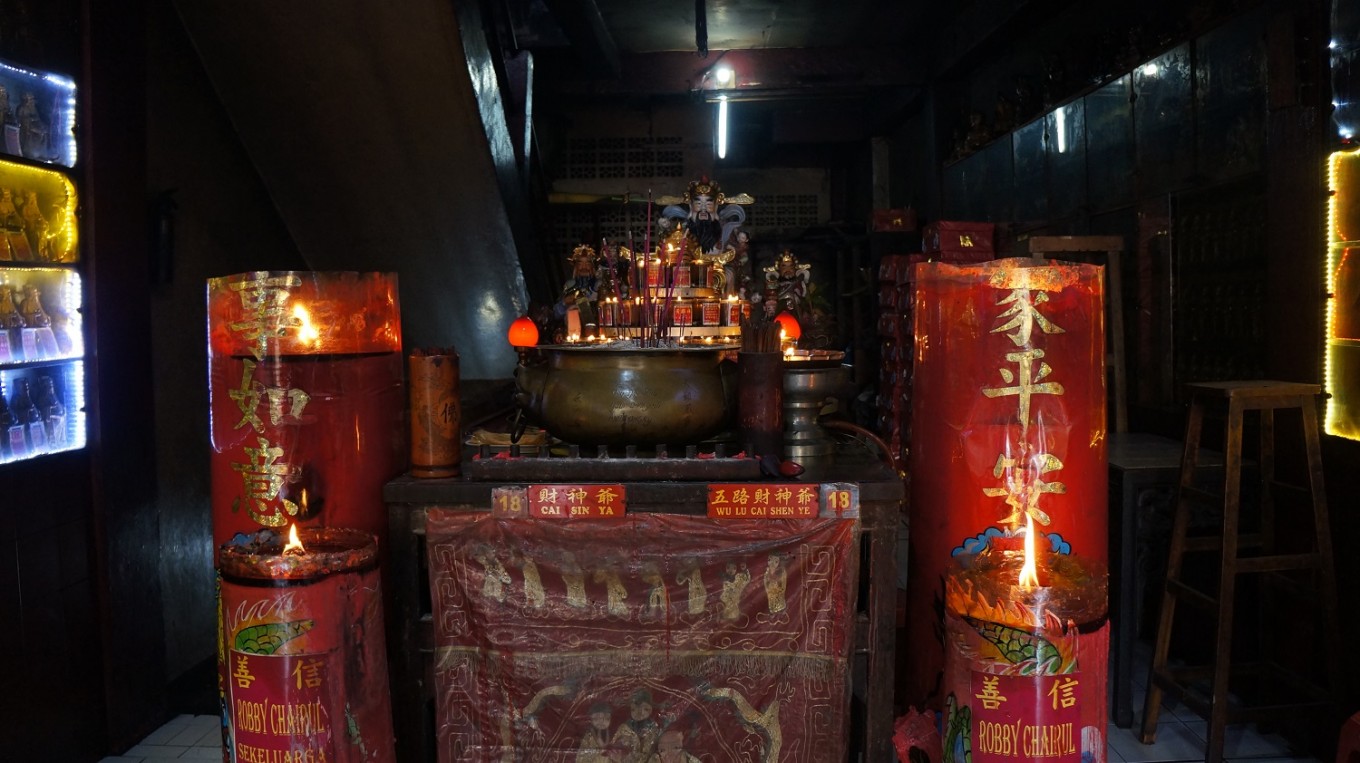 One of the altars inside Sin Tek Bio Temple. (JP/Jessicha Valentina)
Located on Jalan Pasar Baru Dalam, the temple was first established in 1698. According to the temple's guidebook, Sin Tek Bio was founded by Chinese farmers who lived around Ciliwung River and Pasar Baru.
In the temple, visitors can find Fu De Zheng Shen (god of earth and wealth) and Guan Yin (goddess of mercy) altars.
Moreover, as Pasar Baru is a melting pot of three cultures, visitors can also see Sai Study Group Indonesia on Jalan Pasar Baru Selatan. Here, the institution hosts lessons about Bhagavan Sri Sathya Sai Baba, one of India's most revered spiritual teachers.
What to do
Shopping is the main activity while visiting Pasar Baru. However, beauty treatments, such as eyelash extensions, eyebrow embroidery and nail treatments are also available in Metro Pasar Baru.
Those wanting to have a suit made, can drop by the first floor of Metro Atom Plaza. Tailors, such as Michael Textile & Tailor, offer several packages for formal attire.
What to eat
Entering Pasar Baru from its main gate on Jalan Pintu Air, visitors will find Gokul on the fourth floor of the Wijaya Musik store. The restaurant offers a wide array of vegetarian Indian food, such as samosas and biryani rice.
Not far from Gokul, there is Tropik restaurant, which specializes in ice cream and local delicacies, such as sate ayam, soto ayam and mie yamin.
About 200 meters from the main gate, visitors will see a small alley located beside the Sinar Baru shoe shop. In the alley, you can find legendary noodle shops, namely Bakmi Aboen and Bakmi Gang Kelinci.
Established in 1962, Bakmi Aboen is situated in the small alley called Belakang Kongsi. Here, visitors can enjoy a wide array of Chinese noodles served with pork meat with price starting from Rp 25,000.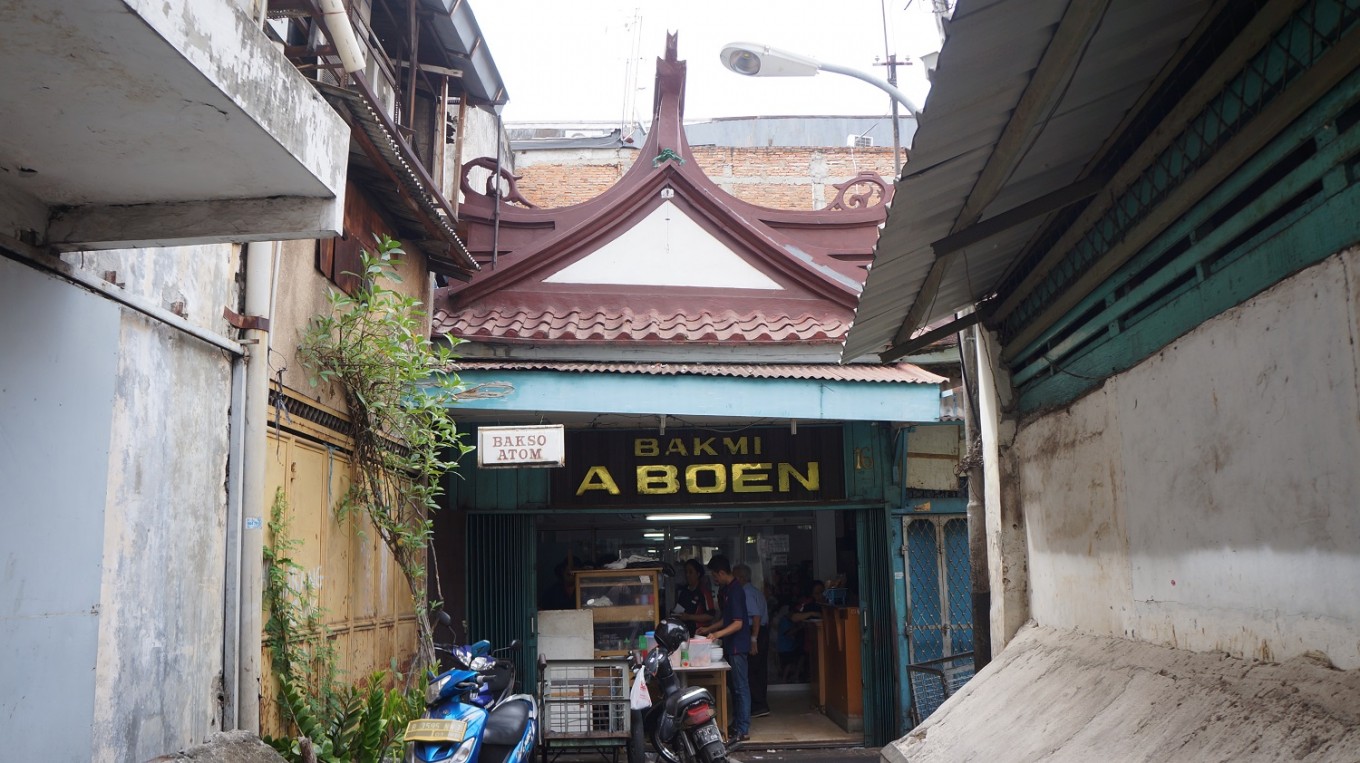 Hidden inside Belakang Kongsi alley, Bakmi Aboen is popular among food enthusiasts. (JP/Jessicha Valentina)
As for those looking for halal foods, you may want to drop by to Bakmi Gang Kelinci on Jalan Kelinci Raya or Belakang Kongsi alley.
In Belakang Kongsi alley, right across from Bakmi Gang Kelinci, visitors will find a small shop selling cakue (Chinese doughnuts) named Cakue Ko Atek. Open daily from 9 a.m., the cakue and kue bantal (pillow bread) is priced at Rp 4,000 per piece.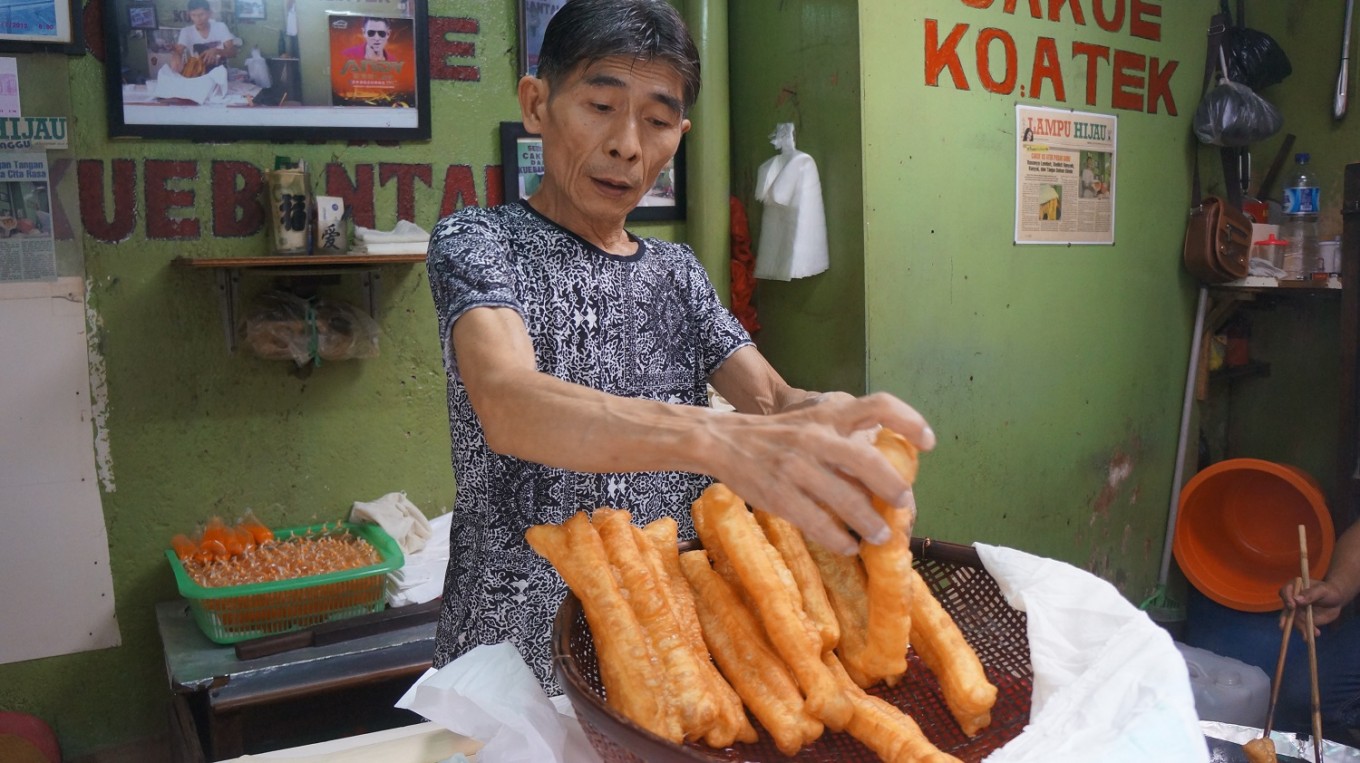 Ko Atek, owner of Cakue Ko Atek, prepares newly-fried cakue for buyers. (JP/Jessicha Valentina)
In the afternoon, there is a plethora of street food vendors selling snacks, including pisang coklat (chocolate fried banasa), tahu gejrot (fried tofu served with spicy and sour sauce), siomay, kerak telor and more, along with several pecel sellers.
Read also: Explore these 5 spots in Pasar Baru, Jakarta's 'Little India'
What to shop for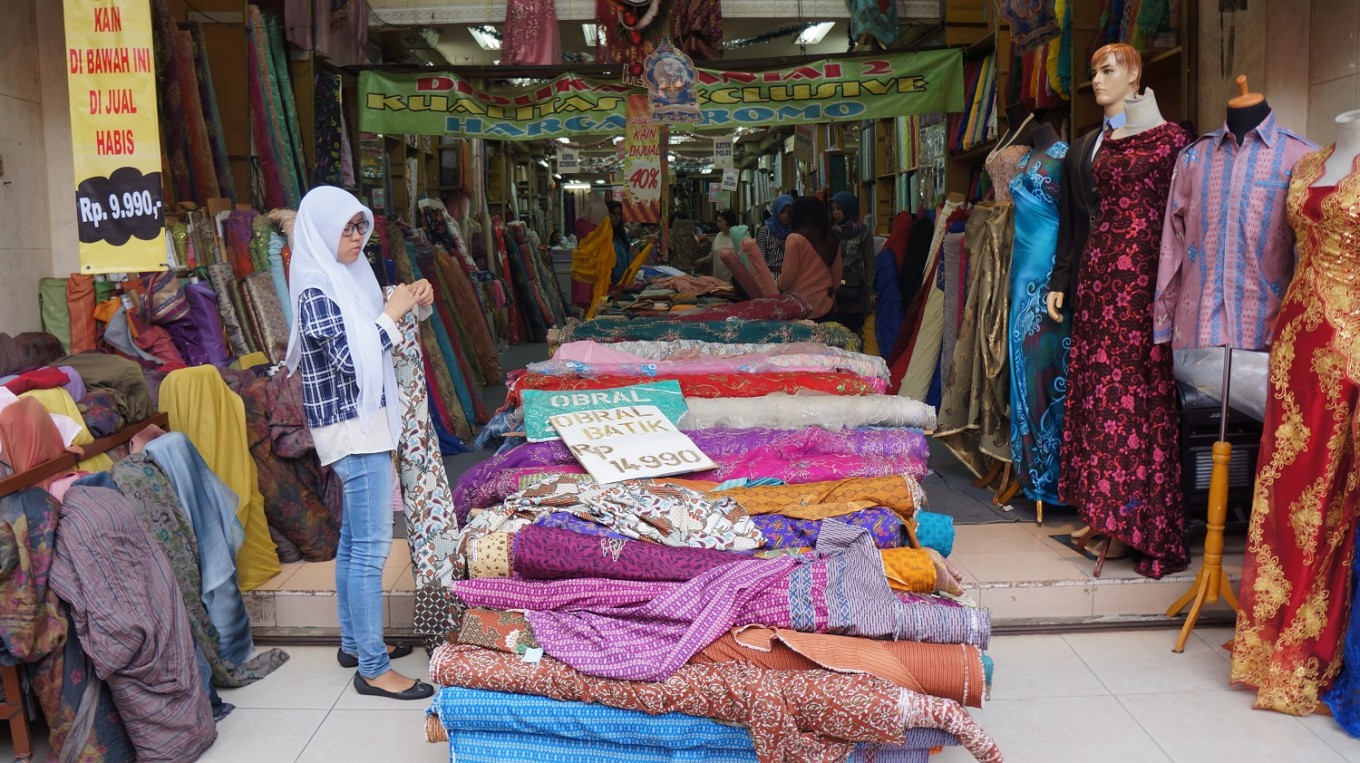 One of the textile shops on Jalan Pintu Air.(JP/Jessicha Valentina)
Pasar Baru is a one-stop shopping complex. Fabrics are said to be the most popular items at Pasar Baru, as there are abundant textile sellers, offering different kinds of fabrics with prices starting from Rp 9,900 (less than one dollar) per meter. Some of the popular textile shops are Euro Moda, Pronto Moda and Bombay Textiles. Those looking for saree can find the Indian traditional dresses at Indo Pusaka and Eleganz.
In addition to textile shops, Pasar Baru is also home to several shoe shops. Sin Lie Seng is said to be the most popular shoe shop as it has been around for decades. Here, shoes addicts can find quality leather footwear with prices starting from Rp 350,000.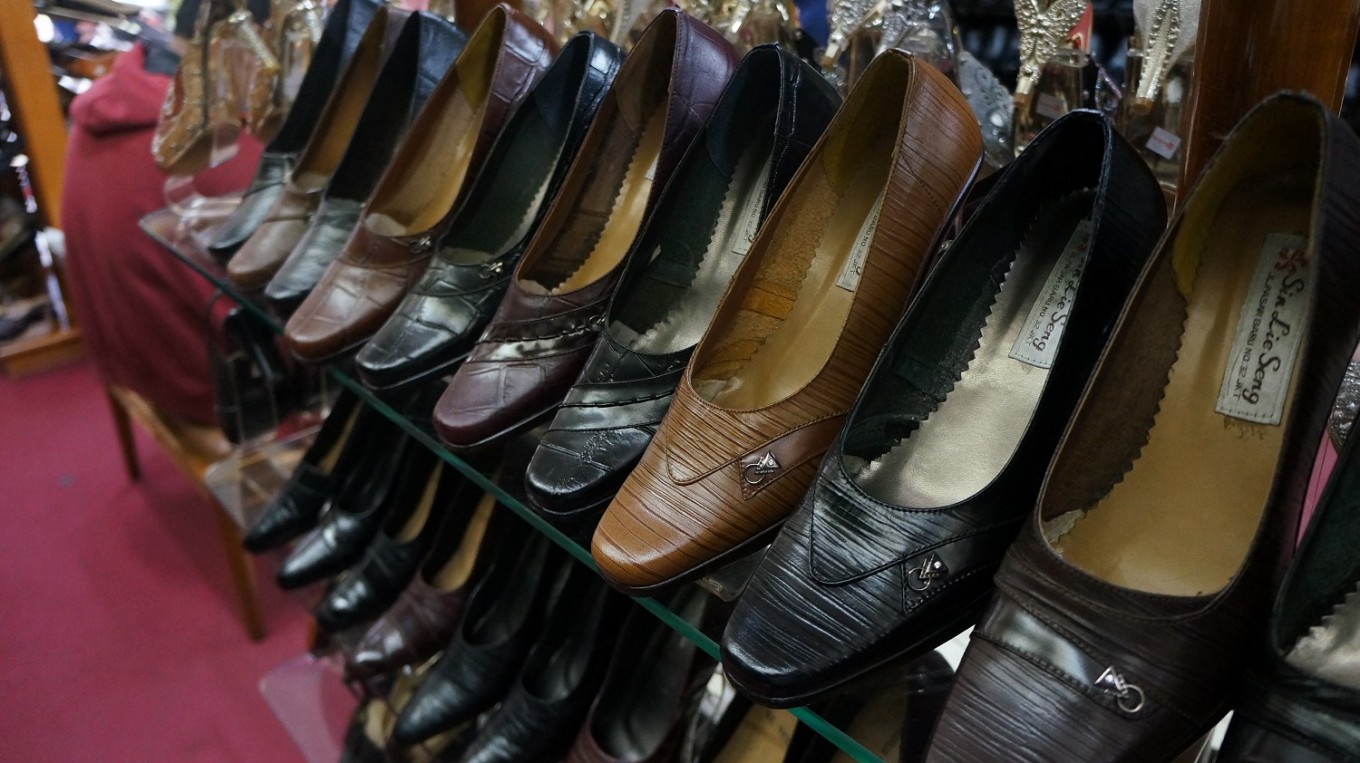 Ladies leather shoes at Sin Lie Seng.(JP/Jessicha Valentina)
Meanwhile, those craving home-cooked Indian food may want to drop by to Shalimar. Located on Jalan Kelinci Raya, visitors can find Indian food ingredients, including basmati rice, gulab jamun (an Indian dessert), spices for chicken tikka and more.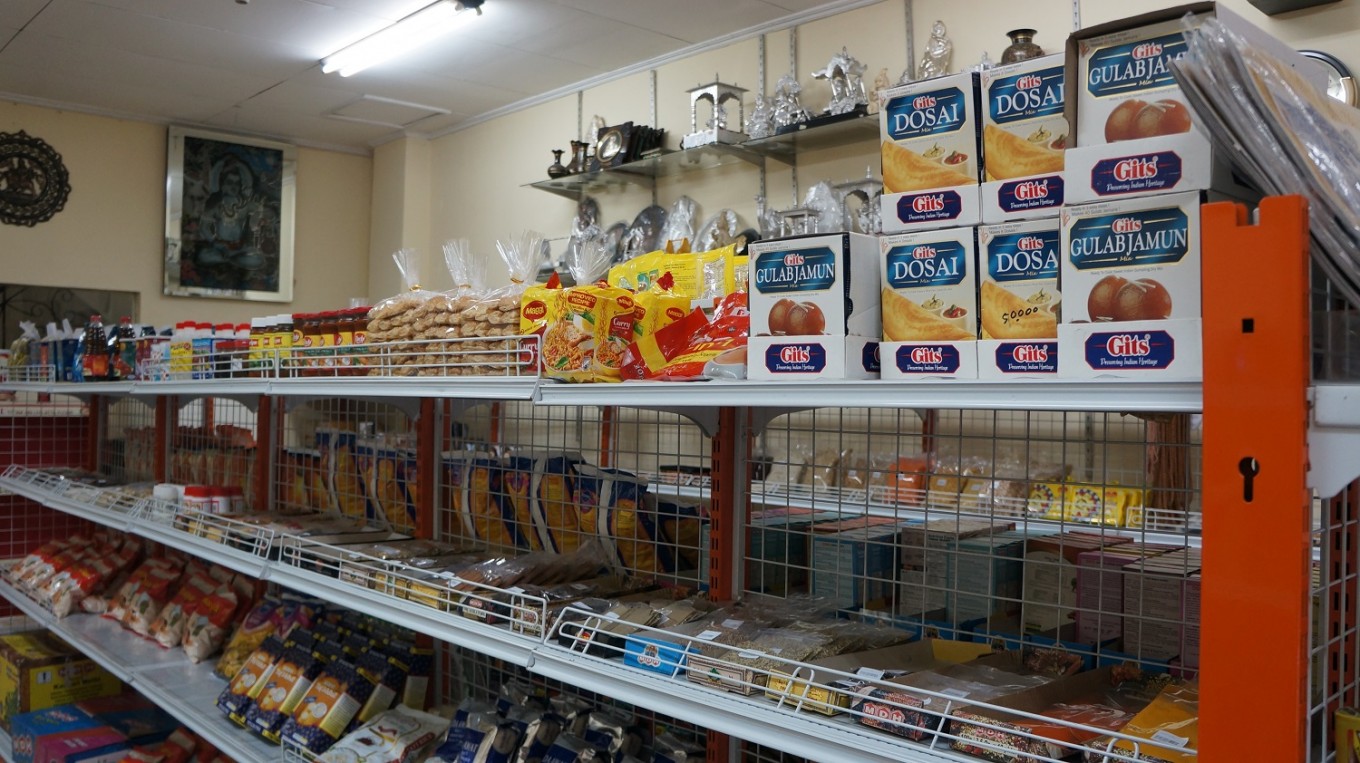 Instant mix ingredients available at Indian supermarket Shalimar on Jalan Kelinci Raya, Pasar Baru.(JP/Jessicha Valentina)
Walking down Jalan Pintu Air, visitors can also spot various shops selling different items, such as musical instruments in Wijaya Musik, watches and more.
Moving on to Metro Atom Plaza, beauty enthusiasts can find various cosmetic brands for affordable prices. The area is known as a center of beauty salon suppliers, allowing visitors to get salon products, such as hair straighteners, hair dryers and more.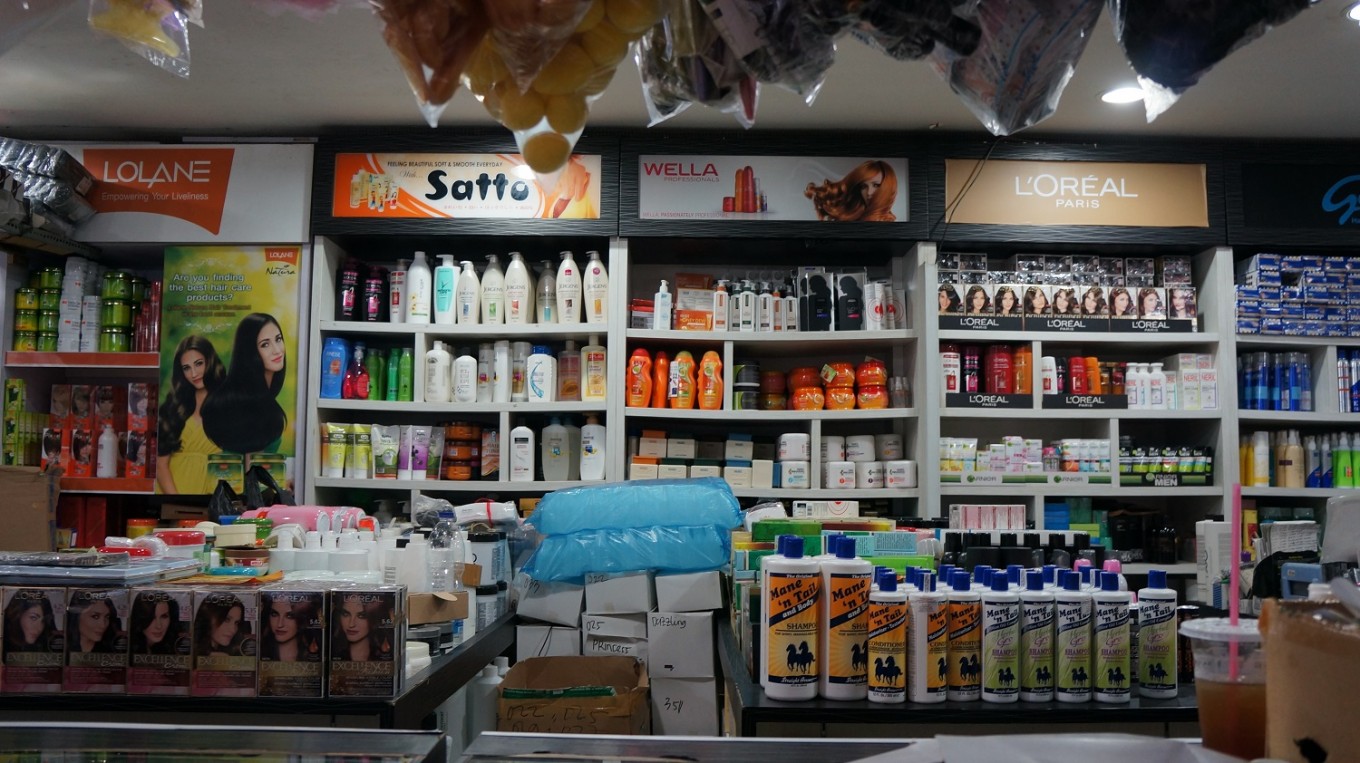 One of the salon supplier shops in Metro Atom Plaza.(JP/Jessicha Valentina)
As for photography enthusiasts, Harco Pasar Baru hosts several camera shops, offering the latest camera models and lenses.
Tips
- Before purchasing, try to bargain with the sellers and compare prices with other shops.
- Those wanting to buy cosmetics should go to the beauty shops. Do not buy from roadside vendors.
- Bring water while exploring Pasar Baru as the outdoor area can be quite hot.
- Though the beauty salon offers treatments for a bargain, it is best to check cleanliness before proceeding with the treatments. (asw)
Topics :
Join the discussions