Colorful kampung becomes new tourist attraction in Semarang
Suherdjoko

The Jakarta Post
Semarang, Central Java |

Wed, May 10, 2017

| 07:45 am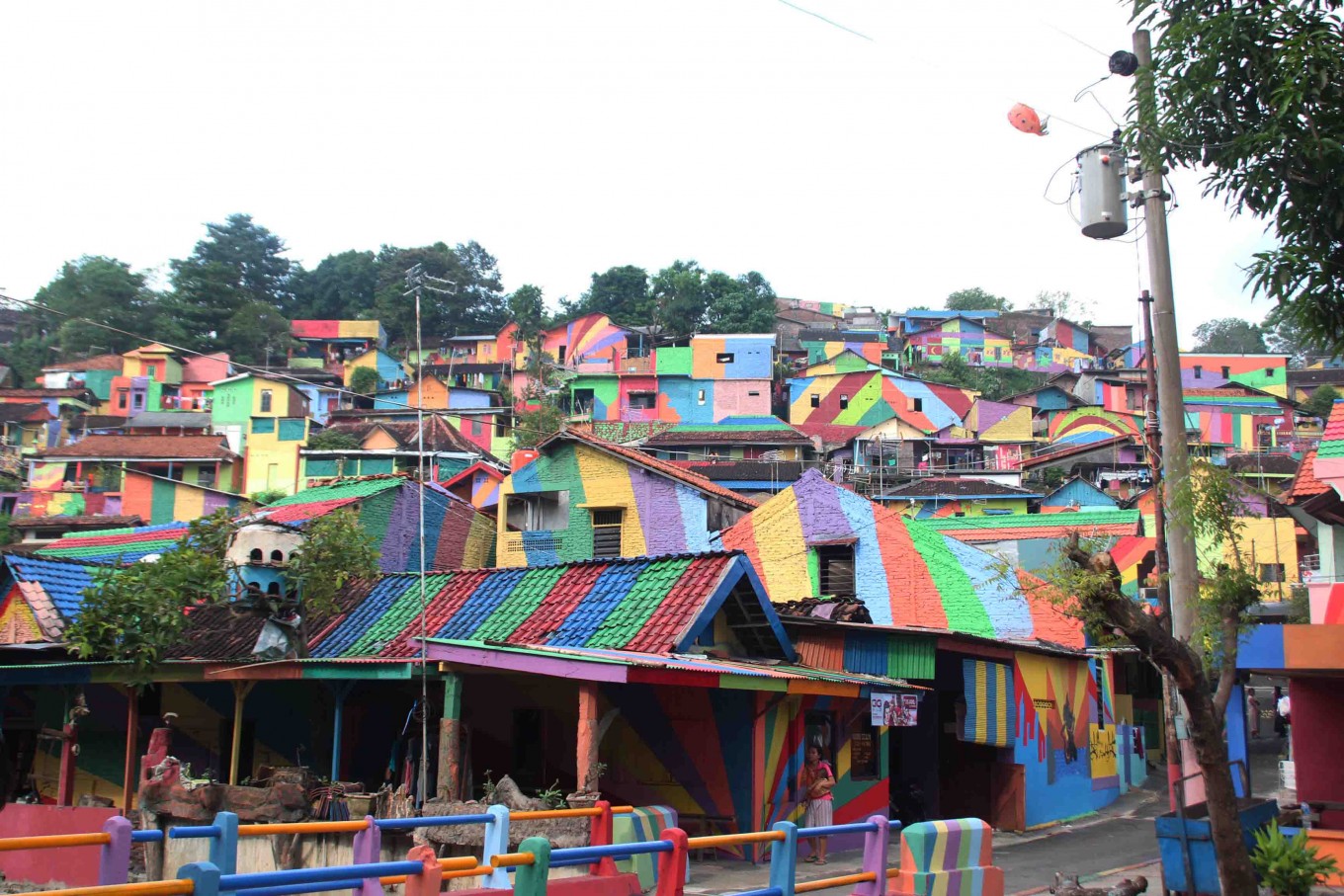 Originally named Kampung Wonosari, Kampung Pelangi hosts at least 232 brightly-colored houses in two community units in Kampung Wonosari, Randusari subdistrict, South Semarang district. (JP/Suherdjoko)
The faces of the ninth grade students seemed delighted as they stared at the tens of houses nestled on the highlands at the back of Kembang Kalisari Market on Jl. Dr. Sutomo, Semarang. Painted in bright colors, the houses' walls and rooftops are surely a sight to behold.
"[The houses] are so gorgeous. My school is not far from here; I will surely tell all my friends to come here," said one of the students named Bening.
Meanwhile, two taxation students from Diponegoro University, Maya Cindy and Diana Andrea, said that they came to the place specifically to marvel at the view. "We saw the pictures on Instagram before we decided to come here. It is truly awesome!" said Cindy.
Originally named Kampung Wonosari, Kampung Pelangi hosts at least 232 brightly-colored houses in two community units [RW] in Kampung Wonosari, Randusari subdistrict, South Semarang district.
The initiator, 54-year-old junior high school principal Slamet Widodo, said the administration planned to paint a total of 385 houses, not only with rainbow colors, but also 3D drawings.
Read also: Malang's colorful kampongs attract photo enthusiasts
"The idea to create Kampung Pelango came after we saw the beauty of Kampung Warna-warni and Kampung Tridi in Malang, and later Kampung Kali Code in Yogyakarta. Hopefully Kampung Pelangi will be the biggest one in Indonesia and offer a new tourist attraction in Semarang," said Slamet.
The city administration reportedly issued a budget of Rp 300 million (US$22,467) to support the move. "But the result could reached billions of Rupiah thanks to community participation," said Semarang Mayor Hendrar Prihadi.
The Indonesian Builders Association (Gapensi) in Semarang also helped by providing paint and workers. "One house has a minimum of three colors. We also cooperated with the Roads Agency, Tourism Agency as well as other agencies to help develop Kampung Pelangi. The locals have enjoyed the results, for instance by selling food and souvenirs," said Gapensi Semarang's Art and Culture and Sports Department head, Siswoyo.
Now, the place that used to be considered a slum has turned into a cleaner site. Even foreign tourists have visited the kampung, including from Korea, Taiwan and Hungary. (kes)
Join the discussions