Glintung, saving rainwater and preventing floods
Nedi Putra AW

The Jakarta Post
Malang |

Tue, July 4, 2017

| 09:44 am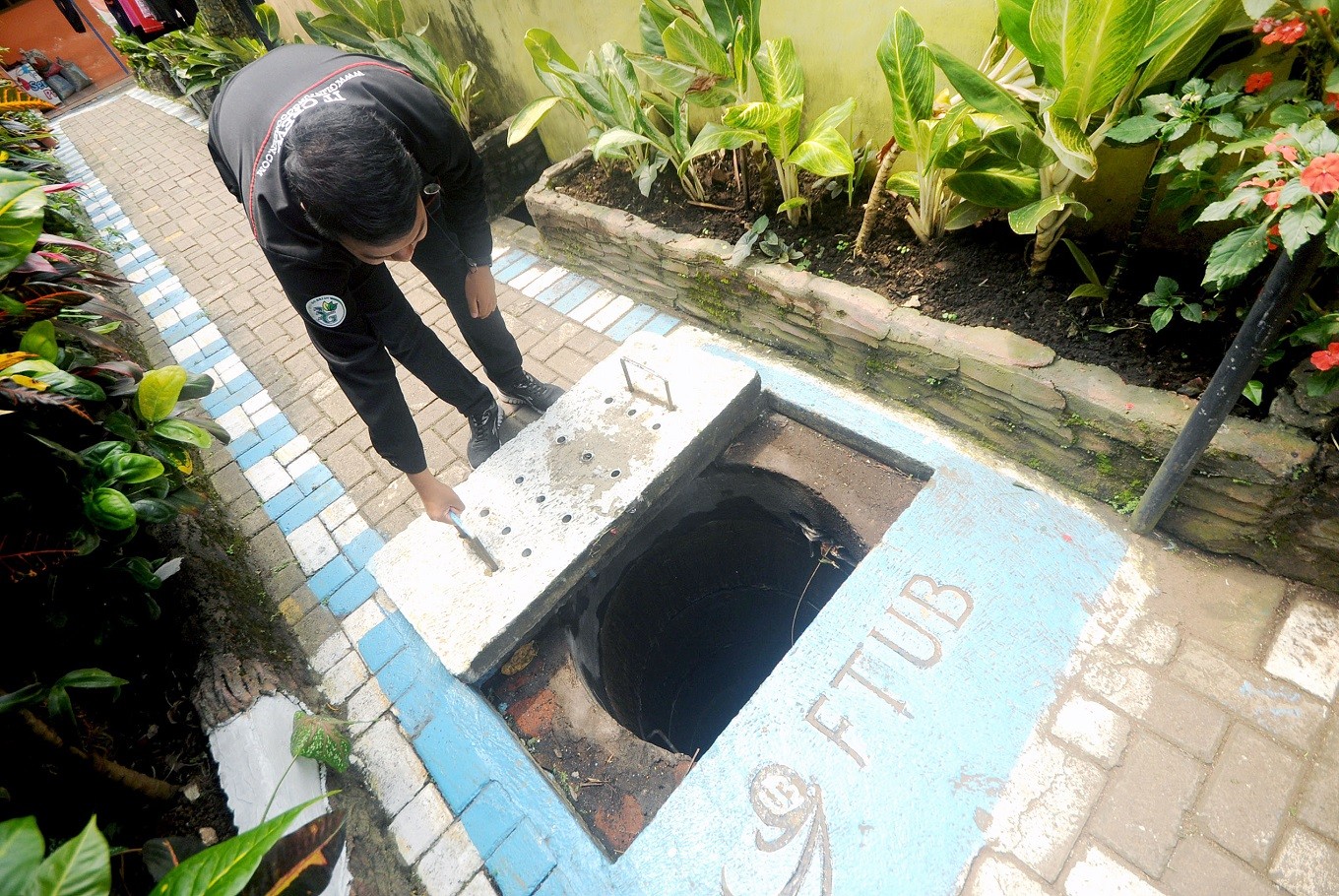 Flood-free: A resident of community unit 23 shows off one of the seven absorption wells designed by M. Bisri, the rector of Brawijaya University in Malang. (JP/Nedi Putra AW)
Glintung village in Malang, East Java, once faced chronic flooding as it is situated below highways. However, it has now emerged as a flood-free and eco-friendly zone, prompting locals to proudly give it nicknames, such as Glintung Go Green or Kampung 3G.
This month, Glintung residents' efforts will be acknowledged, as Home Minister Tjahjo Kumolo is scheduled to declare Glintung the world's first "water conservation village."
Situated in Purwantoro subdistrict in Blimbing district, Glintung transformed into a green neighborhood after residents in the village made a breakthrough in terms of flood mitigation under the leadership of Bambang Irianto, the chairman of community unit (RW) 23.
"We don't have much knowledge about flood control but, fortunately, I have many friends, including academics […] from Brawijaya University, Malang," Bambang said.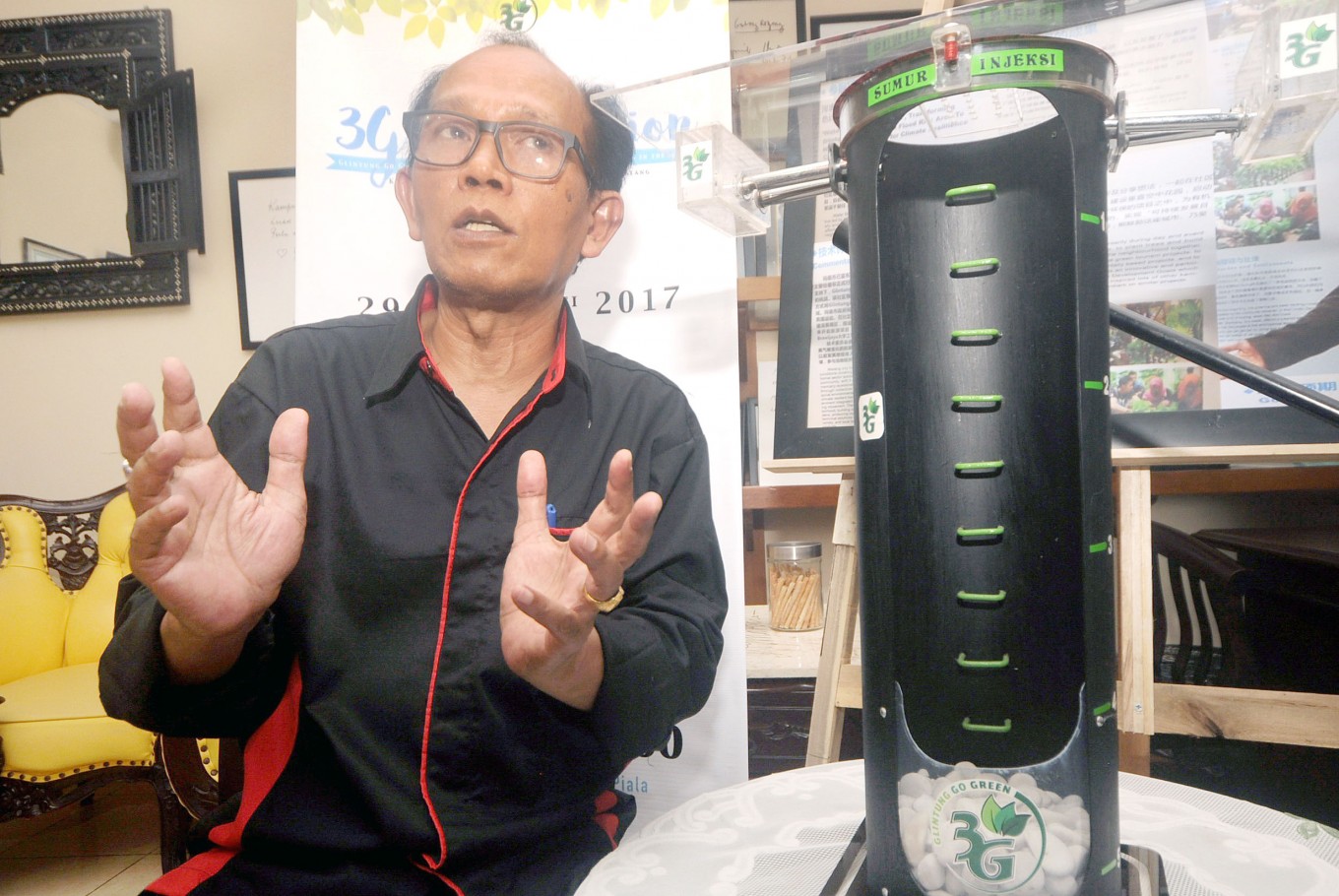 Bambang Irianto,the chairman of community unit (RW) 23, and a model of absorption well.(JP/Nedi Putra AW)
After a number of discussions, including with M. Bisri, now rector of the university, Bambang learned about biopore infiltration holes and the absorption well system, which many considered to be more effective and more sustainable than building sewers and water channels that would only divert the excess water.
Several biopore holes and one absorption well, aided by Brawijaya University, were installed in front of his house. The lone absorption well did not immediately prevent floods, but it did catch a significant amount of rainwater, which encouraged the residents to start a village improvement movement.
Read also: Malang students create eco-friendly plastic from banana peel
More biopore holes were thus built and the university granted more absorption wells. Today, there are seven absorption wells and about 600 biopore holes in the village.
"We call the effort Gerakan Menabung Air (Water Saving Movement), or Gemar," Bambang said.
Biopore holes and the wells absorb rainwater, which is stored in the ground. If properly managed, this method can also effectively prevent land subsidence, which was caused, among other things, by excessive groundwater pumping, he said.
After rainwater enters the absorption wells, it undergoes a purification process through rock filtering. Around 5,000 liters of rainwater is caught per well.
"A downpour can produce up to 10,000 liters and with seven absorption wells, at least 70,000 liters previously flooding the village can be saved," Bambang added.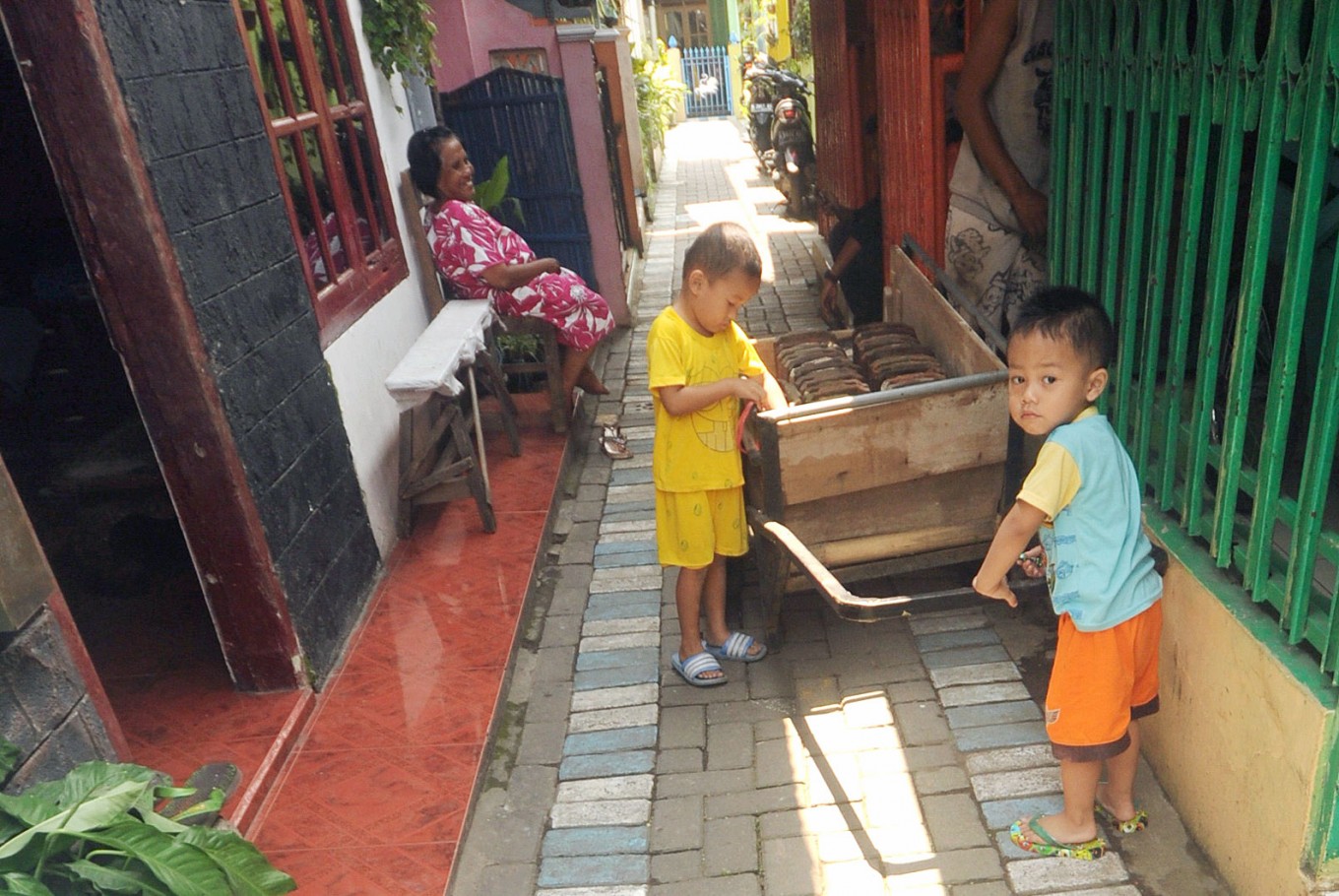 Compact: Children play near a biopore hole in community unit 23.(JP/Nedi Putra AW)
Before this movement, residents pumped water from a depth of 15 to 20 meters. Today, the rate of underground water flow is higher, so the pumps need not be placed too deep. As a result of the changes, a new water spring emerged in the RW 05 area next to RW 23. Additionally, the new system has allowed residents to collect compost yielded by organic waste put into the hundreds of biopore holes.
Read also: Bali's water question
Residents in RW 23 have also tried to improve on its "slum" reputation. Bambang said he introduced a new regulation obligating all home owners to grow plants, vegetables, flowers or other decorative shrubs. If no plants were present at a house, he would not sign documents that required his approval.
Despite the residents' early resistance, they eventually obliged to the demand and grew plants, utilizing a variety of materials, from the standard planting pot to used bottles, cans or shoes.
As a result, the crowded settlement has turned into a green village, with hydroponics and vertical gardens of edible vegetables erected on the outer walls of the houses, enabling the residents to harvest the yields of the plants.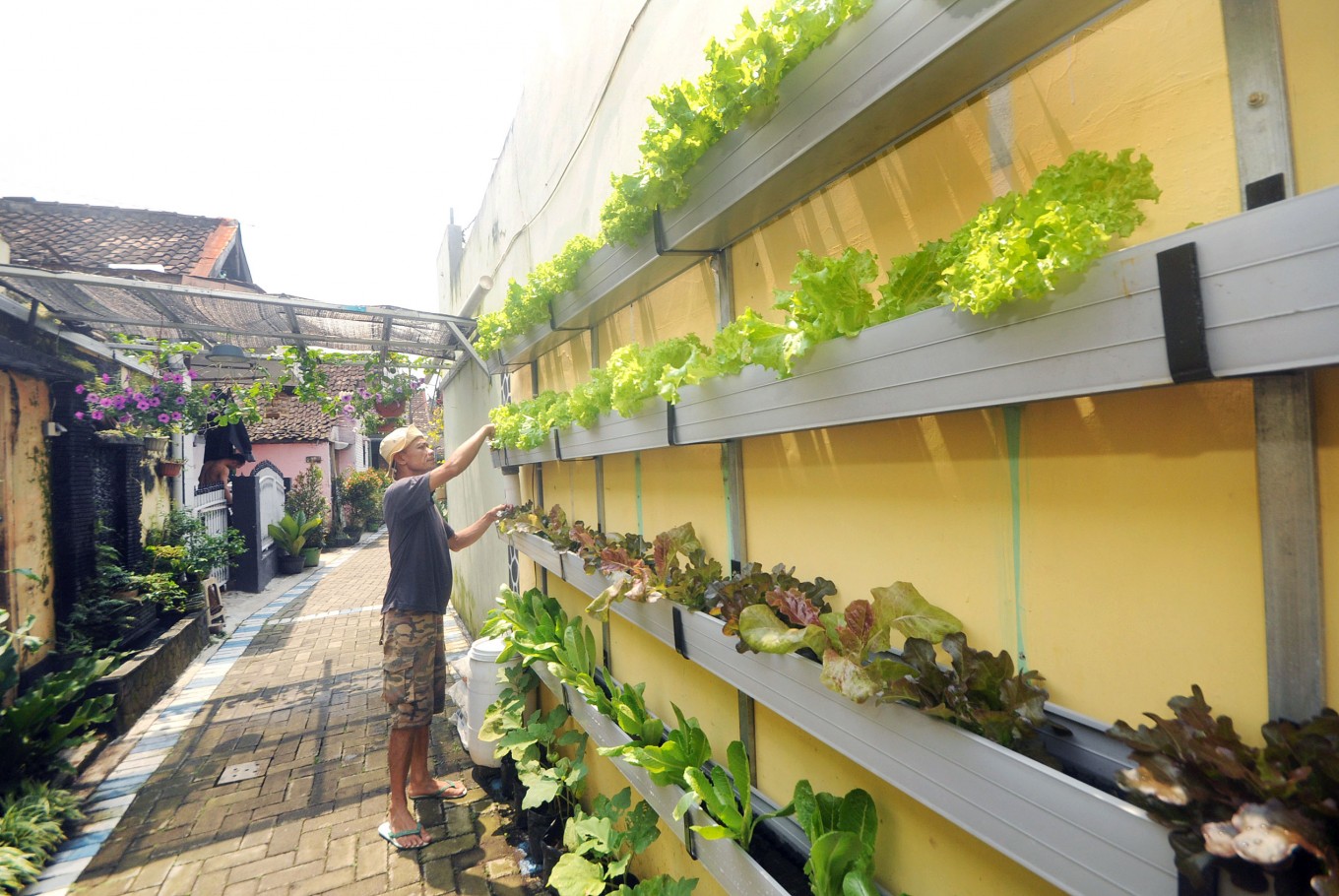 Salad, anyone?: A man tends to a vertical garden of vegetables constructed on the outer walls of houses in Glintung village, Malang, East Java.(JP/Nedi Putra AW)
The Gemar program has had a significant impact on the economy of Glintung, which now advertises itself as an environmentally friendly tourist destination. Bambang said eco-friendly tourism packages had earned the village more funds for new biopore holes and other needs, in addition to private donations.
Read also: Kampong Naga: The village that knows its limits
A native of Glintung, Tri Suharto, 22, said the program changed the attitudes of young people in the village.
"We used to only hang out, but now we busily engage in handling tourism activities here," said the member of the Glintung village website and documentation team.
The developments in Glintung drew the attention of the Malang city government, leading to its participation in various clean village contests. Glintung was presented the Guangzhou International Award for Urban Innovation in 2016.
Key pillars have been laid out for Glintung to become the world's first water conservation village. However, Bambang emphasized that Malang would not be free from floods without widely implementing the movement throughout the entire city.
He said he hoped that the city administration would introduce a new policy on the methods used in their absorption system, which he said not only prevented floods, but also changed the public's mindset on rainwater.
Join the discussions