Exploring outer space in inner Jakarta
Satrio Dwicahyo

Graduate student at S. Rajaratnam School of International Studies
Singapore |

Tue, October 17, 2017

| 08:43 am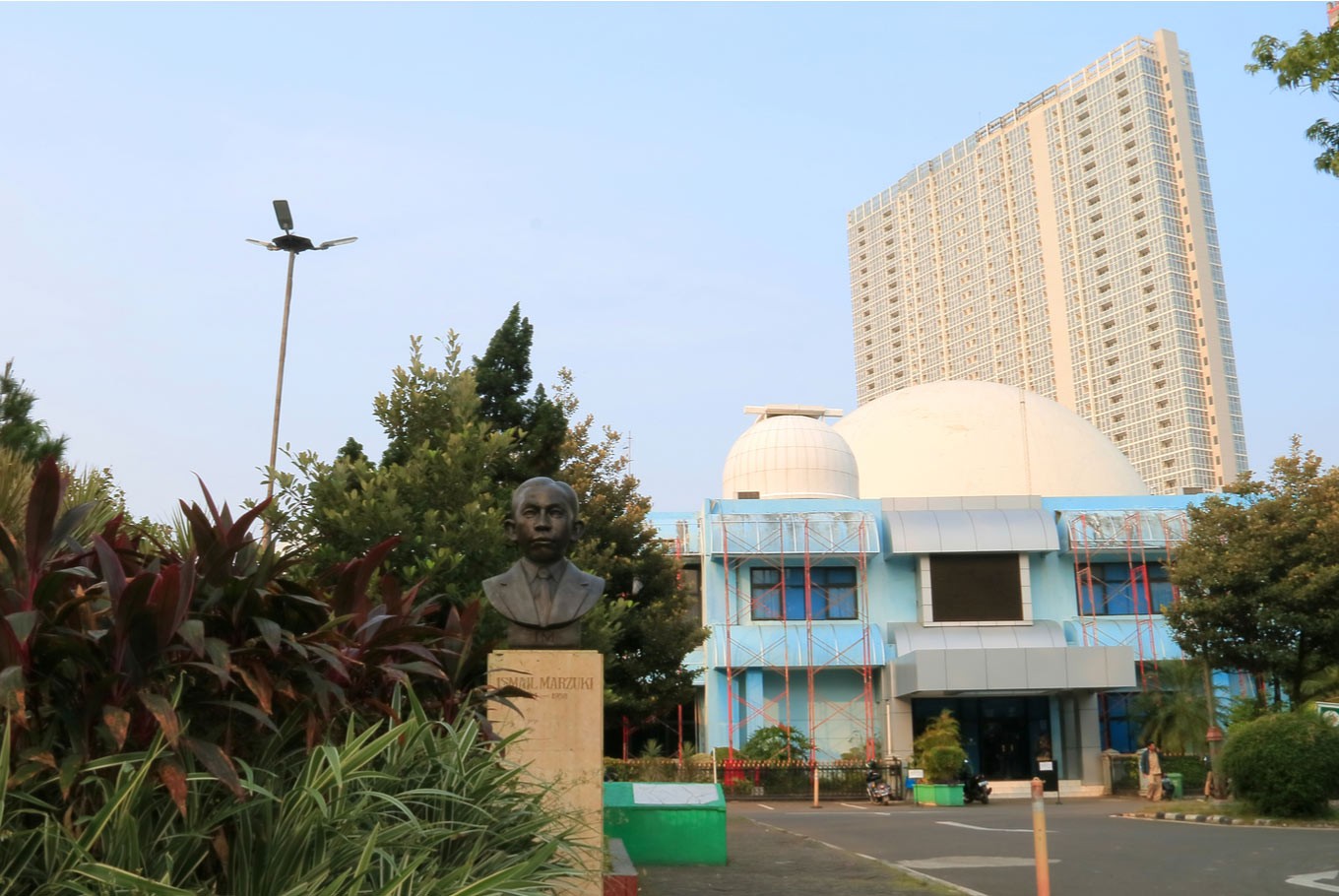 The Jakarta Planetarium and Observatories is located within the Taman Ismail Marzuki complex in Cikini, Central Jakarta. (Shutterstock.com/Harismoyo )
Discontented with a series of rallies without clear agendas and fake news that inundates social media, President Joko "Jokowi" Widodo with a high tone once said, "Other countries are busy with their outer space discoveries and what we have done? We are busy with demonstrations, fake news and racial sentiments."
President Jokowi might only mention the phrase "outer space" to implicitly say that Indonesians should do something more progressive and productive. However, it raises an interesting question: Are Indonesians interested in space discovery and research?
Indonesians, in fact, are also keen to cross the atmosphere and find out what goes on "up there." Only two decades after its independence, Indonesia made efforts to be part of the space race during the Cold War. Around the1960s, Indonesian scholars, inventors and aerospace engineers conducted research on rockets and other aeronautic issues.
In the 1980s, Indonesia selected its first two astronaut candidates, Pratiwi Sudarmono and Taufik Akbar, to join the STS-61-H space shuttle launching mission. Unfortunately, NASA canceled the mission following the devastating Challenger accident in 1986. Not many Indonesians know the story, let alone the larger image of the Indonesian history of aerospace.
It is indeed difficult for anyone to join a space exploration. However, it is not difficult for you to gain knowledge about space without even leaving Jakarta.
Jakarta Planetarium and Observatory
Located in the Taman Ismail Marzuki complex in the center of the capital, the Jakarta Planetarium and Observatory is a one-stop learning site to learn about all things aerospace.
Read also: Jakpost guide to Jl. Cikini Raya
The planetarium consists of two main facilities: a theater and permanent gallery. The Star Theater is a facility in which visitors can watch videos about constellations and other celestial objects through a rotunda screen. In the permanent gallery, visitors can obtain information related to astronomy, aeronautics and the history of humanity's efforts to discover outer space. It features an array of telescopes, images from the Hubble Space Telescope and some panels that recount the stories about our knowledge of outer space.
The facility also has an observatory that actively provides information regarding planets, asteroids and eclipses. On some occasions, the observatory will give visitors access to its telescopes so they can witness various phenomena with their own eyes.
The entrance fee is relatively affordable and the building is easy to find. Do not miss the opportunity to take pictures with statues of astronauts and miniature of planets.
Library of the Indonesian National Institute of Aeronautics and Space
If your friends bombard you with questions about whether the Earth is flat or round, worry no more. Take your flat-earth believers to the library of the Indonesian National Institute of Aeronautics and Space (LAPAN). Located in Rawamangun, East Jakarta, this library is open for public on weekdays from 8 a.m. to 4 p.m.
According to its website, the library contains more than 12,000 materials related to aeronautics, aerospace and other related issues. Apart from books, visitors can also access LAPAN's reports, rules and other documents related to LAPAN's work on developing Indonesian aeronautics and space technologies.
Here, visitors can access the famous "Encyclopedia of Space Travel and Astronomy" and "Communication with Extra-terrestrial Intelligence" by Carl Sagan. For more local content, visitors can find "Capability, Research, and Development of LAPAN" and several reports written by the Indonesian delegation of the Committee of Peaceful Uses of Outer Space in New York in 1980.
But, what's really intriguing is "Beyond Earth: Man's Contact with UFO's" by Judy and Ralph Blum.
Before visiting the library, you can search for books on its website: http://perpustakaan.lapan.go.id.
PP IPTEK and Skyworld Among Putro at TMII
Located within the famous Taman Mini Indonesia Indah (TMII), these destinations exhibit interactive collections that are child-friendly.
PP IPTEK is a manifestation of former president B.J. Habibie's initiative to build a venue for Indonesians to learn about sciences and technology.
Inside the 1,000-square-meter complex, visitors can be a scientist for a day by trying various experiences related to physics. PP IPTEK has two special sites dedicated to enlightening visitors about basic aeronautics and space exploration. In these sites, visitors can learn about gyroscopic phenomena through a gyroscopic gear experiment, how satellites work and even observe the complexities of an airplane's engine.
Skyworld Among Putro, located not far from PP IPTEK, is fully dedicated to educating visitors about human's exploration of outer space. What makes it different from PP IPTEK is the more static collections it exhibits. However, the collections will definitely enrich visitors' knowledge about our curiosity of outer space since the 11th century until the launch of the Palapa Satellite and other current developments.
Skyworld Among Putro also exhibits mock-up rockets and gives visitors the chance to don an astronaut suit.
(dev/kes)
***
Satrio Dwicahyo is an alumnus of Gadjah Mada University's History Department in Yogyakarta and is currently pursuing a graduate degree at Nanyang Technological University Singapore's S. Rajaratnam School of International Studies (RSIS).
---------------
Interested in writing for thejakartapost.com? We are looking for articles and opinions from experts in a variety of fields, as well as others with strong writing skills. Submit your original piece to [email protected] on the following topics: lifestyle (beauty, fashion, food), entertainment, science & technology, health, parenting, social media and sports. Click here for more information.
Disclaimer: The opinions expressed in this article are those of the author and do not reflect the official stance of The Jakarta Post.
Topics :
Join the discussions