Monthly destination: Bali
Liza Yosephine

The Jakarta Post
Bali |

Thu, February 1, 2018

| 05:01 pm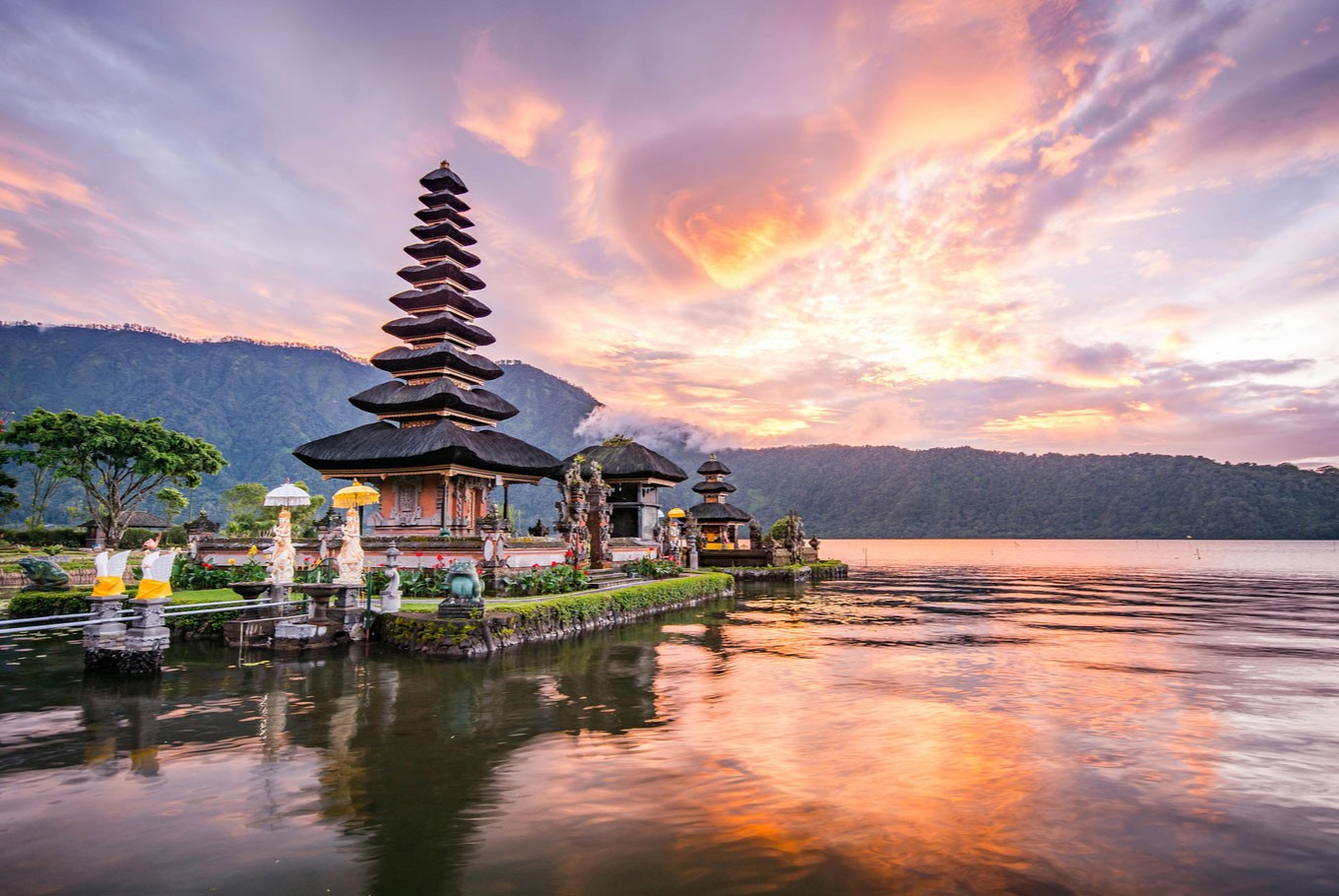 Pura Ulun Danu Bratan, a Hindu temple on the shores of Bratan Lake, is captured during a stunning sunset. (Shutterstock/File)
Indonesia's famed resort island of Bali is a popular holiday destination for both domestic and foreign tourists.
With its exotic landscape, unique culture and blend of the old and the new, Bali offers myriad experiences for those visiting the Island of the Gods.
How to get there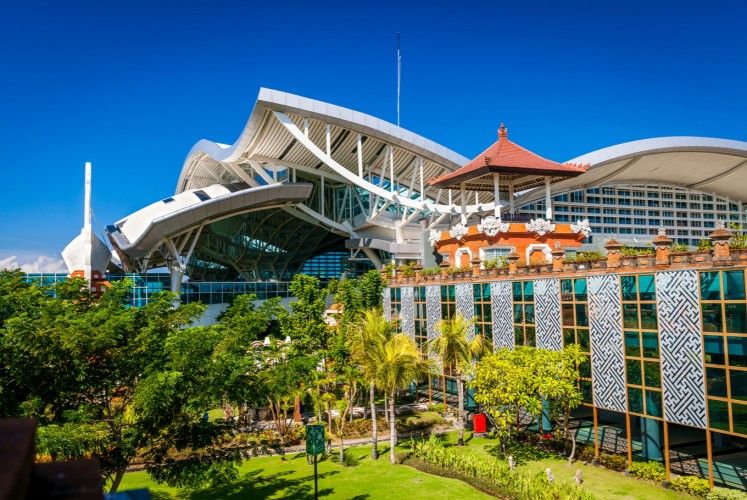 Ngurah Rai International Airport is the hub for all flights to Denpasar, Bali. (Shutterstock.com/Cocos.Bounty)
By Air
Ngurah Rai International Airport is located in Denpasar, Bali's capital city. Many airlines fly into Denpasar, from budget airlines to flag carriers, including AirAsia, Citilink, Garuda Indonesia, Lion Air, Cathay Pacific, Korea Airways, Malaysia Airlines, Singapore Airlines, Thai Airways and Qatar Airways.
The flight time from Jakarta to Bali is typically just under 2 hours.
By Land
There are also alternative ways to reach Bali from Jakarta, but make sure to allow for a much longer time for traveling.
Pahala Kencana, Kramat Djati Jakarta, Lorena and Safari Dharma Raya all run bus services from Jakarta to Denpasar. The travel time varies, but the journey takes more than 25 hours on average. The route includes a ferry crossing from Banyuwangi on Java's easternmost point to Gilimanuk Port on Bali's western shores.
Those who want to make a stop along the way can opt to take the train, which offers opportunities to visit other major cities on Java, such as Yogyakarta and Surabaya. It is still necessary to end the journey by bus or plane to reach Bali.
Best times to visit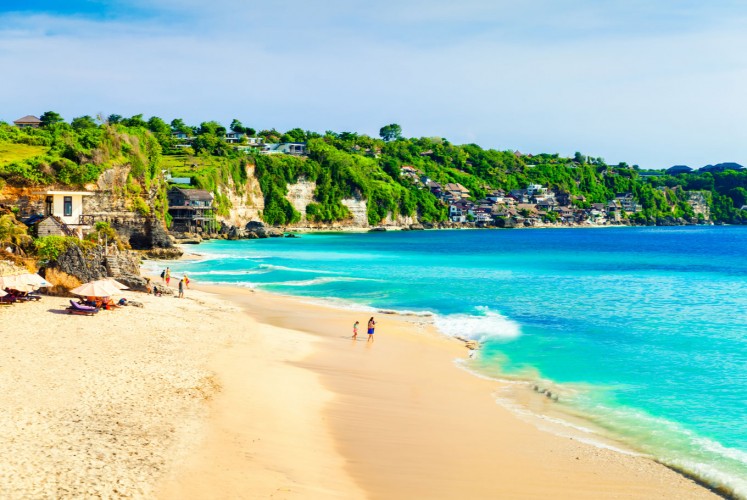 Bali's white sandy beaches are the top attraction on the resort island. (Shutterstock/File)
Bali's warm, tropical climate makes it an enticing destination for a beach vacation. Visiting the island during the dry season between April and September means you would enjoy sunny weather that is perfect for exploring the entire island. Bali receives the most visitors in July and August.
The dry season is also the most popular period for surfers, whether experienced or beginner, to enjoy the waves the island is famous for.
Some may visit Bali for specific reasons, such as to witness traditional festivals or contemporary music concerts, making it essential to schedule your trip around them.
Be aware that Bali observes Nyepi, or the Day of Silence, as a public holiday, when most public attractions are closed, as electricity and working are forbidden. It is best for visitors to the island to observe the local customs on that holy day.
Climate
Bali enjoys warm weather all year long, although it has two seasons: the wet season, which peaks from October to March, and the dry season, which peaks from April to September.
Popular areas
Southern Bali is the most popular tourist destination, and it offers attractions that cater to all tastes. Kuta, Legian and Seminyak are relatively crowded areas that are home to several beach clubs, nightclubs and modern cafes, and especially popular among young tourists seeking a contemporary experience.
On the other hand, there is Sanur, which is a more relaxed area in comparison, although there are still plenty of restaurants and cafes that line this area on the southeastern Balinese coast.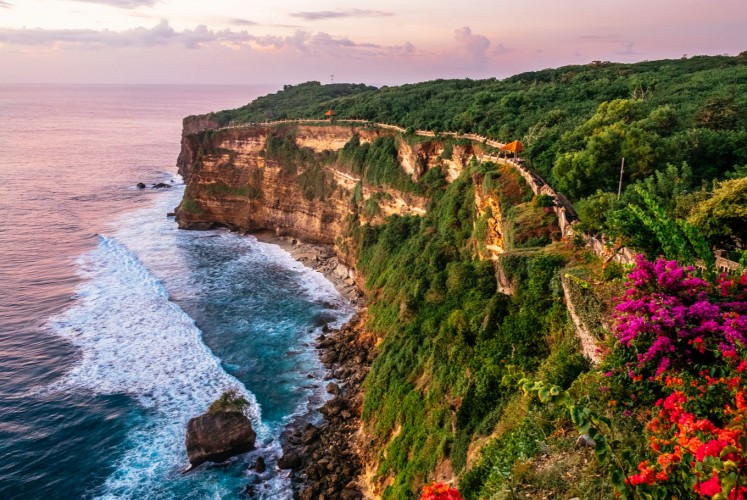 Sunset casts a rosy hue over the cliffs of Uluwatu in southwestern Bali. (Shutterstock/File)
Further south on the island are Nusa Dua and Uluwatu, housing luxury resorts that offer a quieter and more languid getaway.
The southern tip of the island is also worth exploring, especially the coastal areas, where visitors can find picturesque seascapes like Green Bowl Beach and Tegal Wangi Beach.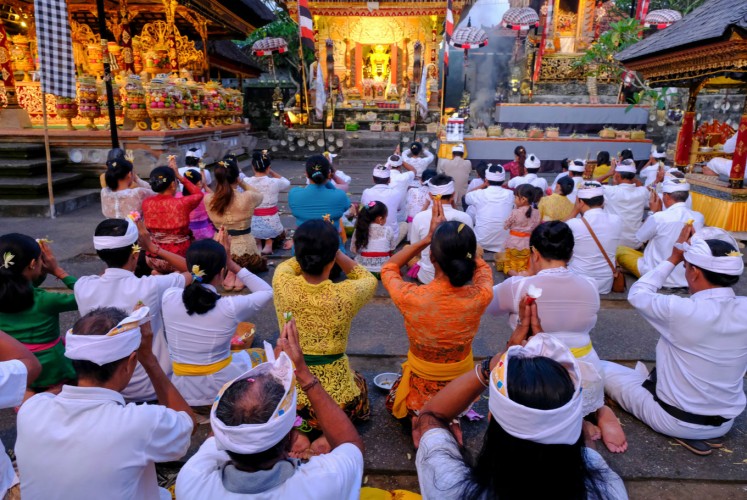 Hindu-Balinese pray at Batur Sari temple in Ubud, Bali. (Shutterstock.com/Muslianshah Masrie)
Up north is Ubud, a mountainous and tropical jungle area that is renowned as the cultural center of the island, and where many traditional artists and craftsman reside and flourish.
The area has also become increasingly popular among tourist seeking a different side to Bali other than its beaches. Luxury resorts there tap into a different approach, such as COMO Shambhala Estate, which offers health and wellness packages.
Up and coming areas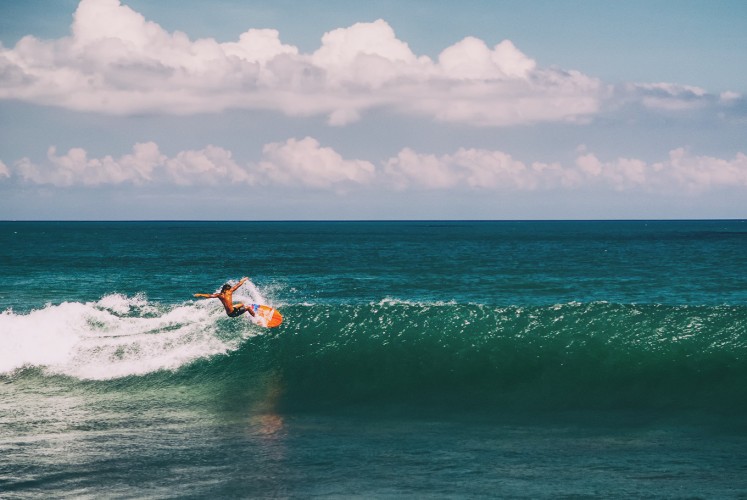 Canggu is renowned among surfers for its waves. (Shutterstock/File)
Among the areas of Bali that are rising in popularity is Canggu, just north of Seminyak.
A surfing destination, Canggu boasts several beaches along its coast, including Canggu Beach, Pererenan, Echo Beach and Batu Bolong. In the mornings, the beaches are popular among joggers and others who like to exercise with a seaside view. Although laid out similarly to Kuta, with numerous cafes, restaurants and hotels, Canggu is still comparatively quieter.
Other hidden gems of Bali include its three sister islands of Nusa Penida, Nusa Lembongan and Nusa Ceningan. Located off Bali's southeastern shores, the easiest way to reach these three islands is by boat from Sanur port, where many operators offer crossing services or day-trip packages.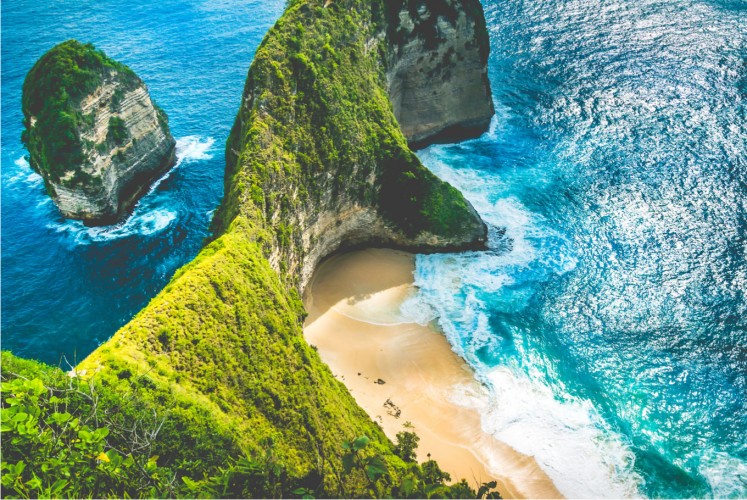 Kelingking Beach offers a break from the madding crowds on Nusa Penida, one of Bali's three sister islands. (Shutterstock/File)
Nusa Penida, the largest of the three, is a quiet haven with breathtaking landscapes and pristine beaches. Upon arrival to the island, visitors can rent motorcycles for exploring the island. There are also operators offering chauffeured cars. Visit Angel's Billabong, Broken Beach and Atuh Beach for a great escape.
Nusa Lembongan and Nusa Ceningan, though smaller, still offer plenty of beautiful beaches, and all three islands offer a distinct view into island life, as well as clear waters for diving and snorkeling.
Don't miss out on the chance to watch breathtaking sunsets from various points on the islands, including Nusa Penida's Crystal Bay and Nusa Lembongan's Devil's Tears.
Activities
With its distinct Hindu-Balinese heritage, many come seeking to experience Bali's spiritual and cultural traditions. Such visitors may enjoy visiting locations such as Tanah Lot Temple and Tirta Empul Temple. While visiting Nusa Penida, don't miss out on peering into Goa Giri Putri Temple, which is located inside a cave.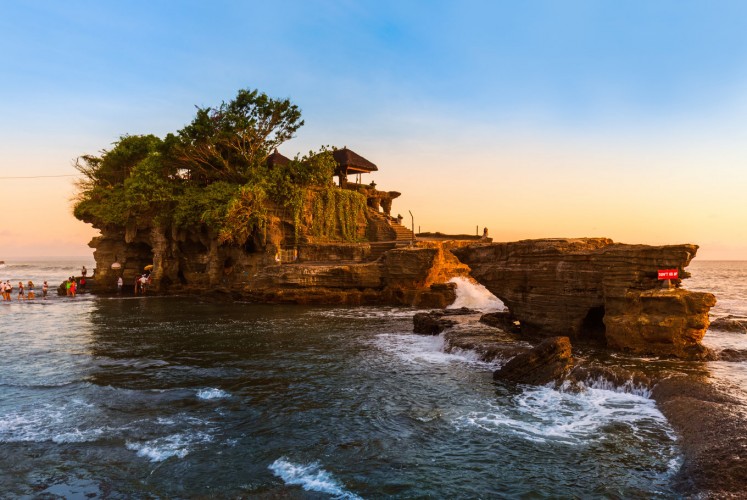 Tidal foam washes up against the natural rock base of Tanah Lot Temple. (Shutterstock/File)
Meanwhile, trendy cafes, restaurants and nightlife venues are scattered throughout Seminyak and Kuta for those seeking crowds and a vibrant atmosphere.
Visitors looking for peace and quiet may find tranquility in the forests of Ubud, away from the hustle and bustle of the modern world, throwing themselves into nature-oriented adventures such as surfing, whitewater rafting, hiking, mountain biking or a leisurely stroll through rice fields and organic farms.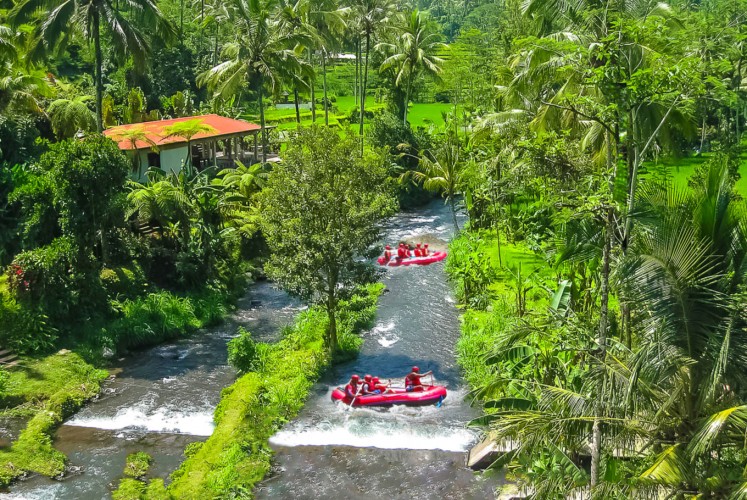 Visitors of a more adventurous bent could try whitewater rafting in Bali. (Shutterstock/File)
Cuisines
If you happen to be a foodie, then you are in luck, as the Island of the Gods is home to many restaurants serving a variety of cuisines.
Warung Cahaya is a modest restaurant in Seminyak that is usually packed with guests that have come to sample its signature babi goreng sambal matah (fried pork with raw chili relish).
Gusto Gelato is a popular spot among tourists, as the hot spot for gelato aficionados.
For traditional Balinese food, visitors should schedule an outing to one of the local stalls, or warung, specializing babi guling (roast suckling pig). In Ubud, visitors may stop by the ever-popular Babi Guling Bu Oka.
Meanwhile, those staying around Nusa Dua might want to schedule a visit to Babi Guling Pak Dobiel. For the Seminyak and Denpasar areas, Babi Guling Pak Malen and Babi Guling Candra are must-trys.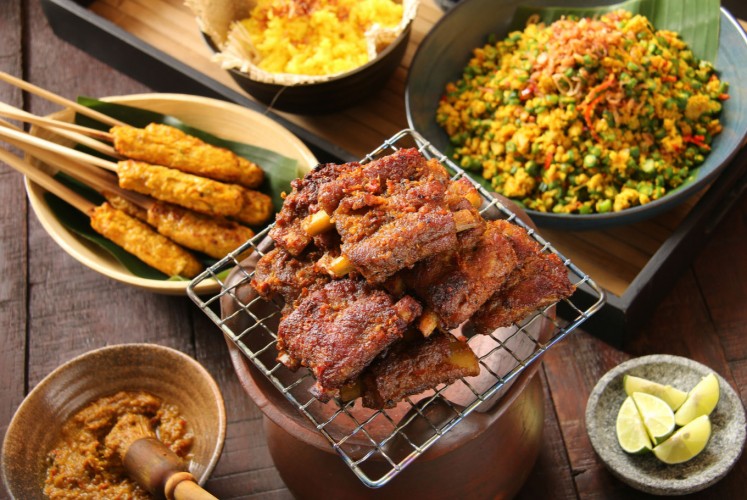 From chicken to seafood to pork, Balinese cuisine is rich in both color and flavor. Be sure to make time to sample the famous 'babi guling', or roast suckling pig. (Shutterstock/File)
Warung Mak Beng in Sanur, which is open daily from 8 a.m. to 10 p.m., specializes in a single item on its menu: fried fish with fish soup and steamed rice. The fiery hot soup is truly best matched with the restaurant's fresh orange juice.
In addition to traditional eateries, Bali is also home to world-class restaurants such as Mozaic, Sarong and Locavore in Ubud, the latter of which was listed on Asia's 50 best restaurants 2017.
Those wanting to try Indonesian gourmet dishes may opt for Bambu. Tucked inside the hustle and bustle of Seminyak, the restaurant offers traditional Balinese dishes such as ayam pelalah (spiced pulled chicken) and the dessert laklak (steamed rice-flour cakes flavored with pandan and topped with grated coconut and palm sugar). The restaurant's contemporary design, which includes a joglo (raised pavilion) that stands above a pool, makes for an enchanting traditional dining experience.
Meanwhile, there is SoulBytes for those with contemporary tastes. Located in Seminyak, it specializes in coffee and Australian cafe food.
What to take home
A sweet tart called pie susu is one of the most popular items to share with friends at home.
For those with a taste for luxury, artisan jewelry from John Hardy, founded in 1975 in Bali by its namesake Canadian designer and artist, could be a choice gift, while sharing stories of your travels.
Another alternative is crafted jewelry from Tulola, co-founded by actress and director Happy Salma, who has created a line inspired by traditional Indonesian crafts. (kes)
Join the discussions