Valencia: A place for spring fiestas
Almeria Allen

The Jakarta Post
Valencia |

Tue, February 6, 2018

| 08:41 am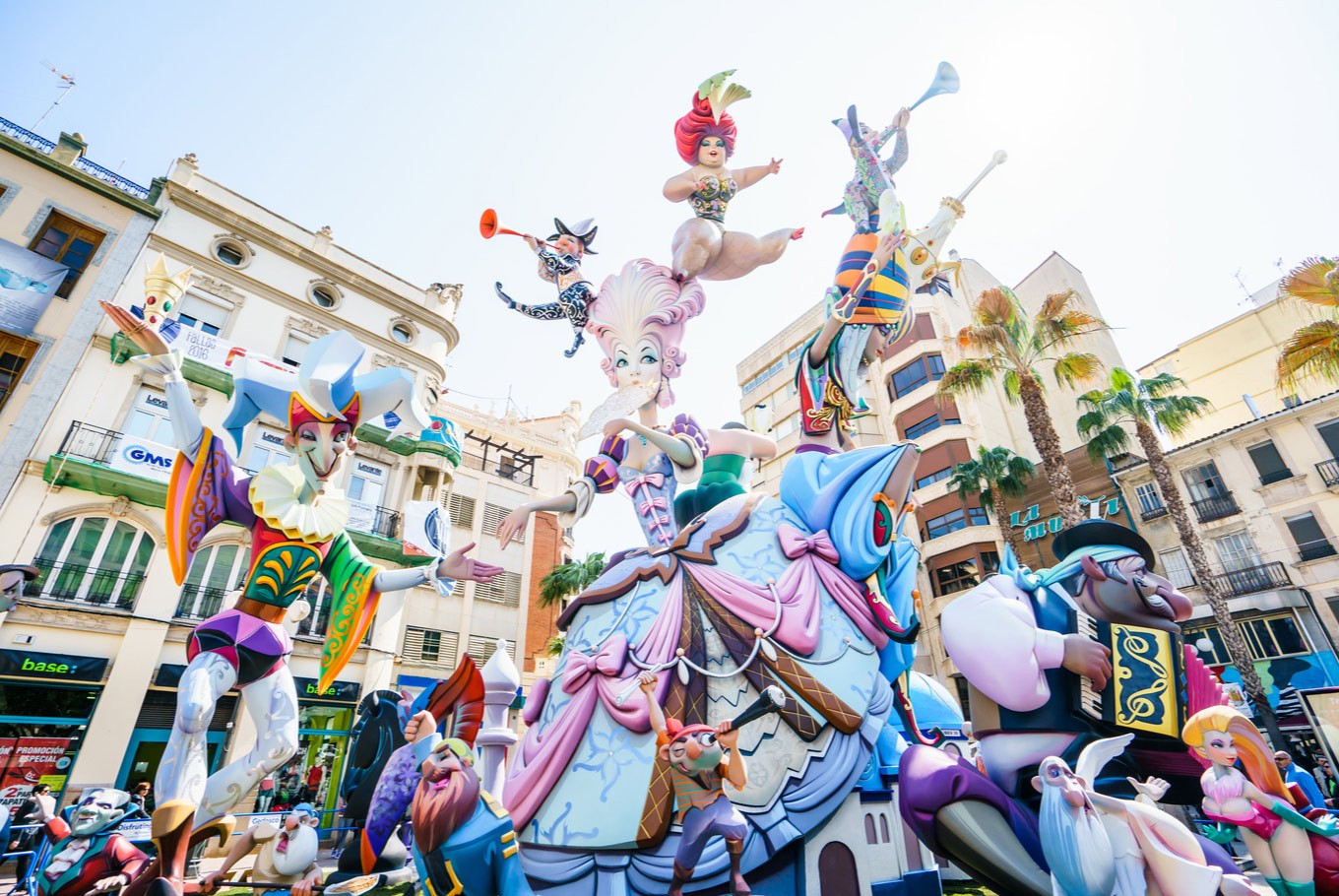 Falles, Valencia's biggest festival, celebrates the Virgin Mary's husband, St. Joseph, the patron saint of carpenters. (Shutterstock.com/Pabkov )
Every year in early spring, something big and spectacular happens in Valencia, the third-largest city in Spain after Madrid and Barcelona.
It is Falles, the city's biggest festival, which celebrates the Virgin Mary's husband, St. Joseph, the patron saint of carpenters.
During the Middle Ages, carpenters used to hang up planks of woods called parots in the winter to hold candles while they were working. In the beginning of spring, these planks of wood would be burned as a way to celebrate the end of the dark winter days.
After a while, they began to hang clothing on the parots. Then they started to make the parots look like well-known local people. The parots started to be made bigger and bigger, and soon gigantic character parots were popping up on the streets and squares.
Falles shows the best of Valencia. The ninots (paper dolls) are clothed in impressive gowns and accessories that can run in the thousands of euros.
Every day from March 15 to 19 at 2 p.m. at the Plaza del Ayutameniento, the city vibrates to the traditional Masletà, a display of gunpowder explosions that give out a unique sound.
The peak of the festival falls on the evening of March 19. Starting at around 11 p.m., firefighters equipped with fog nozzles, helmets and other firefighting gear, stand by the ninots. The cultural event here is the burning of the ninotsas a symbol of saying goodbye to winter and welcoming spring.
On March 20, everything goes back to normal. For those who want to relax after the intense festivities, there is a quiet place not so far from the city center. The city is called Albufera, the origin of the traditional costumes the men wear in Falles.
The name comes from Arabic, Al-Buhayra, which means small sea. Albufera Natural Park has the largest lake in Spain and is surrounded by agricultural villages. The tourists are mainly from Europe and arrive by bicycle or bus. The rest rent a car or go by tour bus or taxi.
Top off your vacation with lots and lots of paella, the traditional Spanish dish that is also on the UNESCO world heritage list.
Before you go to Valencia, read these tips:
Stay safe
Valencia is a considerably safe city and, unlike some other tourist cities in Spain, pickpockets are relatively rare.
How to get in
Valencia has its own airport with many direct flights from Europe. There are also other airports around the city, such as Alicante, which are good alternatives if you are flying in the peak season and cannot find a direct flight. From Alicante, you can use a train or bus to get to the city.
How to get around
Walk. You can also get around by bicycle, but it is less safe than more bicycle-friendly places such as Amsterdam, as there are not clear boundaries between pedestrians, cyclists and drivers. Taxis, public buses and hop-on hop-off buses are also available. Finally, car rentals are widely available for those who prefer a more exclusive transportation experience.
Where to eat
Paella in Valencia are like mushrooms in a damp forest.
What to see
Other than Falles in early March, there are also beaches and hot springs that are well worth visiting.
Topics :
Join the discussions