How the young Muslim generation is changing the world
Masajeng Rahmiasri

The Jakarta Post
Jakarta |

Mon, October 31, 2016

| 08:59 am
One in three Muslims are reported to be under 15 years old and two in three Muslims are under 30 years old. (Shutterstock.com/File)
With 1.6 billion members globally, the Muslim population is undoubtedly a potential market.
In a bid to tap into this market, industry players have started to make adjustments to fulfill the population's demands, which communications consultant firm Ogilvy Indonesia said would contribute up to US$2.6 trillion to the world's lifestyle and halal food industry by 2020.
Shelina Janmohamed, author of Generation M: Young Muslims Changing the World, emphasized that it was particularly important to pay attention to the young Muslim generation, or Generation M.
(Read also: A look at mipsters, an untapped commercial market of young, hip Muslims)
"If we look at the way the global population is going to grow, there will be more Muslims and they will also become the younger part of (the world). They are located in the countries where the economy are rising fast," Shelina recently told The Jakarta Post during an event in South Jakarta.
The British Muslim author noted that one in three Muslims were under 15 years old and two in three Muslims were under 30 years old. In 2010, around 14 percent of the global Muslim population consisted of people under 30. "This generation is very young, cool, tech-savvy, confident, proud of their identity as a Muslim, creative, dynamic and energetic," she said.
Shelina explained that the young generation, who "believes that being faithful and modern go hand in hand", had specific characteristics. For instance, the youth who "feel they can make the world a better place and that their faith is helping [them] in making the world better" will try to find their place in the world. One of the ways is through "consumption of products and services that they feel will help them to live the better, modern Muslim faithful life."
(Read also: RI reaches out to unbanked)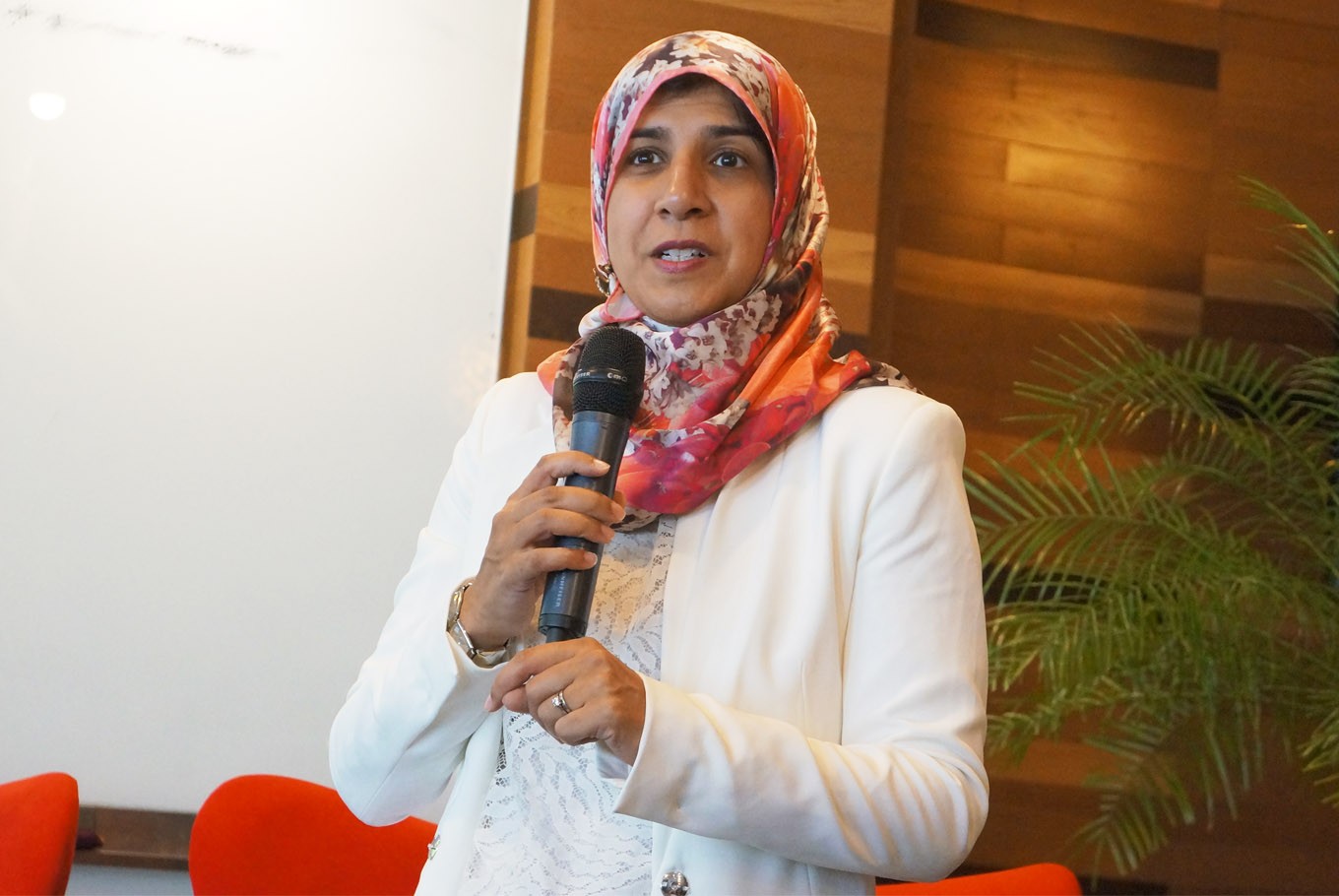 Shelina Janmohamed speaks at a press event in South Jakarta on Oct. 25.(JP/Masajeng Rahmiasri)
Among the areas where the population may spend its money are Islamic finance, halal food, media and recreation, Muslim travel, halal pharmaceuticals, Muslim fashion and halal cosmetics, the vice president of Muslim market-centered Ogilvy Noor noted.
She also talked about how this specific generation possesses different traits from older generations. She remarked that the Generation M might be interested in arts, culture and entrepreneurship and have a different view about social issues, such as opinions about the age of marriage and gender relationships in a household. "This generation will always consider whether what they are doing is an expression of being a Muslim, irrespective of what the media, the older generation, the traditionalists might tell them."
These insights are related to the topic of "what is it like to be a young Muslim" that Shelina wrote in her book. She explained that she wrote about the topic because she felt that when the London bombings happened in 2005, "there weren't really any voices talking about what it meant to be a young Muslim and how it felt to live in London".
(Read also: London taxis promote Indonesian tourism destinations)
She wanted to present to the world insights of younger Muslim generation's life, while addressing the existence of "scrutiny of Muslims, whether it's in the news, in the media or in the politics because of the rise of the discussion of terrorism".
"The story of Muslim is changing quite a lot and I think it doesn't get told very much," she said. She recounted her experience when a young man wrote to her, saying, "It was like you were talking about me in your book and nobody has ever talked about that before, of what it's like to be a young Muslim today, which we rarely see in the media." (kes)
You might also like :
Comments