More teaching volunteers needed in Indonesia's rural, remote schools
Dita Nurtjahya

A night owl and a lazy person who loves to travel and hates smelly armpit
Buluk, Papua |

Fri, December 30, 2016

| 09:48 am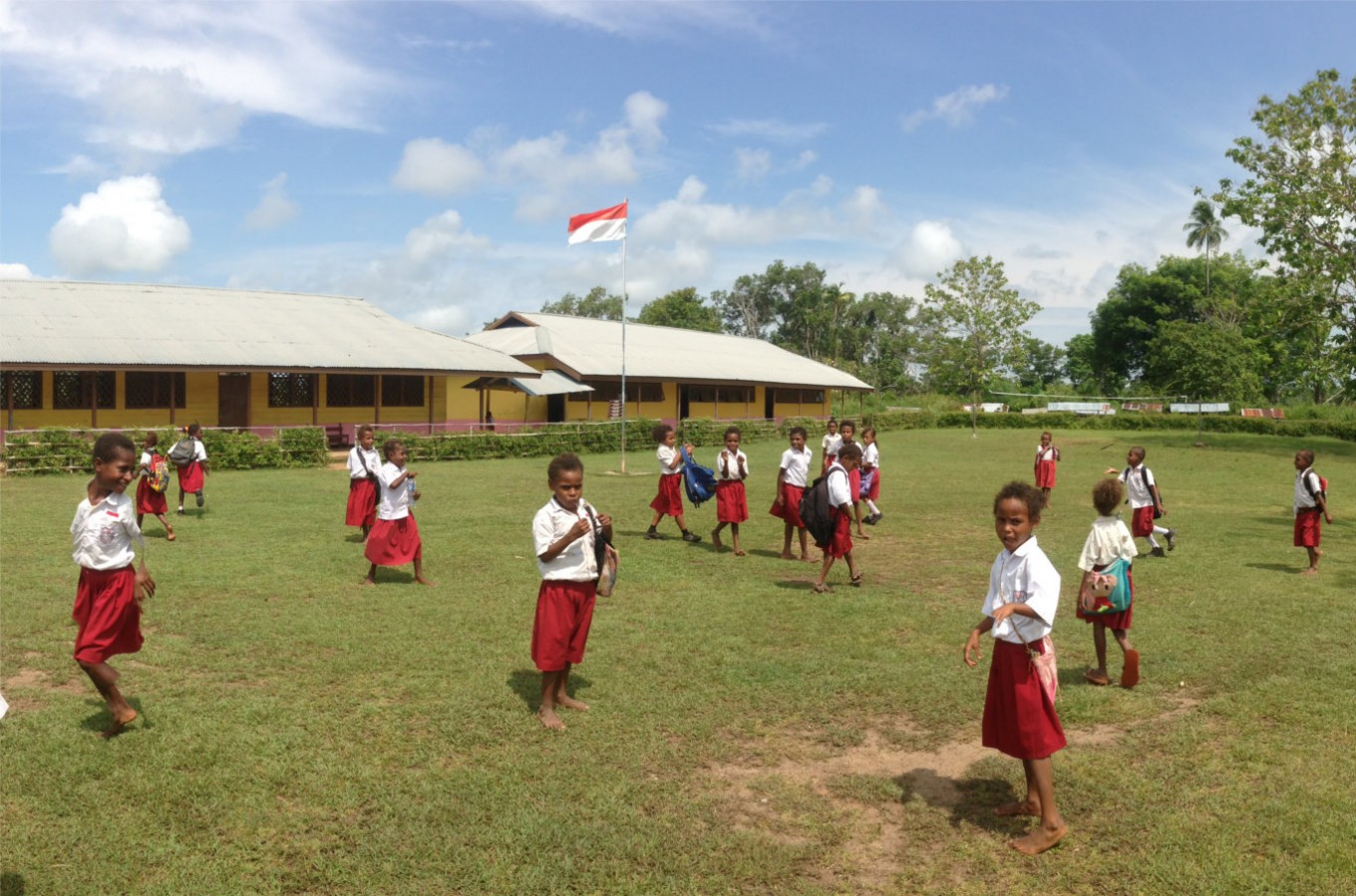 The children always went to school with a bright smile on their faces, notebooks in their backpack (or sometimes a plastic bag) and they were all barefoot. (JP/Dita Nurtjahya)
About 200 kilometers from the city of Merauke, Papua, there is a village named Bupul located at the borderline between Indonesia and Papua New Guinea. The area is very quiet as it is all forest and there is no electricity during the day; it is a peaceful village of mostly hunters and fishermen.
The villagers are financially poor; they have something to eat, but they have little money. I was given the opportunity by the local priest to volunteer over a month at the local elementary school. I taught them how to read and basic English at a military post nearby.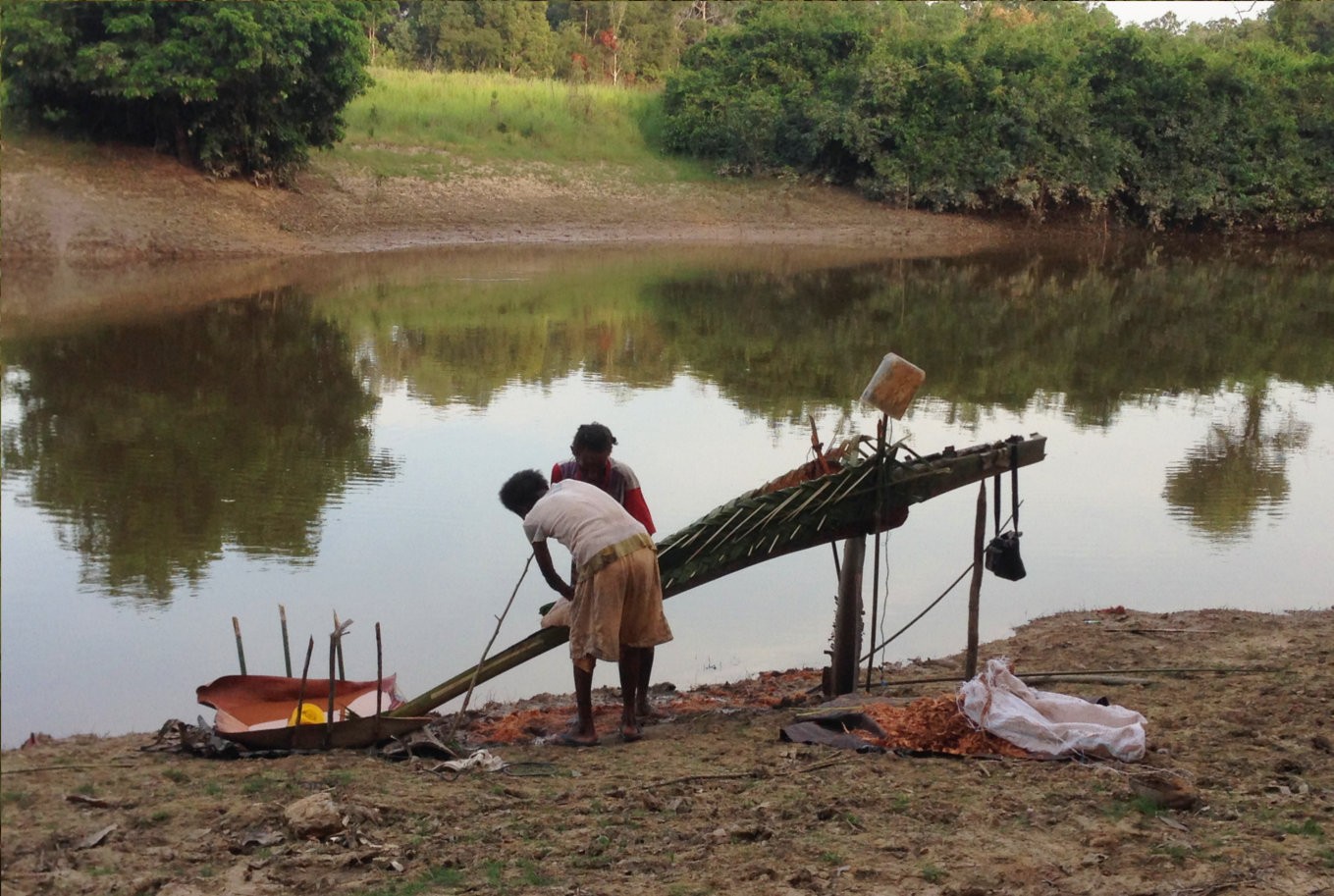 Bupul is located at the borderline between Indonesia and Papua New Guinea, it is a peaceful village of mostly hunters and fishermen.(JP/Dita Nurtjahya)
Every day school started at 7:30 a.m. The children always went to school with a bright smile on their faces, notebooks in their backpack (or sometimes a plastic bag) and they were all barefoot. They did not own a single textbook, so the teachers had to explain the subject on a blackboard and the children had to copy it into their own notebook. Some of my students, even in fourth grade, could not read; they had to spell the words slowly in order to understand. Some of my third grade students could not write the alphabet in correct order. This became a problem whenever there was going to be an exam as the teacher had to read the exam materials.
(Read also: Community service or self-service?)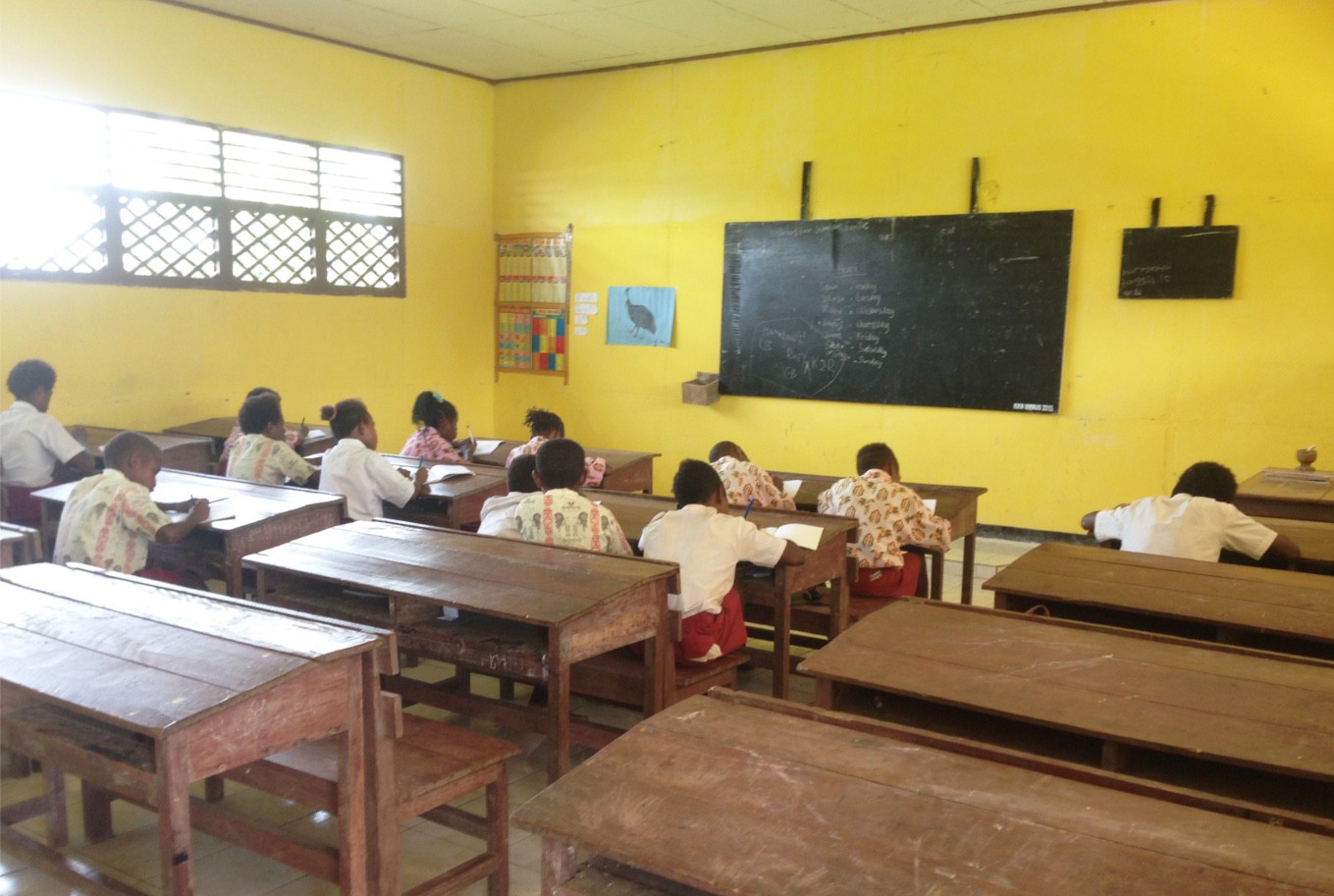 The students from Bupul village, Papua, did not own a single textbook, so teachers had to explain the subject on a blackboard and the children had to copy it into their own notebook.(JP/Dita Nurtjahya)
Indonesia gained its independence in 1945. At the time, 95 percent of the population (70 million) was illiterate. There were only 92 high schools and five universities at the time.
Presently, 95 percent of people between 15-24 years old are literate, which is a huge accomplishment. Indonesia has been working very hard at improving educational quality since the 1970s and the number of students enrolled at any education level (elementary, junior and senior high) has been dramatically increased.
Since 2009, the government has allocated a fifth of its annual budget to the education sector. According to United Nations' statistics, Indonesia has been making great progress toward its educational goals in primary education for all children by 2015.
Education is one of the main methods of achieving a stronger and competitive nation. Limited access to education in rural areas and uneven distribution of qualified teachers are some the reasons why education in rural areas has been left behind. Ironically, almost half of Indonesians live in rural and remote areas, with a lack of roads, books, information, facilities and, more importantly, well-trained teachers. As a result, the opportunities offered to them are limited. They have to make do with the education that is offered in the local school. Their poor conditions and living situation far away from cities result in the children getting a poor education.
(Read also: Teachers' day: Questioning role of teachers in Indonesia)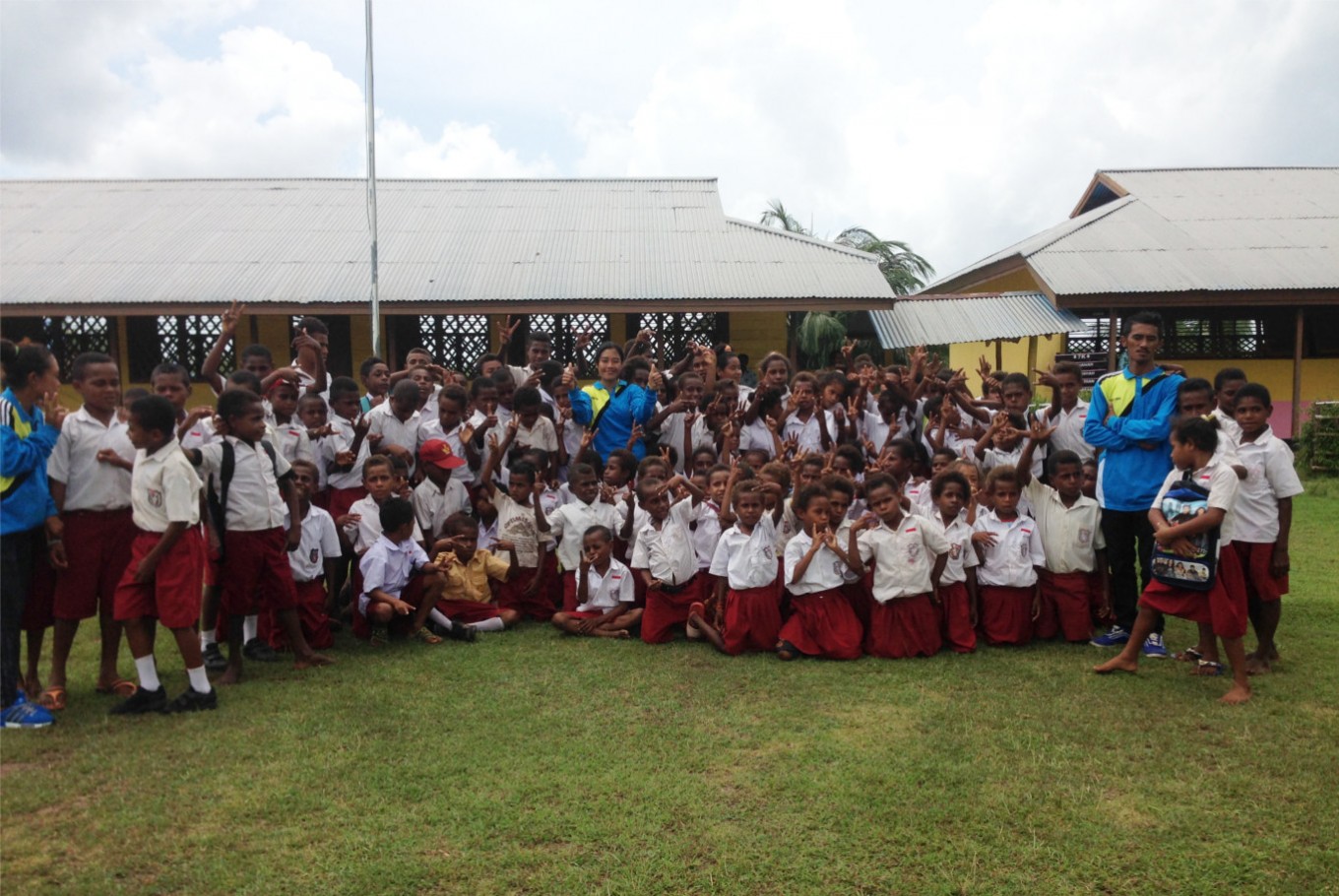 Despite the poor infrastructure, the children have a strong desire to learn.(JP/Dita Nurtjahya)
The children where I worked had a strong desire to learn. Some of them were great at mathematics. But sometimes they had to skip school in order to help their parents to hunt animals. Their parents and local people do not have a stable job to support their families. They hunt to provide food for their families.
As in any schools and government offices, it was a custom to have a flag-raising ceremony on Mondays. But during my stay at Bupul village, I never once experienced a flag-raising ceremony at the school. They never hosted a ceremony until the Army led by Second Lieut. Inf. Rendi Hardika Putera taught them how to conduct the ceremony.
To overcome the need for well-trained teachers in rural areas, the government has to work with provincial and district officers to improve teacher quality. It also has to arrange some random visits to the rural schools in order to really understand what is happening. A volunteering program could be one of the solutions for now, but the government should publish and advertise it to attract more volunteers to get involved.
Bupul desperately needs more volunteers. And providing the children with access to knowledge from the outside will empower them to change their area in many ways in the coming years. (kes)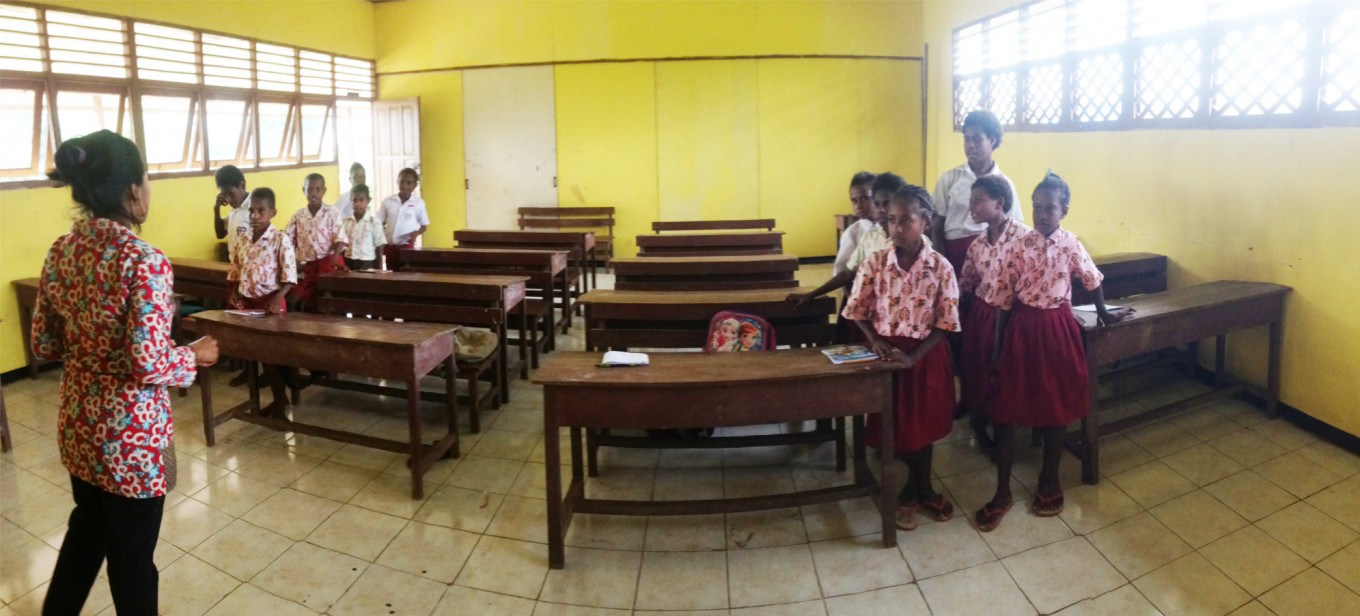 Every day school started at 7:30 a.m.(JP/Dita Nurtjahya)

***
Currently pursuing a dream to become a Forensic Specialist at University of Technology Sydney, Dita continues her passionate work as a volunteer. She along with her friends founded a charity community called Pelangi Berbagi. Dita also volunteers at Earth Hour Yogyakarta, The Climate Reality Project, and Yayasan Kasih Anak Kanker Yogyakarta. The writer can be found at Facebook, Instagram, and Path at Dita Nurtjahja, also at Twitter @nurtjahyadita.
---------------
Interested to write for thejakartapost.com? We are looking for information and opinions from experts in a variety of fields or others with appropriate writing skills. The content must be original on the following topics: lifestyle ( beauty, fashion, food ), entertainment, science & technology, health, parenting, social media, and sports. Send your piece to [email protected] Click here for more information.
Disclaimer: The opinions expressed in this article are those of the author and do not reflect the official stance of The Jakarta Post.
Topics :
You might also like :
Comments