IPB introduces school of coffee brewing
Theresia Sufa

The Jakarta Post
Bogor, West Java |

Sun, November 18, 2018

| 05:06 am The inaugural batch of Sekolah Kopi will focus on manual coffee brewing. (thejakartapost.com/Wienda Parwitasari)
Bogor Agricultural University (IPB) introduced Sekolah Kopi (school of coffee) on Saturday, Nov. 10, which aimed at teaching students about coffee.
The institute, aware of lifestyle trends, realizes that many youths today have become more passionate about coffee, with the profession of a barista becoming highly regarded.
The rector of IPB, Arif Satria, said the institute runs Sekolah Kopi in collaboration with Bogor's coffee shop Rumah Kopi Ranin.
"Whether we like it or not, we have to start instilling knowledge in our students, particularly those who are interested and passionate about coffee. This school of coffee is our institution that will build a community of coffee lovers, and to build a community of people who are willing to learn about coffee, because coffee is one of agriculture's front-runners with steadily increasing value," said Arif.
The inaugural batch of Sekolah Kopi focuses on manual coffee brewing, with the uniform apron flashing the title Kelas Dasar Peracik Kopi (basic class for coffee brewers). This batch accepted 10 students out of 80 who registered, with IPB covering all expenses and tuition fees.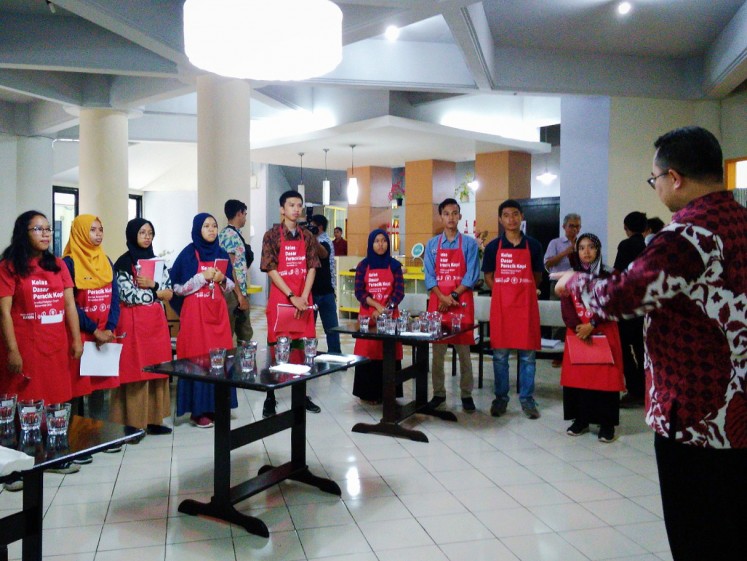 IPB rector Arif Satria welcomes students to Sekolah Kopi. (JP/Theresia Sufa)
Cofounder of Rumah Kopi Ranin Tejo Pramono said that the idea of opening a coffee school started back in October 2017, when President Joko "Jokowi" Widodo invited him to the Bogor Palace.
"I said to the President that Indonesia needs more coffee experts, and I also presented the result of the training that we conducted with farmers in many areas in Indonesia. The President then told me that we need a school of coffee," Tejo recalled.
He went on to say that the reason why IPB students needed a school of coffee was because they were already taught the sciences related to coffee, so they understand the basics, and they also studied agriculture, are professional, accustomed to working in the lab and their skills could be developed to the next level in coffee training.
Determined to collaborate in running the coffee school, Tejo reminds the audience that Indonesian coffee production ranks fourth in the world.
Read also: Indonesia to compete at 2018 World Barista Championship in Amsterdam
"Our coffee has the richest taste in the world, and in our country, coffee can grow in Aceh [the westernmost part of the country] and Papua [the easternmost part of the country], and that doesn't happen in other countries."
Tejo points out that in Italy where coffee is not grown, the people were able to create the world-famous cappuccino. It means that the non-producing coffee countries benefit economically from spreading knowledge about coffee, providing training on coffee and selling coffee, while in Indonesia people work hard in coffee plantations.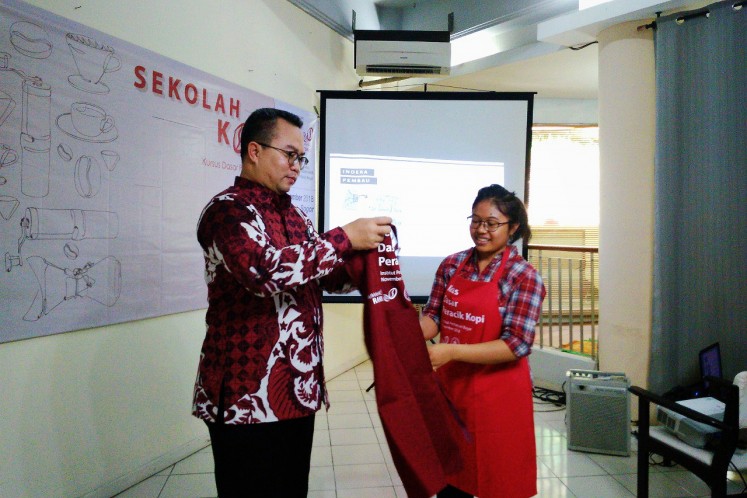 Yessica Cahyani Sitohang, a student of IPB's Sekolah Kopi. (JP/Theresia Sufa)
Yessica Cahyani Sihotang, a senior student majoring in food technology at IPB's School of Farming Technology, who was accepted at Sekolah Kopi, said she was interested in taking the course because she wants to help coffee farmers in her hometown, Sidikalang in North Sumatra.
Coffee plantations in Sidikalang have a lot of potential but they are still underdeveloped, thus unable to sell their coffee at a good price, she said. Yessica wishes to be able to help the farmers develop and process the coffee better. (iru/mut)
Topics :
Join the discussions