Gojek supports MSME digitalization and security through consistent efforts
March 2021, 04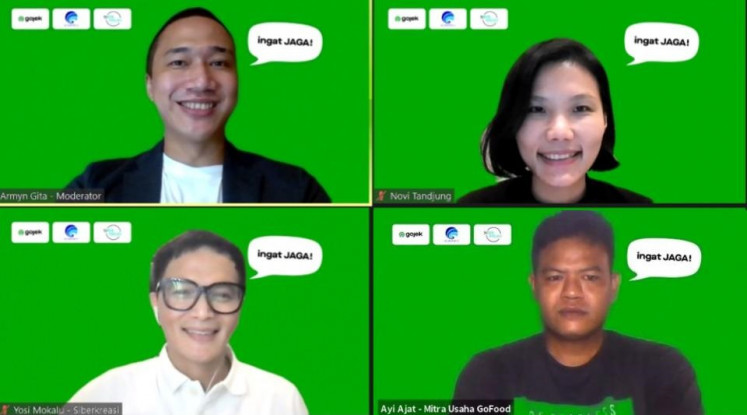 As part of efforts to enhance the digital security of its ecosystem during the COVID-19 pandemic, with people using digital platforms more frequently than ever amid physical distancing, on-demand platform Gojek continues to provide digital security education in its MSME ecosystem.
The program emphasizes how to prevent cyber fraud committed through social engineering. Perpetrators of such fraud usually target buyers and merchants alike.
With its digital security education initiative, Gojek aims to help its merchant partners, most of which are micro, small and medium enterprises (MSME), protect themselves against such online fraud. According to Gojek's internal survey conducted in December 2020, almost all of Gojek's merchant partners, namely about 98 percent, said they were able to run their businesses safely online upon participating in Gojek's training program.
To build on the success of the program, Gojek is collaborating with national digital literacy collective Siberkreasi as well as with the Indonesian Communications and Information Ministry in 2021 to educate thousands more of its merchants on digital security.
"We believe that education serves as a highly effective step to boost the vigilance of our business partners on the various fraud tactics that people use, especially social engineering," Gojek Head of Business Merchant Platform Novi Tandjung said.
"Our comprehensive efforts to improve safety in our platform focuses on an education program to improve people's awareness of the fraud risks and equip them with tips and tricks to mitigate such risks, also continuous innovation in Gojek's technology, which can improve business partners' safety," she continued.
The survey also shows that, as a result of the ongoing program, about 82 percent of its business partners already comprehend various modi operandi of fraudsters and how to avoid them. Moreover, the majority of Gojek's business partners, or 99 percent of them, also agreed that the GoBiz app has been consistently developing a system that focuses on protecting users' digital security.
Gojek's technological innovation to boost its GoBiz platform comprises various security features, including self-onboarding, employee management, and a help menu that helps business partners keep fraud at bay.
Meanwhile, beyond providing technology, Gojek has also actively been conducting a publicity campaign through the acronym JAGA (Indonesian for protect). The acronym comprises four principles: do not transfer money to anyone; secure your business and personal data including one-time-passwords, ATM/debit/credit cards as well as PIN codes; utilize the employee management feature in the GoBiz app to protect your business data; as well as report any suspicious activities through the help menu on the GoBiz platform's "others" page.
Novi said that, by collaborating with Siberkreasi, Gojek could multiply the positive impact of the education program among all the partners in its ecosystem, which did not stop at its GoBiz and GoFood merchants but benefited all merchants in its ecosystem.
The Siberkreasi team is also supported by practitioners highly experienced in educating the public about the importance of digital competence. In the near future, Gojek's merchant partners will also be able to access materials on digital security from the Siberkreasi mentors through Gojek's various community programs, including the GoFood Partner Community meeting (KOMPAG), GoBiz Business Talk Show, Midtrans Gathering and A Cup of Moka. Partners can also access educational content through Gojek's social media accounts @gofoodpartners and @gobizbygojek.
Siberkreasi chairman Yosi Mokalu said the collective was highly enthusiastic about moving forward in its collaboration with Gojek to boost digital security competence of Indonesia's business players, especially MSMEs.
"We are optimistic that reaching out to the MSMEs, which make up the majority of digital platform users during the pandemic, will be an effective way to boost the digital literacy of Indonesians as a whole," he said.
According to Novi, the cooperation among Gojek, the ministry and Siberkreasi is a form of their support for the advancement of local MSMEs and human resources, which is also a part of the Indonesian digital transformation agenda.
"We consistently develop our security system while expanding our educational programs to boost the digital security competence of our business partners. Hopefully, this can push more of our business partners to grow their businesses further, while feeling #safewithGojek (#AmanBersamaGojek)," Novi said.