Gojek has the most comprehensive health protocols amongst global players, research says
March 2021, 25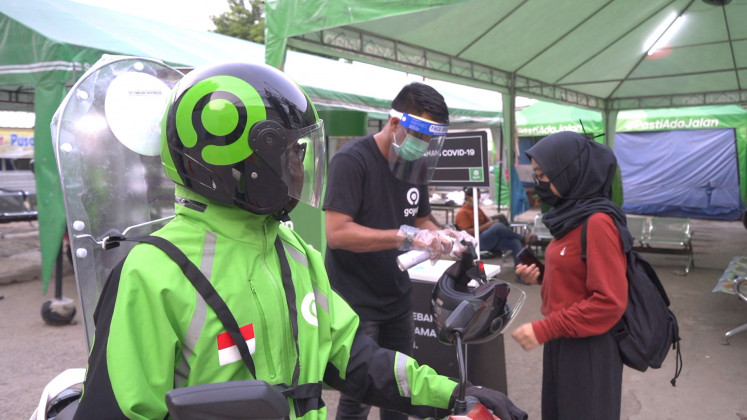 Maintaining health and hygiene has become a shared priority since the world was hit by the COVID-19 pandemic. What consumers look for in products and services today is now much more centered around the enforcement of health protocols.
This includes on-demand service platforms that have become increasingly needed during the pandemic situation. On the one hand, on-demand services help people to carry out activities and fulfill their day-to-day needs safely at home. On the other hand, their ecosystem involves many people, thus adhering to health protocols becomes imperative.
Homegrown on-demand platform giant Gojek has taken this responsibility very seriously. Since the start of the pandemic, Gojek has actively supported the COVID-19 pandemic management through strengthening its J3K health protocols.
The J3K, which stands for Jaga Kesehatan, Kebersihan, Keamanan (maintaining health, hygiene and safety), were deemed to be the most comprehensive health protocols compared with 12 other industry players in 10 countries according to research by the Bandung Institute of Technology's School of Business and Management (SBM-ITB).
Yudo Anggoro, director of SBM-ITB's Center for Policy and Public Management, said that Gojek occupied a special place in the hearts of many Indonesians, and that the J3K protocols were known to be of the highest standards.
"The high standards are born from the fact that the health and safety aspects of Gojek include situations before customers begin the trip with their drivers, unlike other industry players who only apply their own protocols during the trip," he explained.
As the partner of a large number of drivers, Yudo continued, Gojek had the chance to help the government in suppressing the spread of COVID-19 through its initiatives.
In line with this, Gojek chief transportation officer Raditya Wibowo said in a statement that the company believed everyone involved had their own roles in upholding the health, cleanliness and safety of each other.
"The significance of Gojek's implementation of the J3K protocols is focused on three main pillars: education, technology and infrastructure – each pillar supporting one another. These three pillars serve as encouragement for the habit of obeying strictly enforced health protocols." Raditya said.
Gojek's education measures include enforcing the implementation of health protocols like face mask usage and physical distancing, education for driver partners on the benefits of vaccines through the GoPartner driver app, as well as the #PesanDariRumah (#MessageFromHome) campaign involving the drivers' family members as well as a mobile billboard in 14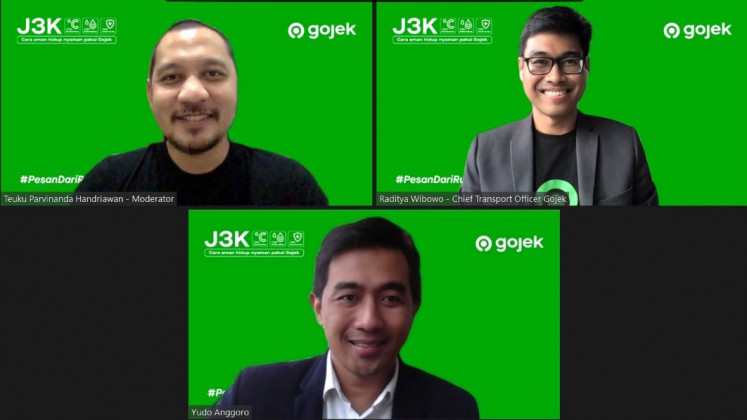 Screenshot of the discussion of the #PesanDariRumah campaign that was held virtually by Gojek and SBM-ITB (16/3/2021).
"We launched the #MessageFromHome campaign, which is inspired by the aspirations of our driver partners' families for both customers and drivers to always be reminded, disciplined and responsible in applying the J3K protocols during their trips," Raditya continued.
Raditya also noted that by involving their driver partners' families, Gojek hopes that awareness and obedience to the J3K protocols will always be upheld, contributing to the efforts at suppressing the spread of COVID-19.
Meanwhile, the technology pillar includes a wide range of innovations in the form of in-app features for both drivers and customers, such as driver body temperature and vehicle hygiene status alongside a safety commitment to the J3K protocols for the customer, and a J3K checklist with mask verification feature via selfie for the drivers.
During breaks, driver partners can also make use of the geofencing feature to stay physically distanced. Both drivers and customers can submit a report for the trip regarding the status of the J3K protocols.
As for infrastructure, the latest measure taken by Gojek is its vaccination drive-thru service in collaboration with telehealth service Halodoc. Currently, the drive-thru COVID-19 vaccination post is provided in PRJ Kemayoran, West One Cengkareng and GOR Pajajaran Bogor. The program will last until the tail end of 2021, and Gojek has included hundreds of elderly drivers in the vaccination drive.
During the inauguration of the vaccination drive-thru service at PRJ Kemayoran, a number of elderly Gojek driver partners had the opportunity to get vaccinated.
One of them was Herman, a 62-year-old driver partner, who admitted he felt calmer after being vaccinated. "I am no longer as worried as I was before, even though health protocols still need to be maintained. I am very grateful for Gojek and Halodoc for allowing me to get vaccinated early," he explained.
Gradually, Gojek plans to facilitate hundreds of other elderly Gojek driver partners to get vaccinated like Herman.
Moreover, Gojek's infrastructure measures also include J3K safety posts that partners must visit routinely in order to regularly take on orders, while customers can safely wait for their orders in the designated Zona NyAman J3K for instant orders. On-trip safety is also kept in mind, with personal protective equipment like hand sanitizers and masks alongside protective partitions for both GoRide and GoCar services.
Raditya added that out of all the three pillars, education played the largest role in nurturing positive habits for the ecosystem.
"Our internal data indicates that more than 700,000 orders were denied by our driver partners for unmasked customers. We also found that a majority of our partners are willing to be vaccinated after attending educational activities on vaccines run by Gojek. Some of those findings evidently show that Gojek's J3K initiative has had a positive impact in changing habits in our ecosystem," he concluded.