Gojek hosts gender equality talk and reinforces its commitment to diversity and inclusion
April 2021, 01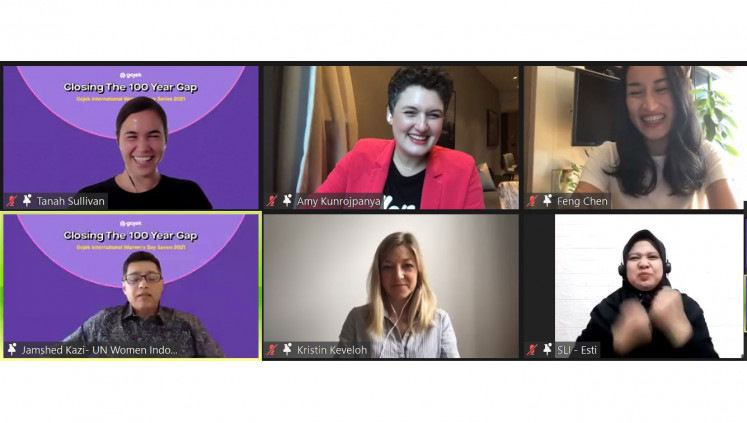 The gender gap remains a global issue that urgently needs to be addressed, which is why constant efforts must be made to narrow the gap and achieve gender parity.
According to the World Economic Forum's 2021 Global Gender Gap Report, it will take an average of 135.6 years for women and men to reach parity on a range of factors worldwide, instead of the 99.5 years outlined in the 2020 report.
Meanwhile, in the Asia Pacific region, the time needed to achieve gender parity has increased to 163 years. This means no one alive today will see the gender gap close in their lifetime if we continue on the same trajectory.
In celebrating Women's History Month, Gojek, a leading on-demand platform in Southeast Asia, held a series of sessions on the challenges and leveraging the opportunities for achieving gender equality in its organization and across its ecosystem.
Gojek hosted a virtual public discussion on March 29, titled "Closing The 100 Year Gap" with prominent leaders in their fields, sharing perspectives on how to collectively accelerate the closing of the gender gap.
The event featured leading speakers such as Gojek's head of product for engineering platforms Feng Chen; Netflix's Asia Pacific vice president of public relations Amy Kunrojpanya, LinkedIn's senior manager, public policy and economic graph Kristin Keveloh and UN Women Indonesia's Representative and Liaison to ASEAN Jamshed Kazi.
Gojek's group head of sustainability Tanah Sullivan said, "As part of our company-wide diversity, equity, and inclusion [DEI] efforts, we continue to champion gender parity by facilitating and encouraging meaningful conversations in and outside of Gojek."
"Internally, we are measuring the gap in our own organization across every function and market where we operate and have put in place initiatives and targets to integrate diversity into our recruitment, as well as talent and leadership development."
Kristin Keveloh said in the webinar that mindset is one of the key barriers to gender equality. "We all have biases, against men and women equally, but women are also often biased against women because we grow up in societies where women are disadvantaged. How can we work with our biases for positive change?"
"Changing people's mindsets is almost the main challenge in getting to gender parity," she said.
Identifying further challenges to achieve gender parity, Keveloh said, "Women still have to navigate careers and parenthood carefully, particularly as it relates to employers' support to provide the flexibility and balance needed for working mothers."
There is no silver bullet to achieve gender parity; "what is needed is strategic, consistent and long-term efforts," she noted.
According to the World Economic Forum's Global Gender Gap Report for 2020, specifically in the tech industry, women remain underrepresented; women represent only 14 percent of professionals in cloud computing and engineering, 28 percent in data and AI, and 36 percent in product development
"Women still carry the disproportionate burden of domestic [unpaid] duties - such as primary caregiving for children or elderly parents - compared with men, everywhere in the world," Chen said.
Chen also highlighted the opportunities that Indonesian people can seize amid this gender inequality.
"We have to actively play a role and continuously educate and raise awareness of the issues related to gender parity," she said.
Closing the gender gap in industries with low representation, and focusing on efforts to keep girls excited about sectors like technology, to continue on that trajectory until we have more women in leadership roles.
"Don't be afraid if you're 'the other' - the minority in a group; you have a unique and valuable perspective to share and contribute," she said.
According to the webinar, more organizations need to implement actionable policies and concrete solutions to close the gender gaps within their organizations, and embedding them in the company culture and norm.
"[An] organization has to be open and proactively looking for amazing women in the industry," Chen said.
The webinar recommended actions to be taken as Jamshed Kazi put it, "The 100-year gender gap can really happen when we're not doing something different or taking action."
To address the gender gap, the speakers all agreed, "we need to do all things necessary, big or small, because each and every action matters."
In the private sector, some of the highlighted ways to accelerate gender parity include:
Addressing and monitoring the discrepancy in the gender pay gap; it is important to build a company culture where it is possible to have open and transparent conversations, even if they are uncomfortable, to ensure organizations are able to attract the best and diverse talent out there.

Finding ways to stop being the "only" in the room; bring in others with different perspectives to encourage inclusion within organizations.

Saying no to all-male panels, and making a public commitment to diversity (such as the UN Women Indonesia No Manel Panel pact).
"The alternative to doing nothing means we don't get anywhere - nothing changes. Having this conversation is the whole point that something must change. I believe there is always hope because none of us should be shying away from the topic," says Amy Kunrojpanya.
Prior to the discussion, Gojek held several other internal talks to raise awareness of and encourage dialogue on the different challenges faced by women today.
Codirector of Hollaback! Jakarta Anindya Restuviani shared how everyone - male allies included - should take action to eliminate sexual harassment.
Establishing the Women's Employee Resource Group
Besides hosting these discussions, Gojek recently established a Women@Gojek Employee Resource Group (ERG) as part of its commitment to making Gojek an inclusive workplace, where everyone belongs, and is engaged, supported and valued.
The Women@Gojek ERG is led by Gojek employees, women and men, to work toward making the organization a safe and supportive space for women to advocate for meaningful change within Gojek.
To advance the skills and leadership potential of female employees at Gojek, Women@Gojek's mission will be focused on four core pillars:
Network: Initiatives to build a strong community where women can connect with one other.

Growth & Development: Providing skills and mentorship for professional development, and focusing on support systems.

Policy: Recommendations for long-term policy changes for Gojek leadership based on employees' needs.

Visibility: Focusing on collaboration with other women's ERGs across technology companies.
On top of the internal efforts to champion gender equality, Gojek has been pioneering initiatives to contribute to a culture of safety in public spaces through the #SafeWithGojek initiative. This initiative has received recognition as the first national winner and the second runner-up in the Asia Pacific Region of the UN Women 2020 Asia-Pacific Women's Empowerment Principles Awards.