Rekindling connection during Ramadan: How Gojek makes hearts grow fonder amid pandemic
April 2021, 10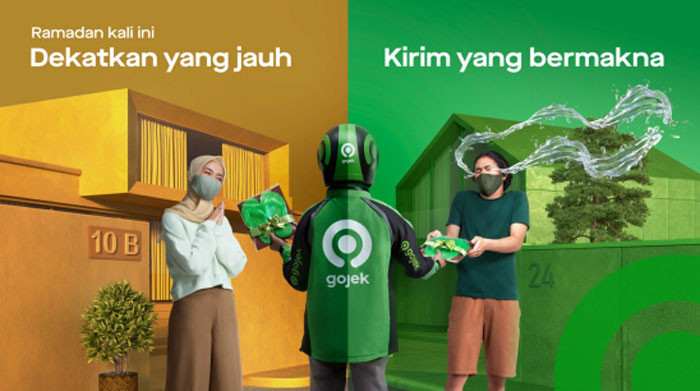 March 2021 marks one year since the COVID-19 pandemic hit Indonesia, bringing great social changes and physical boundaries with loved ones.
A survey carried out by the Indonesian Psychiatrists' Association (PDSKJI) showed that the pandemic had impacted social interactions greatly, with eight out of 10 people experiencing post-traumatic stress disorder. Feelings of separation and isolation were the most common symptoms.
As we enter our second Ramadan under strict health protocols, leading on-demand platform Gojek is launching its latest campaign titled Dekatkan yang Jauh, Kirim yang Bermakna (Close the Distance, Send Something Meaningful) to bring together those separated by distance and the COVID-19 pandemic and inspire them to rekindle relationships during Ramadan.
Through this campaign, consumers can enjoy a wide range of promotions, discounts and activities for services such as GoFood, GoRide, GoCar, GoMart, GoTix and GoClub under the umbrella of Promo Bermakna (Meaningful Promo).
Along with such promotions, Gojek is collaborating with e-commerce platform Tokopedia for an exclusive Ramadan Parcel package, which includes GoSend free delivery.
Gojek head of brand marketing Meila P. Handayani said in a statement that Gojek was committed to reviving the magic of Ramadan by forging meaningful connections throughout its campaign.
"Gojek realizes how the COVID-19 pandemic has changed people's preferences in interacting with others, including during Ramadan, which is generally filled with various social activities. As Southeast Asia's leading on-demand platform, we believe technology can be the key to rekindle the warmth and strengthen relationships in the community," Meila said.
Psychologist Saskhya Aulia Prima, who specializes in children, youth and family psychology, also highlighted the pandemic's effects on social interactions.
"These changes in social interactions surely have a psychological impact. It can cause sleepless nights, excessive anxiety and even loneliness that can trigger other physical and mental health issues."
According to Saskhya, the psychological effects may worsen during Ramadan, as many are used to collective traditions such as sahur (predawn meal) with family members, breaking the fast, ngabuburit - tradition of engaging in activities to pass the last few hours before the breaking of the fast and other religious rituals at the mosque.
"It is important to remember that the effort of maintaining a connection could actually improve the quality of the relationship itself. There are ways to foster relationships despite the physical distancing rules. Especially with today's technology, showing attention and affection to loved ones can be started with the simplest things such as a regular phone or video call, or sending their favorite food and other meaningful items, to name a few," Saskhya said.
As a response to the need for meaningful connection, Gojek is initiating a variety of programs such as GoFood promos and a location picker feature, GoMart for hassle-free grocery shopping, GoSend free delivery and discounts, GoGive for donation and zakat with ease, Ngabuburit with quality content on GoPlay and GoTix and a number of attractive prizes from GoClub. Check out Gojek's website for details.
"We hope that Gojek's promotions and services can warm the spirit of Ramadan, as #ThereisAlwaysAWay to make the heart grow fonder with Gojek," Melia concluded.