Gojek holds largest vaccination program for driver-partners
May 2021, 01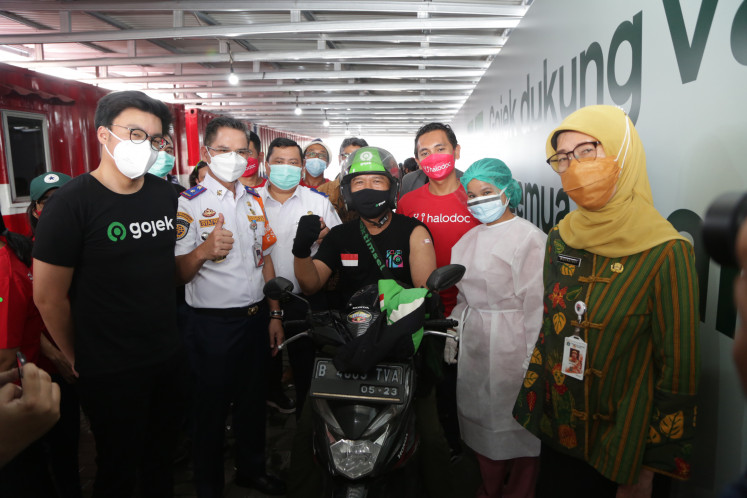 As part of its commitment to providing the highest safety standards in the industry, on-demand service platform Gojek is holding the largest vaccination program for its driver-partners in Greater Jakarta.
Conducted in collaboration with Halodoc and the Jakarta administration, the vaccination drive is being held over the next three months, starting from Thursday, in Kemayoran, Central Jakarta, and WestOne City Cengkareng, West Jakarta. Up to 1,500 vaccine doses will be available each day, with the aim of vaccinating all of Gojek's Greater Jakarta driver-partners, who number in the tens of thousands.
Halodoc CEO and cofounder Jonathan Sudharta said that since the program's official launch last month, Gojek and Halodoc's drive-thru vaccination posts have facilitated around 90,000 vaccinations, with an average processing time of one hour for each recipient — who does not even have to leave their vehicle.
To support the safety and security of the vaccination process, both vaccination posts are supported by medical staff from Hermina Hospital. After receiving the vaccine, Gojek driver-partners can also utilize the GoMed feature to consult doctors or access other health services on the Gojek app, which is integrated with the Halodoc app.
To further increase feelings of trust and safety, Gojek is also preparing a new feature in its app that will allow customers to view their driver-partners' vaccination status.
Gojek co-CEO Kevin Aluwi said during a press conference that the safety of Gojek's services has been the company's top priority, especially during the pandemic.
"Since the very beginning, Gojek has been proactively involved in the government's COVID-19 vaccination programs across the country. This day is a very important milestone because Gojek's driver-partners can now be vaccinated, thanks to the support of the Jakarta administration and Halodoc," he said, adding that Gojek's driver-partners are a vital part of the country's logistics by providing transportation and delivery services for the Indonesian people.
In a recorded statement, Jakarta Governor Anies Baswedan acknowledged the role of Gojek's driver-partners in the economy.
"During the pandemic, Gojek's partners have become heroes that provide services across a wide range of daily needs, especially logistics that are essential for the people of Jakarta, as they can stay home but still take part in activities that have economic effects."
Ahmad Yani, the Transportation Ministry's public transportation and multimode director, emphasized the importance of vaccinations for Gojek driver-partners in their role as frontliners in public service.
"We have our special target to provide vaccinations on a massive scale, including through this collaboration with Gojek and Halodoc [...] With this vaccination drive, we will move together toward a healthier Indonesia, so that we will arrive to a point where our economy will be better than it is now," he said.
Along with Jakarta, vaccination drives for Gojek driver-partners have been ongoing in several other cities across Indonesia, done in collaboration with Halodoc and regional governments.
"We are thankful for the government's trust in including our driver-partners as one of the earliest groups to receive the vaccine. We answer this trust by providing the best service to assist customers in their transactions safely, so that Gojek and our partner can contribute to the long term post-pandemic economic rehabilitation," Kevin said.
Gojek's endeavors in supporting vaccination efforts are also realized through LOKET, Gojek Group's event management company. Working together with the Health Ministry, LOKET has facilitated online registration and scheduling for more than 250 vaccination programs across Indonesia, covering more than 150,000 participants as of April. Gojek's strategic partner Telkomsel has also supported the programs through various benefits for Gojek driver-partners, in the hopes of increasing enthusiasm for the government's vaccine rollout.