UI Professor: Gojek's vaccination program brings positive impact on economy
May 2021, 04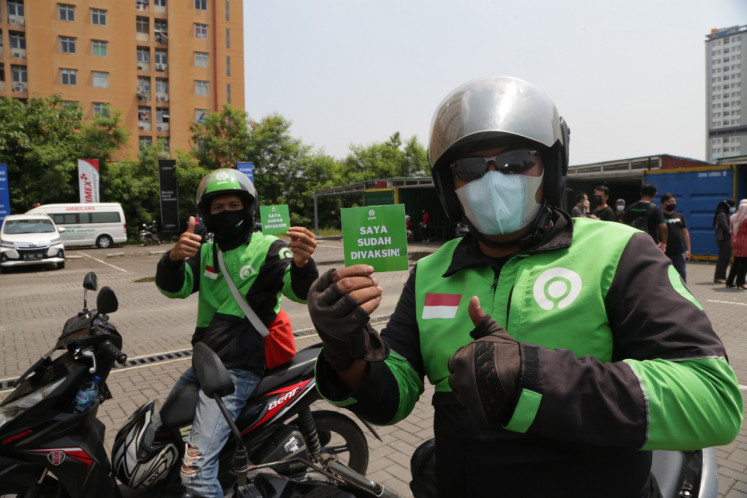 As the world slowly moves to tackle the COVID-19 pandemic through vaccinations, homegrown online on-demand service platform Gojek's move to vaccinate its driver partners is considered one of the largest in the industry to date.
On April 29, Gojek along with Halodoc and the Jakarta provincial administration launched the largest vaccination program for driver partners in Greater Jakarta. The program, carried out in drive-thru posts in Kemayoran and WestOne City Cengkareng, provides up to 1,500 vaccine doses each day.
During the launch, government officials Jakarta Governor Anies Baswedan and road transportation director Ahmad Yani praised Gojek's vaccination program, saying the move was in line with the national vaccination targets while also reinvigorating the economy by allowing economic activities to resume in a safer manner.
Purnawan Juandi, professor of public health at the University of Indonesia, said that while the national economic acceleration was not set in stone and would depend on many factors, Gojek's initiative would have an overall positive impact on the economy.
"They [Gojek driver partners] are working every day and interact with many people. Gojek's step of holding a mass vaccination is the correct course of action as transportation providers are also part of the national economy," he said as quoted by tribunnews.com.
Purnawan explained that with the vaccination program, Gojek driver partners would have a lower risk in their jobs transporting customers or delivering goods, especially as food deliveries are increasing during the pandemic. This, he continued, would positively contribute and improve the national economy.
While government-backed vaccination programs have steadily rolled out, Purnawan advised the government to collaborate with private firms such as Gojek to accelerate the vaccination program and achieve national targets faster.
"In the regions, stadiums or large rooms need to be opened so they can accommodate vaccine participants. The number of health workers must also be increased so that this vaccination program can reach a wide area of Indonesia, " he said.
Gojek's vaccination program aims to reach hundreds of thousands of partners across the country. Gojek co-CEO Kevin Aluwi believes driver partners are a vital part of the national logistics by providing transportation and delivery services for Indonesians.
"Since the very beginning, Gojek has been proactively involved in the government's COVID-19 vaccination programs across the country. This is a very important milestone because Gojek's driver partners can now be vaccinated thanks to the support of the DKI Jakarta administration and Halodoc," Kevin said during the launch.
Kevin hopes that through this initiative, driver partners will be able to protect themselves, their families and loyal users of Gojek's services from the risk of exposure to Covid-19.
Apart from Jakarta, vaccinations for Gojek driver partners have been running in dozens of other cities across the archipelago in collaboration with various parties, including Halodoc and local government authorities.