Q&A: Is Indonesia finally confronting China over Natuna?
Devina Heriyanto

The Jakarta Post
Jakarta |

Sat, July 2, 2016

| 11:53 am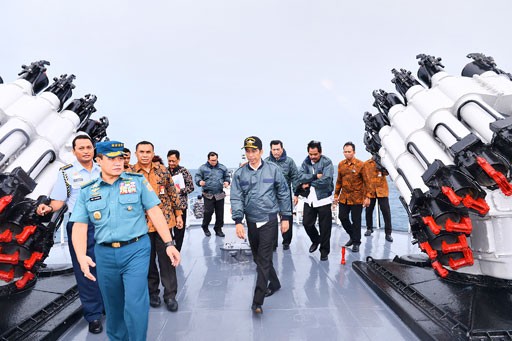 President Joko "Jokowi" Widodo (center), accompanied by Navy chief of staff Adm. Ade Supandi (left) and other senior officials, inspect the warship KRI Imam Bonjol 383 in the Natuna waters, Riau Islands, on June 23. (Courtesy Setpres/Krishadiyanto)
Poachers can no longer lurk safely in Indonesian waters. The long abandoned war against illegal, unreported, and unregulated (IUU) fishing has been reinstated, fought battle by battle by President Joko "Jokowi" Widodo and Maritime Affairs and Fisheries Minister Susi Pudjiastuti.
Under the auspices of the Maritime Affairs and Fisheries Ministry, a decree was signed to establish a special anti-illegal fishing unit. The government has destroyed a total of 176 foreign illegal fishing vessels apprehended in areas throughout the archipelago between October 2014 and April 2016, including 63 from Vietnam, 43 from the Philippines, 21 from Thailand, two from Papua New Guinea, one from Belize and one from China. Despite complaints from neighboring countries, Indonesia has maintained its firm stance on IUU fishing and continues to enforce the law.
Most of the ships, a total of 57 foreign vessels, were apprehended in Natuna waters. Some incidents made headlines – particularly those involving conflict with Chinese fishing vessels. On the surface, what has occurred in Natuna waters in the Riau Archipelago is not dissimilar with other poaching incidents detected across the nation. However, to assume the issue is the same is a false assumption. A diplomatic spat in March led to an increased Navy presence in the area. On June 23, as a display of sovereignty, Jokowi orchestrated a meeting aboard a warship.
What has happened in Natuna? What makes Natuna different?
The Indonesian Navy spotted 10 to 12 foreign fishing boats in Indonesia's economic exclusive zone (ZEE) near Natuna on June 17. They were seen throwing nets and were thus suspected to have been illegally fishing in Indonesian waters.
The Chinese fishing boats dispersed when the navy approached. Four warships proceeded to pursue the suspect boats. Making use of both radio communication and speakers, the navy instructed the crew onboard each of the boats to stop. The requests were ignored. The boats attempted to flee, picking up speed, leaving behind vessel Han Tan Cou 19038. After several hours, warning shots were fired into the sea and air.
Han Tan Cou 19038 was intercepted and detained, the crew consisted of seven people; six male and one female. Upon capture, the crew destroyed the communication tools on board the vessel. This action is alleged to have been carried out by the crewman on purpose, but the reason has not been publicly discussed.
China's foreign ministry protested the actions taken by the Indonesian Navy and disapproves of the capture of its citizens, calling it "excessive use of force". They claim that the incident took place in a traditional Chinese fishing ground and emphasize their opinion that the two countries have overlapping maritime claims over the area.
Why is Natuna important?
Economically, Natuna has abundant resources. Energy and Mineral Resources Minister Sudirman Said identified 16 oil and gas blocks in the area, five of which are already operating. Eleven are still in the exploration stage. One gas-rich block in Natuna is known as the East Natuna block, which has proven reserves of 46 trillion cubic feet (tcf) of gas, making it the largest gas reserve in Asia.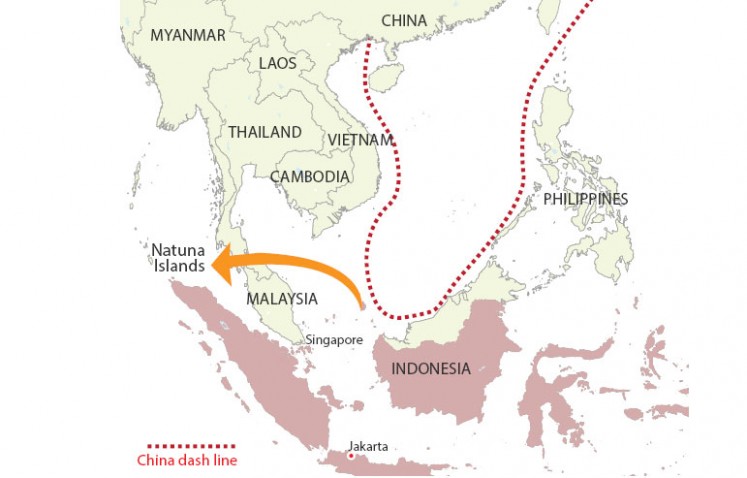 Natuna islands. (-/-)
Natuna is located just outside the bounds of China's nine-dash-line which makes sweeping claims over most of the South China Sea. Part of Indonesia's exclusive economic zone overlaps with sections of China's nine-dash-line claim. EEZ means that Indonesia has an exclusive rights to the area, and these rights are have increasingly been violated by China.
Why might China want Natuna?
It is important to understand Natuna in the context of the growing dispute over the South China Sea. Natuna is located on the southern edge of South China Sea, 80% of which has been claimed – historically -- by China. China's historical claim over the South China Sea is challenged by five governments with overlapping claims - Vietnam, the Philippines, Taiwan, Malaysia and Brunei.
The area has strategic importance as it is considered to be the second busiest sea trade route, and contains an abundance of natural resources, particularly oil. The area also boasts one third of the world's marine biodiversity.
China does not publicly contest that Natuna rightfully belongs to Indonesia. However, China has argued that it has rights to fish in the area, claiming that Natuna waters are a traditional Chinese fishing ground.
The Foreign Ministry's director for East Asia and the Pacific region Edy Yusuf stated that traditional fishing rights must be agreed upon though a treaty, based on UNCLOS. Currently, Indonesia only has a treaty with Malaysia over the narrow Malacca Strait.
The fishing activity carried out by China in waters near Natuna is considered to be particularly suspicious because the fishermen were accompanied by the Chinese Coast Guard. Both the Government and the Indonesian Navy suspect the Chinese Coast Guard of conspiring to allow their countrymen's fishing boats to fish in Indonesian waters. It is also suspected that they have an established "standard operating procedure" (SOP) for when the vessels are intercepted by Indonesian authorities, as evidenced in recent incidents.
Chinese tactics involving fishing activities can also be seen in the nations attempt to establish further presence in the South China Sea, thus strengthening China's much-disputed claim. China's South China Sea claim is also based on their insistence that the area is a traditional Chinese fishing ground.
China has recently accused Indonesia of using excessive force when dealing with poachers. Is this complaint reasonable?
Not really, especially considering that there have been previous incidents involving China in Natuna waters. It is also worth noting China's response in dealing with foreign vessels in Chinese occupied territory in the South China Sea.
Instances of China's illegal activity in Natuna waters are increasingly frequent. In March, an Indonesian Maritime Affairs and Fisheries Ministry patrol ship intercepted an illegal Chinese fishing vessel and, having apprehended the vessel in question, the Indonesian patrol boat had attempted to tow the vessel to a nearby port. A vessel belonging to the Chinese coast guard intervened, allegedly ramming the Indonesian patrol boat in an effort to prevent Indonesian authorities from detaining the boat. While the Chinese Coast Guard managed to force the release of the Chinese vessel, Indonesian authorities detained its crew.
The second incident occurred in May. This time, a Chinese vessel was caught by the Indonesian Navy fishing illegally near Natuna. The crew attempted to flee but Indonesian destroyer Oswald Siahaan-354 successfully blocked the Chinese coast guard from securing the vessel. The coast guard continued to shadow Oswald Siahaan-354, and only departed the scene when the Indonesian Navy called for backup.
The navy is said to have fired warning shots. The captain of Gui Bei Yu 27088, the captured vessel, has admitted to having repeatedly entered Indonesian waters for poaching purposes and said that he was aware that the area was located within Indonesia's EEZ.
Chinese coast guards have also been known to use rifles and have fired warning shots in dealings with foreign vessels, mostly when confronting fishermen in the disputed South China Sea.
What next?
Ever since the first incident with China in March, Indonesia has vowed to strengthen security in Natuna. Learning from the first incident, in which Indonesia failed to capture the offending Chinese vessel, larger boats were deployed to Natuna.
Indonesia has reaffirmed its zero tolerance policy with regard to poachers. "Thieves are thieves. We don't care from which country they come. We will arrest them if we find them stealing fish in our waters, especially in our [EEZ]," Susi stated.
The government introduced a number of measures toward improving economic development and defense in Natuna. The government plan to speed up the development of fisheries in Natuna because Indonesian fishermen reportedly reap a mere 9 percent of the potential catch in Natuna waters, Coordinating Maritime Affairs Minister Rizal Ramli said, adding that rampant poaching was to blame. The government will allow local fishing vessels above 30 deadweight tonnage, registered outside Natuna, to operate in Natuna waters.
According to Coordinating Political, Legal and Security Affairs Minister Luhut Pandjaitan, Indonesia will do whatever it takes to protect its sovereignty.
The defense development plan includes plans to extend the Ranai airbase runway to better accommodate F-16 jet fighters and another plan to build port facilities for three frigates, according Defense Minister Ryamizard Ryacudu. Meanwhile, Indonesian Military (TNI) chief Gen. Gatot Nurmantyo said the TNI would send five warships to protect Natuna. "A CR 212 aircraft has also been deployed to the region," Gatot said.
Indonesia is also preparing its official stance regarding the result of the Philippine vs. China case at the UN Permanent Court of Arbitration. China has been aggressively campaigning against the case brought to the UN tribunal by The Philippines. The ruling date has been decided and will fall on July 12, many predict that the ruling will be in favor of The Philippines however people are unwilling to predict China's post-ruling reaction. China has confirmed that it will refuse to acknowledge the result.
Indonesia maintains its position as a non-claimant in the South China Sea dispute.
You might also like :
Comments