Reasons to care about your birth certificate
Cyril Bennouna

Technical Lead for Research at the Center on Child Protection at Universitas Indonesia
Jakarta |

Fri, August 12, 2016

| 10:00 am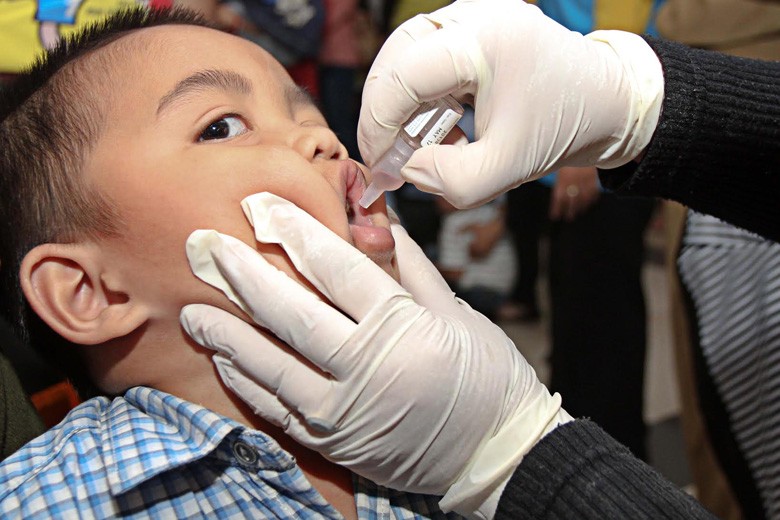 For the sake of your health – An immunization worker gives oral polio vaccines to an under five-year-old child participating in a 2016 National Immunization Week event at state-owned pharmaceutical company Bio Farma's headquarters in Bandung, West Java, Tuesday. (thejakartapost.com/Arya Dipa)
Policymakers from over a dozen ministries, several UN bodies and civil society met from Aug. 9-10 in Bogor to discuss a strategic plan for strengthening Indonesia's ability to deliver valuable legal identity documents and unique identification numbers (NIK) to all of its citizens.

This may seem routine, but sadly it's not. Although almost half of Indonesian children still lack a birth certificate, and death registration is almost nonexistent, there has never been a national strategy to address this issue that coordinates all the ministries concerned. The politics of civil registration can be surprisingly divisive.

What might appear to be a mundane bureaucratic matter turns out to be charged with many of our most pressing challenges. A national plan to improve the government's ability to record and certify vital events, like births, marriages, and deaths, would not only contribute to the delicate balance between decentralized governance and equitable development. It could also affect the security of migrant workers across the country and abroad, and contribute to disaster preparedness.

Let's take a closer look :

• Making the government work for you

A government is only as good as its understanding of its citizens. Policy makers and planning authorities require reasonably accurate and timely statistics to set realistic targets, develop budgets, coordinate human resources and build supply chains. Civil society and journalists need these data to hold the government accountable to its targets.

With so many parents finding it too expensive or confusing to register their children, it can be difficult to gauge how many vaccines to order, or how many students to expect in next year's class. Worse, according to research by the Center on Child Protection (PUSKAPA), where I work, marginalized segments of the population are the least likely to be registered, putting them in the government's blind spot for planning social protection and expanding social health insurance.

The government's recourse is to rely almost exclusively on periodic surveys, such as the decennial census. However,these active surveillance efforts are expensive, time-intensive and often unable to produce robust subnational data. Thus, important indicators, such as the major causes of death, are based partially on outdated data. Several ministries collect their own programmatic data, which are rarely shared externally, and confusion is widespread about which data to use for planning and reporting.

These complications will be increasingly difficult to sort out the more that planning is decentralized. In a recent PUSKAPA study, we found that various national policy reforms and technological innovations targeting civil registration had not reached, or been properly implemented in, remote areas, undermining the government's objective of increasing birth registration for children to 85 percent by 2019.

• Averting disaster, building back better

If the government has trouble keeping track of its vulnerable populations in stable times, how prepared is it for mass displacements resulting from natural disasters, epidemics or conflict — when population monitoring becomes especially critical?

In West Aceh, my colleagues and I spoke with parents who had lost all their identifying documents in the 2004 Indian Ocean earthquake and tsunami. Many regencies in Aceh continue to enforce an erroneous interpretation of birth registration law by mandating that parents provide a valid marriage certificate that predates their child's birth in order to register that child.

Because certificates were not digitized in 2004 (and many continue not to be), couples frequently could not substantiate their claims of having been married before their children were born.

As a result of this catch-22, many Acehnese children continue to go unregistered, though efforts were made in some parts of the province to ease this policy temporarily to benefit tsunami survivors.

Aceh's example provides a valuable cautionary tale while deliberating the national civil registration and vital statistics strategy. After all, Indonesia is already one of the five countries most frequently hit by the world's natural disasters, with over 1,000 natural disasters in the first six months of 2016 alone. This rate is likely to only increase as sea levels rise and extreme weather events become more severe.

Well aware of these risks, Indonesia joined the Regional Steering Committee for Asia and the Pacific aiming to achieve universal civil registration in the region by 2024 partially on the grounds that such an achievement would play a "critical role" in "offering information for humanitarian planning, disaster risk reduction and management, and aiding the response to disasters."

• Safe, dignified migration

Migration is a common outcome of crisis. When individuals cross international borders without identifying documents, not only can they be detained, but they may also be hard-pressed to establish their national identity or those of their newborns when attempting to return home, leaving them effectively stateless.

This issue also concerns Indonesian migrants moving to cities for better economic opportunities and transnational laborers. Tens of thousands of Indonesians migrate to Jakarta after Ramadhan each year. These transmigrants must apply for migration letters before they move, and update their residential status on their IDs and family cards after they move, to benefit from social protection and social health insurance. Many only learn of these rules when they are denied services.

Transnational laborers must have passports and other documents to work abroad legitimately, but their recruiters and employers regularly confiscate these documents to control their movement.

The documents are also frequently falsified to obscure certain information, such as the laborer's age. When the Indonesian immigration directorate rolled out its new information management system, allowing passport information to be cross-referenced against national registry entries for the first time, it exposed widespread information discrepancies in Hong Kong, resulting in scores of legal cases.

Of course, the implications of strengthening civil registration and vital statistics stretch beyond these three issues. Expanding ownership of legal identity documents can impact a number of government functions, but it can also present important ethical challenges related to government surveillance and privacy. The discussions in Bogor at least herald a greater commitment to solving national problems through inter-sectoral collaboration and civil society engagement.
***
The writer is the technical lead for Research at the Center on Child Protection (PUSKAPA), Universitas Indonesia.
---------------
We are looking for information, opinions, and in-depth analysis from experts or scholars in a variety of fields. We choose articles based on facts or opinions about general news, as well as quality analysis and commentary about Indonesia or international events. Send your piece to [email protected]. For more information click here.
Disclaimer: The opinions expressed in this article are those of the author and do not reflect the official stance of The Jakarta Post.
Topics :
You might also like :
Comments