We will give Indonesian publishers greater benefit: Alibaba's UCWeb
Dandy Koswaraputra

The Jakarta Post
Pekanbaru |

Mon, November 21, 2016

| 11:02 am Donald Ru, head of the Indonesia market, UCWeb, Alibaba Mobile Business Group (US News/File)
Alibaba, through its mobile Internet company UCWeb, eyes Indonesia as a potential market to provide users for local publishers. Head of Indonesia Market, UCWeb, Alibaba Mobile Business Group Donald Ru sat down with The Jakarta Post on the sidelines of the 2016 Media Festival held by the Alliance of Indonesian Journalists (AJI) in Pekanbaru, Riau, on Nov. 19 to discuss digital issues and the company's mission to enter the country by creating collaborations with local journalists.
The Jakarta Post: How significant is the Indonesian market for UCWeb?
Alibaba's UCWeb: Indonesia is the most populous nation in Southeast Asia, which provides a window of opportunity enabled by a demographic dividend. Besides, Indonesia has seen a high increase in mobile traffic. According to WeAreSocial, the current Internet user population is about 88.1 million, and the share of page views on mobile devices is 70 percent, and its year-on-year growth is 41 percent.
Since our mission is to provide users around the globe with better mobile Internet software and services, we consider Indonesia as an important market for us to utilize our expertise to serve.
JP: Since when has UCWeb been targeting the Indonesian market?
We have been accumulating users in Indonesia through our flagship product UC Browser since 2014.
JP: A number of news aggregations exist in Indonesia. What are the differences you offer to compete with existing outlets?
We bring UC News to Indonesian users based on what we have established in Indonesia through our flagship product UC Browser – a huge repository of traffic, our knowledge about users here, or rather the big data, and relations with local players across industries. UC Browser is Indonesia's number one mobile browser as per StatCounter, and UC Browser has been an important mobile Internet gateway in Indonesia. This is why the big players in various industries, like Lazada in e-commerce and Disney, Marvel and Rovio in the movie industry, would like to cooperate with us to explore innovative projects.
With multitudes of users to serve, UC News features a sleek and user-friendly user interface, a constant and abundant supply of trending news enabled by the cooperation with over 200 media partners as content providers, as well as smart and data-driven content delivery to users powered by leading data analytics and algorithms.
Besides the aforementioned, we also take one step further to think about how to better connect the users, the content providers and the advertisers. This has resulted in us coming up with UC News We-Media Platform, as we introduced in the presentation. We position UC News We-Media Platform as an open platform for independent content providers, including journalists and editors in the media, influencers, bloggers, self-publishers and content agencies, etc. to have their ideas and thoughts heard, and eventually get revenue from what they created for the audience. We take responsibility for contributing to the establishment of a healthy and complete We-Media ecosystem in Indonesia.
Therefore, in terms of our exploration in scouting We-Media partners, we are determined to tie up with content providers at all levels. For example, we have cooperated with celebrities like Raffi Ahmad, Fitri Tropica, and Bambang Pamungkas. To cater to both a mass audience and an audience in the mid- and long-tail, we now have our platform open to any independent content providers. And in terms of business model, for example, we have provided transparent business model for partners to track traffic and revenue.
JP: Could you explain the benefits we get if we collaborate with UC News as a partner?
As we mentioned in the presentation, we recommend that individual content providers who aim to get their content publicized and monetized look at three key factors in potential partners, namely the big data support, resources, including mass quality traffic, capital support and media partners, as well as experience.
Therefore, for individual content providers who cooperate with us, they will not only get quality mass traffic enabled by our rich repository of users and our leading big data technology for efficient content distribution but also get support from us to establish their personal brands, or rather, establish themselves as independent media brands, to be the go-to source of information for their respective audiences. At the end of the day, they will get revenue from what they create or even from the influence of their images, being who they are.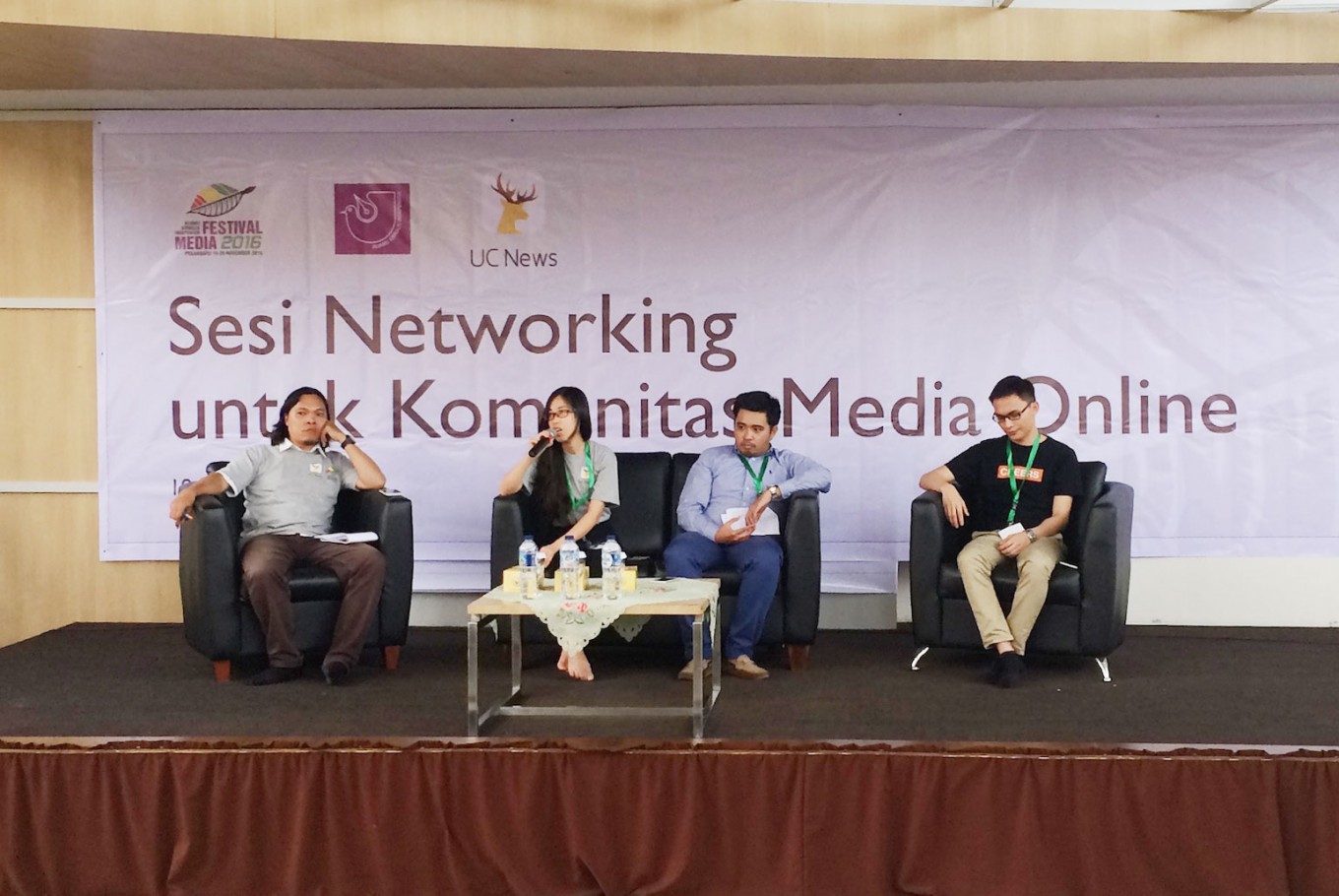 The head of the Indonesian market for UCWeb, Alibaba Mobile Business Group, Donald Ru (right), speaks to an audience along with senior business manager UC Web (second right), the head of media development at UC News, Catherine Huang (third right), and AJI committee member Yudie Thirzano during a media discussion held by the Pekanbaru chapter of the Alliance of Independent Journalists (AJI) as a part of the annual Media Festival in Pekanbaru, Riau, on Nov. 19. (JP/Dandy Koswaraputra)
JP: You claim that UC News gives greater benefit than other outlets. Could you explain in detail about the benefits?
For content creators, we are an additional channel to provide more resources and support for content monetization. In addition to the transparent business model I mentioned above, let me give you more pointers here.
On one side is the scale of traffic. We didn't just think about how to meet or even exceed what our users expect from us. We also think about how we can collaborate with partners to make progress together based on what we have established in Indonesia through our flagship product UC Browser. That's why we said during the presentation that we are capable of sharing our users, or mass quality traffic, with our content partners on UC News. In this case, we can help partners have their content reach the maximum range of target users from our user base.
On the other side is considerable public exposure. We are experienced in digital marketing and branding strategies thanks to 12 years of technological and business development and big data-powered marketing practice. We can deploy rich home-grown and external resources to help content partners do personal branding to eventually attract potential advertisers for monetization.
We uphold the principle that the better the content, the more traffic it deserves. Basically, the revenue that individual content partners get from UC News is closely related to traffic. There are also customized business models available to content partners who have specific requirements or capabilities.
JP: You said that the composition is 60 percent for publishers and 40 percent for your part. Can you explain the reason behind these figures?
Similar to the principle we uphold for big data-powered content distribution, which is the better the content, the more traffic it deserves, we also think that content creators deserve to share a larger proportion of revenue when it's gained through a platform.
Therefore, we prefer our content partners to share more of the revenue gained through our platform, as the revenue that we share will be mainly used for regular operations and maintenance, including big data optimization, platform promotion, regular business development for monetization, etc.
But apart from this, we are also planning to offer nice surprises to content provider partners.
JP: Do you have a registered UCWeb office in Indonesia?
We have a representative office in Indonesia now.
JP: Why have you chosen the Alliance of Independent Journalists (AJI) as a partner?
We actually not only cooperate with AJI, but also other media associations, like IDA. We are also open to potential partners that can seek mutual development and make progress together, be they individuals from the media or organizations.
The reason we chose AJI as our partner is that AJI is the leading alliance of journalists, editors and other individuals from the media, bloggers and communities, etc. in Indonesia. The combination of such industry movers and shakers has made AJI very important in Indonesia's media industry. We believe the collaboration with AJI can help us to realize our vision for UC News We-Media Platform as a platform to monetize what content creators create and become well-off.
JP: What do you see Indonesian journalists in general thinking of your mission to promote UCWeb?
We observe that Indonesian journalists are a group of versatile content creators. But sometimes they cannot cover what they most want because of the major area of topics they cover for the media company they work for.
Therefore, we see UC News as a good platform for this group of versatile content creators to showcase their capabilities and bring added value to what they create.
JP: Besides Indonesia, which counties in ASEAN are your target markets?
We actually have accumulated user bases and business partners in other Southeast Asian markets besides Indonesia, like Vietnam, Thailand and Malaysia. And we've been also exploring the opportunities there, like we did in Indonesia.
JP: UC Browser has a feature to block ads that was criticized by advertising agencies. What is your comment?
The debate between ads and the user experience has never ended and it is a global-scale matter. But from our point of view, even though we have an ad block feature in UC Browser, we above all understand and agree that advertisements indeed provide revenue, and that they are an important aspect of any business model.
Therefore, we recognize the fact that ads, therefore, do contribute to the ecosystem, and we highly respect this practice. The use of the ad block feature is actually fully up to the users. Users will have complete control as to whether or not they activate the ad block feature.
Topics :
You might also like :
Comments