'Waqf' the next best thing in finance
Ebi Junaidi

School of Economics lecturer at University of Indonesia
Durham, England |

Tue, February 28, 2017

| 05:19 pm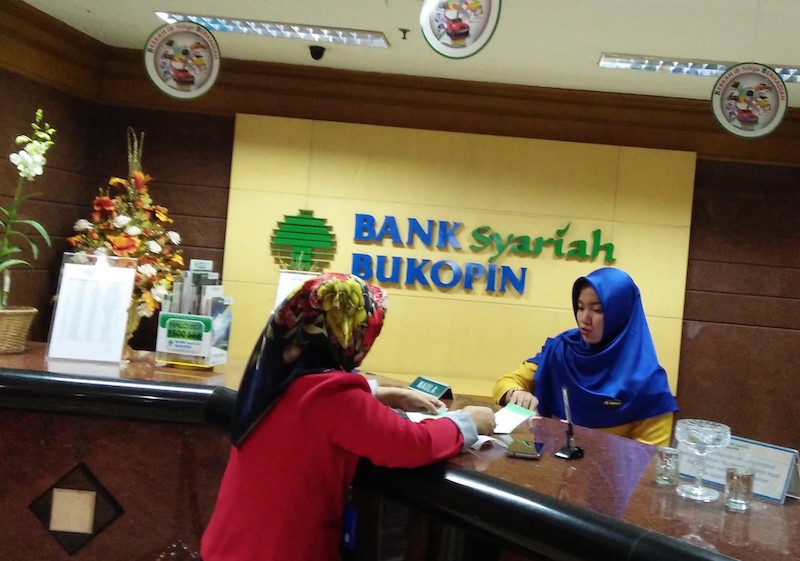 Personal touch: A teller serves a customer at the sharia lender Bank Syariah Bukopin's head office in Central Jakarta on Feb. 7, 2017. (JP/Dera Menra Sijabat)
Bank Indonesia (BI) announced recently its plan to issue waqf (Islamic endowment) based bonds as a social welfare mechanism to support struggling commercial assets.
The Indonesian Muslim Intellectual Association (ICMI) will also launch the very first waqf venture bank this June. Can waqf become next best thing in Islamic finance?
Islamic economics and finance projects initiated in the early 20th century aimed for the "elimination of poverty and reduction in inequalities in the distribution of income and wealth" (Siddiqi, 2006).
This project was then actualized in the form of Islamic banking and finance. Indeed, Islamic finance and banking has played a role in achieving the above vision of the founding fathers, being alternative institutions and instruments chosen by the previously untapped market.
Why should we expect waqf become the new trend in Islamic banking?
The first reason is the fact that in the history of Islam, waqf has played a great role in achieving welfare for the people. It is vital, to the extent that Hodgson ( 1974 ) postulated that the successes and the failures of the economy in the Muslim world depended on the efficiency of waqf.
Waqf was the main vehicle for financing both commercial and public ventures, a role that has been replaced by banks and other financial institutions (Hodgson, 1974; Kuran, 2001).
Secondly, waqf funds can be utilized for equity-based financing, a financial structure considered ideal for Islamic values, but undervalued in the current Islamic banking and finance architecture. A waqf bank will enable us to actualize the "ideal" mode of financing, namely mudharabah and musyarakah.
Shinsuke Nagaoka of Kyoto University, Japan, once attributed the early emergence of Islamic finance as the "Murabahah syndrome" due to its dominant use in the current Islamic banking practices. This contract is structured in a manner in which an Islamic bank finances the borrower by buying the capital goods needed and selling it at a marked-up price.
Although still labeled as new horizon 1.0 by the Japanese academic for Islamic Economics and finance movements, more profound criticism was that many Islamic products were derived from conventional financial practices. They are "sharia-compliant" but fail to uphold Islamic values above the legalistic form.
To cope with this, Mehmed Asutay ( 2011 ) and Amartya Sen ( 1999 ) suggested the "creation of ethical Islamic finance and investment institutions in the form of Islamic social banking as part of civil society and the creation of social banks be considered as the next stage of financial development". Thus a waqf bank could take this role as the emergence of a new ethical Islamic finance and investment institution.
Thirdly, the nature of longterm waqf funds for investment will make a good source of funding for venture capital and private equity, a segment of finance in which Islamic finance has been very little invested. Venture capital and private equity have been widely claimed as the reason for the great upsurge in economic growth in the developed world.
Jeng and Wells ( 2000 ) argue that venture capital was crucial to create dominant players in the high-tech industry, such as Apple, Microsoft, Google, Facebook, Oracle, Compaq and Sun Microsystems. We can agree "from Microsoft's Windows to FedEx's overnight deliveries, technologies developed by VC-backed firms have changed the world." (Gornall and Strebulaev, 2015)
A calculation of the impact of venture capital on the US economy found that it had created four million jobs, almost fifty percent of the total research and development expenditure in US public companies and around one-fifth of total US market capitalization. In fact, three out of five of the largest market capitalization companies in the US were funded by venture capital in their early existence.
Therefore, if a waqf venture bank initiated by ICMI can play the role of financing venture capital, a similar effect is not too much to expect.
Fourthly, the amount of money potentially generated under a waqf system is indeed huge. The value of waqf land is estimated to reach Rp 300 trillion and even higher for future collection.
So as not to become caught up in hysteria, we should also note some criticisms and suggestions on waqf. Timur Qur'an, for example, intensively explained the origin, impact and limitations of the waqf system in the provision of public goods. Historically, we have also observed the destruction of the economy due to improper use of cash waqf after the use of Imam Zufar's fatwa on waqf-based loans, which create widespread ribabased transactions.
Generally, the waqf management of surviving waqf-institutions has been traditionally poor and far from utilizing modern financial instruments, despite its enormous potential. Indonesia, for instance, has waqf land as much as five times Singapore's size, but this is managed simply as unproductive land.
In contrast, waqf management is the very same Islamic legal institution that has contributed to the development of the charitable trust system in the western world (Gaudiosi, 1988).
Oxford and other English academic institutions with college systems in the UK, for instance; "in its early phases of development, Oxford may have owed much to the Islamic legal institution of waqf charitable trust" (Gaudiosi, 1988, p.1231). This highlights the need for a professional and well-governed management to create a waqf bank that functions well and is successfully implemented.
The plan to adopt good corporate governance principles in Indonesia's first waqf bank, as mentioned by ICMI's representative Yuslam Fauzi, indeed might place waqf as the next best thing in Islamic Finance.
We hope.
---------------
We are looking for information, opinions, and in-depth analysis from experts or scholars in a variety of fields. We choose articles based on facts or opinions about general news, as well as quality analysis and commentary about Indonesia or international events. Send your piece to [email protected] For more information click here.
Disclaimer: The opinions expressed in this article are those of the author and do not reflect the official stance of The Jakarta Post.
Join the discussions