COMMENTARY: The elephant in the room in Saudi king's visit
Ary Hermawan

The Jakarta Post
|

Sun, March 12, 2017

| 08:41 am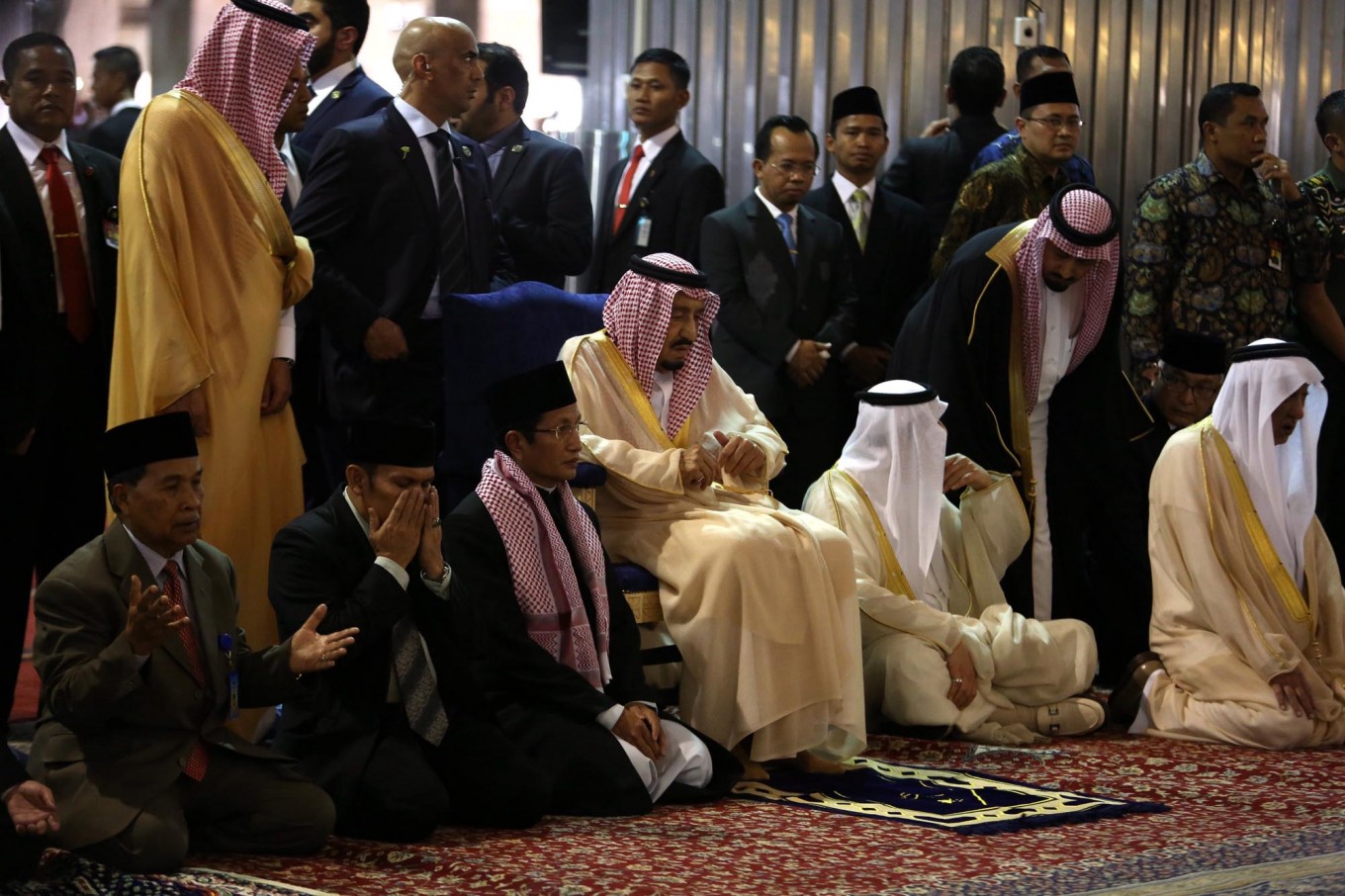 King Salman bin Abdulaziz Al Saud of Saudi Arabia performs Sunnah prayer during his visit in Jakarta, Thursday, March 2, 2017. This visit is the first official visit since 1970 aims to strengthen the bilateral ties between Saudi and Indonesia. (JP/Seto Wardhana.)
We should not belittle the significance of Saudi Arabian King Salman bin Abdulaziz Al Saud's royal visit to Indonesia.
Regardless of how much money the world's richest Islamic kingdom brings to Indonesia, the visit marks a new chapter in the history of Jakarta's relations with Riyadh.
Indonesia is an important Muslim-majority nation the Sunni kingdom must court in the battle for hegemony in the Islamic world against Iran, its regional archenemy that has won the hearts of top local Muslim figures despite rising pogroms against Shi'ism, the strain of Islam espoused by Tehran, in the Southeast Asian country.
And it is safe to say the visit has been a success — for both sides.
King Salman may not be the Pope of Sunni Islam, but more Indonesians now recognize him as the "guardian of the two holy cities [Mecca and Medina]," which is kind of a big deal for millions of Indonesians who are required to face Mecca when they pray.
As for President Joko "Jokowi" Widodo, the king's visit has certainly improved his credentials as both a nationalist and Islamic leader. That he managed to have the king talk with leaders of Indonesia's major religions in a cordial, Indonesia-esque interfaith meeting, during which he praised Indonesia's tolerance, is laudable.
Given his authority as leader of a major Sunni Islam kingdom, King Salman legitimizing Jokowi's pro-pluralism campaign at a time when his administration is struggling to contain the rise of right-wing, populist opposition is surely a win for Jokowi.
But, sadly, all this is mere politics and diplomacy. Both countries may have scored political and diplomatic points, but the reality of religious life in both countries is grimmer than what you would believe from listening to the platitudes Saudi and Indonesian diplomats regularly deliver.
Saudi Arabia calling for moderation in practicing religion will strike pro-democracy Muslims as counterintuitive, if not outright hypocritical. Human rights groups have repeatedly lashed out at Riyadh for its blatant disregard of civil liberties. The kingdom executes Muslims for renouncing their faith, bans non-Muslims from practicing their faith openly and puts a ban on female drivers.
Two years ago, Indonesian Muslim clerics began advocating the concept of Islam Nusantara, in an apparent attempt to stem the tide of Salafization of Indonesian Islam.
The argument for this campaign is that Indonesians have their own take on Islam, on how to implement it in their daily lives, which is in many ways different from Salafism, the brand of Islam espoused by the Saudi kingdom and several other Gulf countries.
A number of foreign media outlets have already run stories about the growing clout of Saudi Arabia in Indonesia, going as far as suggesting that the king's visit will redefine Indonesian Islam, which has long been known to be inclusive and diverse.
Foreign journalists may have overstated the influence of Saudi Salafism in Indonesia, but there is no denying Salafi movements are thriving in the country and this could pose a problem.
Radio stations spreading Salafi teachings are mushrooming in Indonesia, according to research by the Center for the Study of Islam and Society (PPIM). Saudi Arabia, meanwhile, has also decided to expand its Institute for Islamic and Arabic Studies (LIPIA), known as a leading Salafist educational institution in Jakarta.
To be clear, it is a mistake to equate Salafism with terrorism as many Salafists are apolitical, denouncing terrorists as takfiris who have strayed from the "true path of Islam."
But Salafists, even the quietists, are generally absolutists who are ideologically incapable of managing differences, which could undermine Indonesia's pluralism and democracy. It is also a fact that for some people, Salafism could serve as a bridge, instead of deterrent, to radicalism, with local militants supporting the Islamic State (IS) claiming to be Salafists.
Local IS ideologue Aman Abdurrahman, for example, is an alumni of LIPIA.
Scholars call Aman and other IS or al-Qaeda supporters Salafijihadists as they blend the apolitical but extreme ideology of Salafism with the political militancy of the Muslim Brotherhood, particularly the political theology of the group's martyred ideologue, Sayid Qutb.
The Indonesian government, which supports the Islam Nusantara campaign and the rationale behind it, is aware of the elephant in the room and has understandably avoided mentioning the issue during this milestone event in Jakarta-Riyadh relations.
But then the event somehow turned religious, with the Saudi king meeting Islamic and interfaith leaders to talk about the importance of religious harmony. In his speech at the House of Representatives, the king called for a united front against terrorism, but on the same day government officials were telling reporters that Jakarta and Riyadh had agreed to campaign for religious moderation.
It is not clear what has been agreed upon between the two countries, which have totally different political systems, approaches in managing interfaith relations and, more importantly, interpretations of what constitutes religious moderation.
At the end of the day, Jokowi only wanted to turn the royal visit into another bit of political theatre to weaken his opposition, which now has the backing of the so-called "Islamic populist movement".
It is hard to overlook the banality of the government's propluralism rhetoric during the king's visit.
Saudi Arabia, after all, is not the only country with a poor record in religious freedom. Indonesia, too, has its own iniquities, with religious minorities such as the Shia and Ahmadi communities still besieged by discriminatory regulations.
It is no surprise that during the meeting between the king and local Islamic leaders, where they called for religious tolerance and moderation, Ahmadi and Shia leaders were absent.
Topics :
You might also like :
Comments