EDITORIAL: To China for infrastructure
EDITORIAL

The Jakarta Post
Jakarta |

Mon, May 15, 2017

| 09:26 am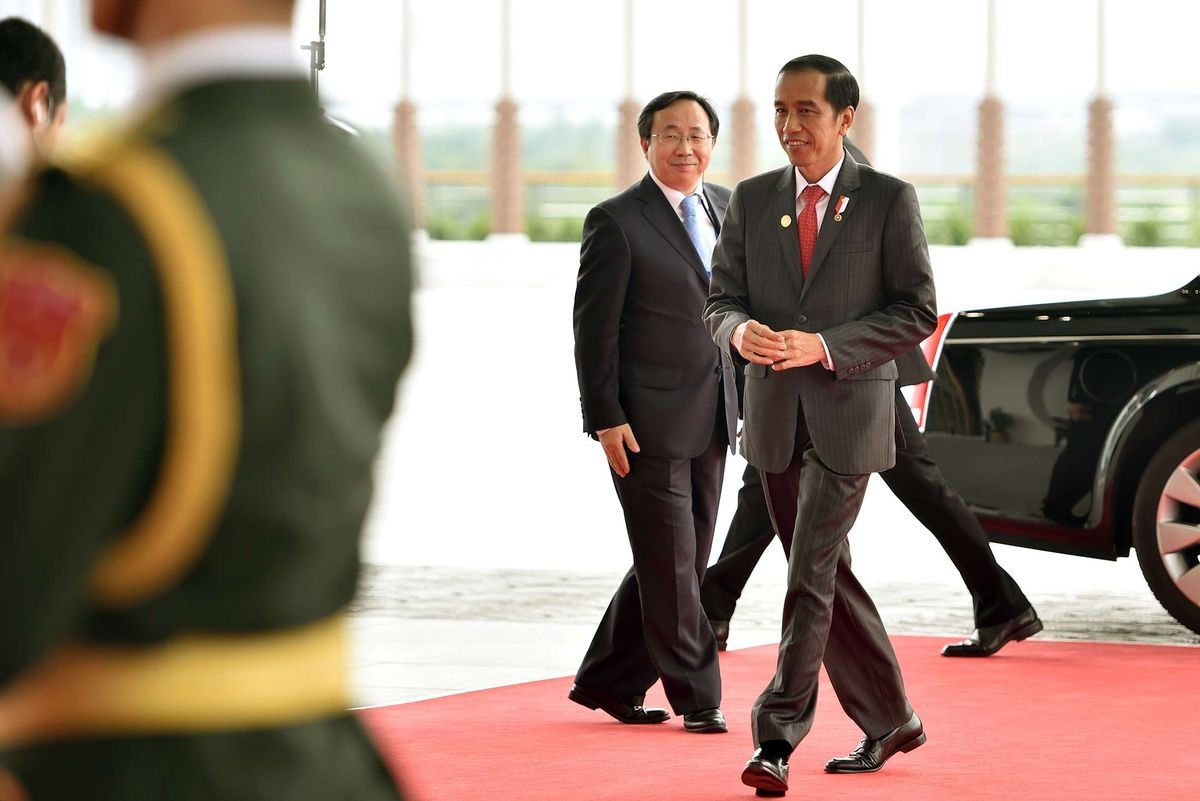 President Joko "Jokowi" Widodo arrives at the Hangzhou Exhibition Center to participate in G20 Summit in September 2016 in Hangzhou, China. Jokowi is back in the country to attend the two-day One Belt One Road (OBOR) summit in Beijing from Sunday to Monday. (Bloomberg/Courtesy)
Even though China's One Belt, One Road (OBOR) initiative is still in the process of developing as a coherent blueprint of an interconnected international infrastructure program, President Joko "Jokowi" Widodo's participation in the first OBOR summit in Beijing on Sunday and Monday still augurs well for our national interests.

Of more strategic importance is that the OBOR agenda of boosting connectivity between mainland China and 65 countries in Asia and Europe by building infrastructure ties (rail, roads, seaports) fits well with the ambitious infrastructure development that has become the top priority program of the Jokowi government.

Since President Xi Jinping launched the OBOR initiative in late 2013, the Chinese government has put its money where its mouth is, committing more than US$200 billion in financing resources through China's state banks, $100 billion through the Asian Infrastructure Investment Bank (AIIB) and $50 billion through the Silk Road Infrastructure Fund.

A survey by the Economist Corporate Network in early 2016 concluded that from a geographic point of view, Indonesia stands to be one of the biggest beneficiaries among ASEAN economies.

But even though OBOR is expected to help draw the region together by creating infrastructure-related investment opportunities, China needs to nurture better understanding of its intentions and its vision for the OBOR initiative while it tries to flex its economic muscle as a regional and global power to prevent unnecessary suspicions about its geopolitical ambition.

As China, the world's second-largest economy, is vying for influence, it has become the largest trading partner and largest foreign investor in Indonesia, Southeast Asia's largest economy.

We badly need the huge infrastructure spending that China is bringing. China Development Bank in late 2015 committed $3 billion in 10-year loans to three state banks — Mandiri, BNI and BRI — mostly for financing infrastructure projects such as power generation, light-rail transportation and airport expansion. In addition, the Industrial and Commercial Bank of China, one of the world's largest banks, has also pledged $30 billion in loan commitments to Indonesia's infrastructure sector.

Indeed, such long-term loans come with certain conditions: the loans should be extended to Indonesian state companies, which tie up with China's companies in building infrastructure; and about 30 percent of the total loans should be extended in yuan to strengthen the internationalization of the renminbi.

We don't see any problems with such loans as long as the engineering, procurement and construction works are all supervised by capable, independent engineering consultants. Moreover, the renminbi has become the fifth most-widely used currency in the world after the United States dollar, the euro, pound sterling and yen.

We should not be inordinately paranoid about the inflow of China's highly trained and skilled workers. Certainly, the construction of so many big infrastructure projects funded by Chinese banks and constructed by Chinese companies will initially bring in large numbers of workers from China as the contractors are tied to a fixed schedule for project completion. However, the workers will leave after the completion of their projects.
Join the discussions