Middle class switch to Anies: Victory of reason?
Tobias Basuki

Researcher at the Centre for Strategic and International Studies (CSIS)
Jakarta |

Wed, May 17, 2017

| 01:49 pm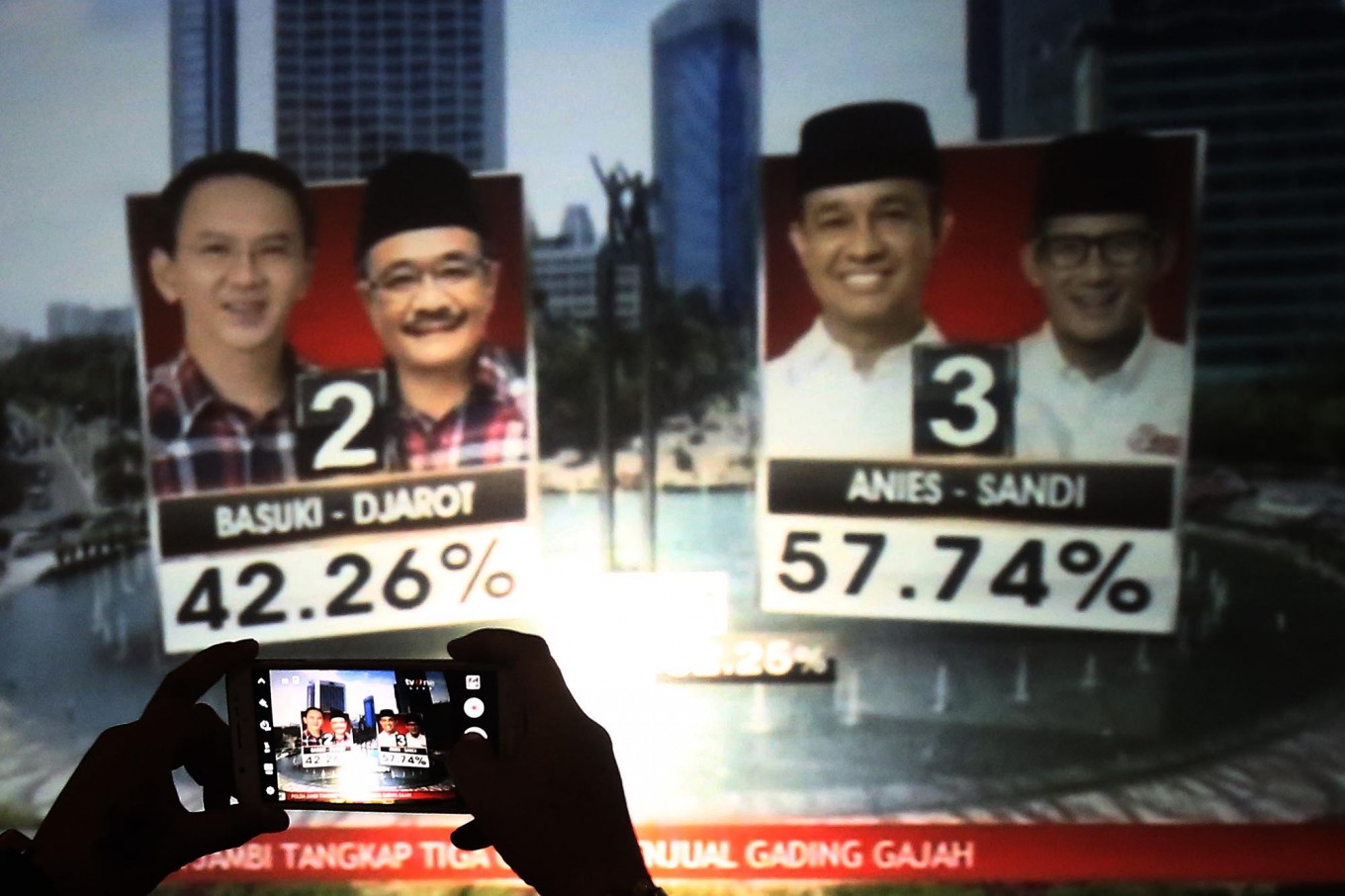 A supporter of Jakarta gubernatorial candidate Anies Baswedan photographs the vote counting process as shown on a TV monitor at the Gerindra Party headquarters in South Jakarta on Wednesday (April 19, 2017) (JP/Dhoni Setiawan)
The recent article in this newspaper by Edriana Noerdin (April 27) which flared up against the arguments signifying Islamists narratives within the campaign of the Jakarta election victors, Anies Baswedan and Sandiaga Uno, was interesting. Her article quoting mainly Polmark Indonesia's survey and work, also Anies' consultant, seems more like self-aggrandizement of their victory and data to say the least.
It is however a clear depiction of Aaron Levenstein's famous statement: "Statistics are like bikinis. What they reveal is suggestive, but what they conceal is vital."
To begin with, she admitted all survey and polling teams got it wrong that the race was a close one. It is not necessarily true that there was such a huge shift within a few days into the campaign. As it happened with Donald Trump's victory in the United States, surveys and polls simply cannot fully capture the actual reality on the ground when a political race is so heated especially on very sensitive issues such as race and religion. There were other factors to account for: (1) hidden voters, (2) surveys' inability to capture a representative sample and (3) lack of objectivity.
On the last point it is exactly that. Consultant/polling agencies like Lingkaran Survey Indonesia (Indonesian Survey Circle, LSI) were quick to pound their chests for being one of the very few that predicted Anies-Sandiaga's win. People forget that they also predicted the victory of former contenders Agus H. Yudhoyono-Sylviana Murni in the first round of election.
Polmark's exit polls were especially dubious in the first round. In the early periods it showed a clear victory of Anies-Sandiaga, where in the end they were runner ups with 40 percent of the vote.
It is not "political fabrication" that Islamist narratives were prominent in the victory of Anies campaign. There are so many points to contend but we will have to start with just a few.
Edriana argued that the middle class switched to Anies, reflecting the victory of reason rather than primordial reasons. This is both spurious and offensive. For one, the poor and lesser educated class are not necessarily irrational. Rational/irrational choice can be done both by the middle and lower economic classes alike.
First, if indeed it was the case that the middle-upper classes switched to Anies-Sandiaga, does this make it a victory of reason?
Conservatism and to some extent fundamentalism in Indonesia is rather unique in that it penetrates the upper-middle class as well. For example, some of the most highly educated make up much of the constituents and supporters of the Islamic Prosperous Justice Party (PKS).
Second, if the upper-middle classes were rational, would this lead to Anies-Sandiaga's victory? Not at all, the middle-upper class in Jakarta is of a smaller proportion. A large swath of them would help a candidate win in a narrow race, but not in this race where the gap was over 16 percent.
Lastly, does the lower income bracket vote based on religious reasons? Yes and no. But they are the least to be blamed. Some observers blame the lower educated brackets for choosing "irrationally". That is not necessarily the case.
Imagine someone in the squatters getting promises of programs plus cash (irrespective whether it is realistic or not), threatened with hell, and promised heavenly rewards -- pahala, as Anies himself said. Of course if I were one of them, I would vote for Anies-Sandiaga.
It is not the fault of the poor if the election had become so divisive and highly influenced by conservative religious narratives. It is the fault of the political elites who so "brilliantly" manufacture this fear for religious reasons, but also "hope" for easy cash.
It cannot be denied that religion played a huge role. It was Polmark's own polling that also found that religion was an important factor for people when they voted. This of course, was not due to their own religious reasoning, but due to influence and pressure cleverly manufactured by the campaign teams on the ground and in the mosques.
In the end it is unhelpful to argue back and forth over simplistic arguments from either saying Anies-Sandiaga won entirely due to religious reasons, or on the other extreme, that Anies-Sandiaga won due to reasoned and enlightened programs.
It is now the time for the victors to prove that they would stop or at least slow down widespread fear over ethnic and religious agendas after they "unintentionally" opened the floodgates.
***
The writer is a researcher at the Centre for Strategic and International Studies.
---------------
We are looking for information, opinions, and in-depth analysis from experts or scholars in a variety of fields. We choose articles based on facts or opinions about general news, as well as quality analysis and commentary about Indonesia or international events. Send your piece to [email protected] For more information click here.
Disclaimer: The opinions expressed in this article are those of the author and do not reflect the official stance of The Jakarta Post.
Join the discussions