EDITORIAL: Travesty of justice
EDITORIAL

The Jakarta Post
Jakarta |

Mon, October 2, 2017

| 08:04 am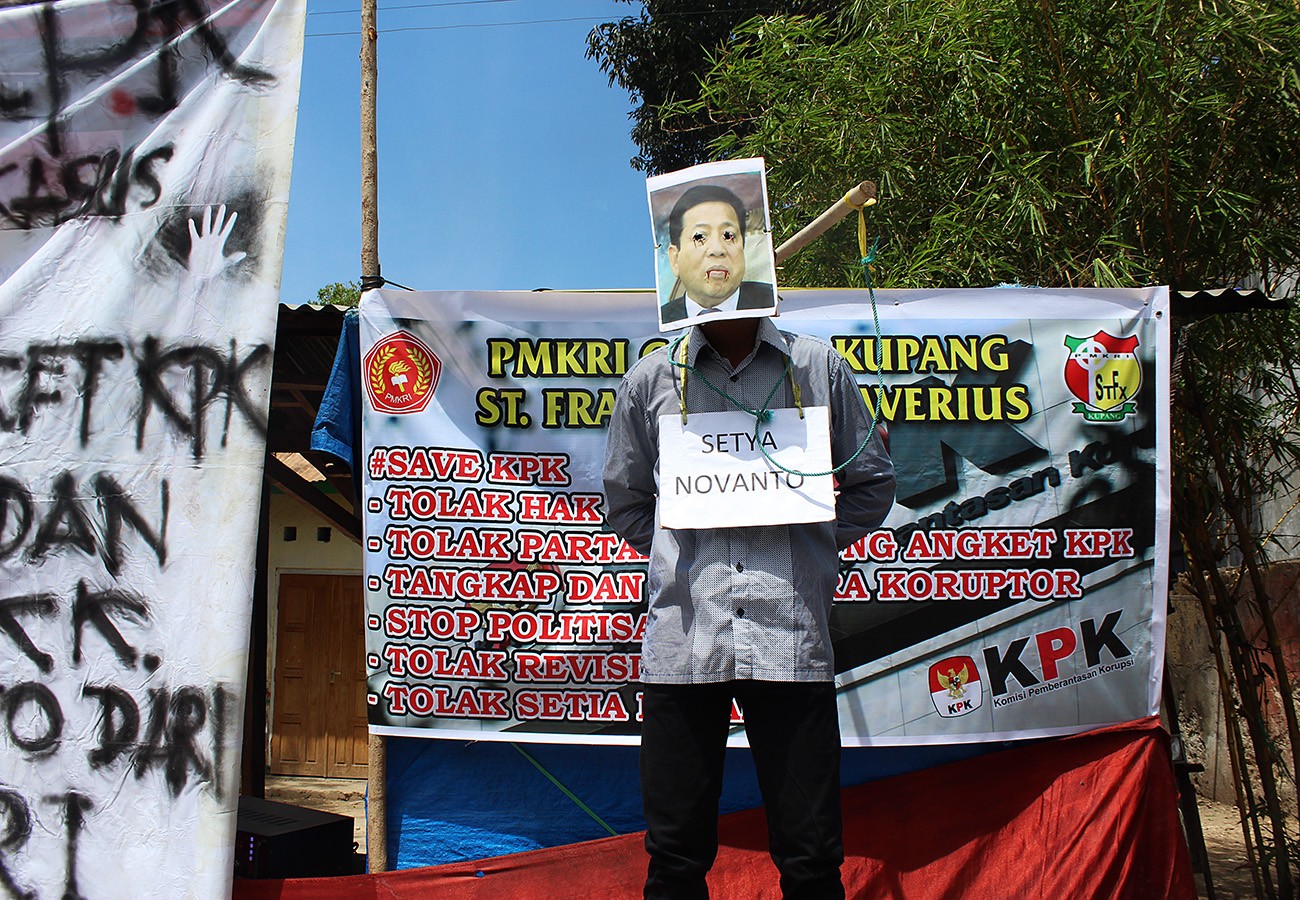 A member of the Kupang branch of the Indonesian Catholic Students Association (PMKRI) wears a mask depicting the face of House of Representatives and corruption suspect Setya Novanto during a rally in front of the East Nusa Tenggara (NTT) Police headquarters in Kupang, NTT, on Wednesday, Sept. 27, 2017. The protesters demand the Corruption Eradication Commission (KPK) to detain Setya, who has been charged with his alleged roles in the high-profile e-ID graft case. (The Jakarta Post/Djemi Amnifu)
Cynics have long indulged in the thinking that corruption will continue to plague this country simply because the benefit of doing it outweighs its cost. After swindling billions from government projects, jailed corrupt officials can expect to walk out of prison and live the rest of their lives spending the ill-gotten riches.

Now, there are even more incentives for politicians and government officials to engage in corruption; they can get off the hook while being investigated by the Corruption Eradication Commission (KPK).

The KPK may have uncontested prosecutorial prowess with an unblemished reputation of being able to score a nearly 100 percent conviction rate, but it is up against not only corrupt politicians, but also the country's judiciary, known for its reputation as one of the most corrupt branches of government — and corrupt politicians have exploited the condition for their benefit. Speaker of the House of Representatives and Golkar Party chairman Setya Novanto is the latest politician who managed to exploit the loopholes in the country's judiciary to repel the KPK's inquiry.

Following in the footsteps of former deputy National Police chief Comr. Gen. Budi Gunawan and former chief of the Supreme Audit Body (BPK) Hadi Purnomo, whose suspect statuses were annulled by a lower court on technicalities, Setya scored a victory in a pretrial motion filed against the KPK's move to name him suspect in the e-ID graft case. This time, a judge at the South Jakarta District Court argued that evidence used to charge Setya was inadmissible because it had been taken from cases that implicated individuals who have not yet been convicted by the court.

It was the South Jakarta District Court that first opened this can of worms. Responding to a pretrial motion filed by Budi in February 2015 against the KPK, the court ordered the antigraft body to halt its probe into the police general. It then served as a catalyst for a rash of pretrial hearing petitions. The court initially rejected these pretrial petitions, arguing that it had no authority to examine a person's status as a suspect. Originally, a pretrial hearing — which takes one week to complete — only looks into the administrative procedures of ongoing investigations.

Later that year, the Constitutional Court issued a ruling that was a godsend to graft suspects. Responding to a judicial review filed by PT Chevron Pacific Indonesia, the court revised the Criminal Law Procedures Code (KUHAP) by inserting an article authorizing lower courts across the country to proceed with pretrial petitions to challenge suspect statuses handed down by law enforcement agencies.

Against the decision to water down the KUHAP, there's little that the government could do as a proposal for an amendment through the House could take years to complete. The last time the KUHAP went through a revision was in 1981. The onus is on the KPK now to build solid cases against graft suspects, so that the court would not be able to mess with it.
Join the discussions