BPJS-Kesehatan: After mobile app, now big data
Edward Broughton

Director of Research and Evaluation for the USAID ASSIST Project
Jakarta |

Tue, December 5, 2017

| 03:47 pm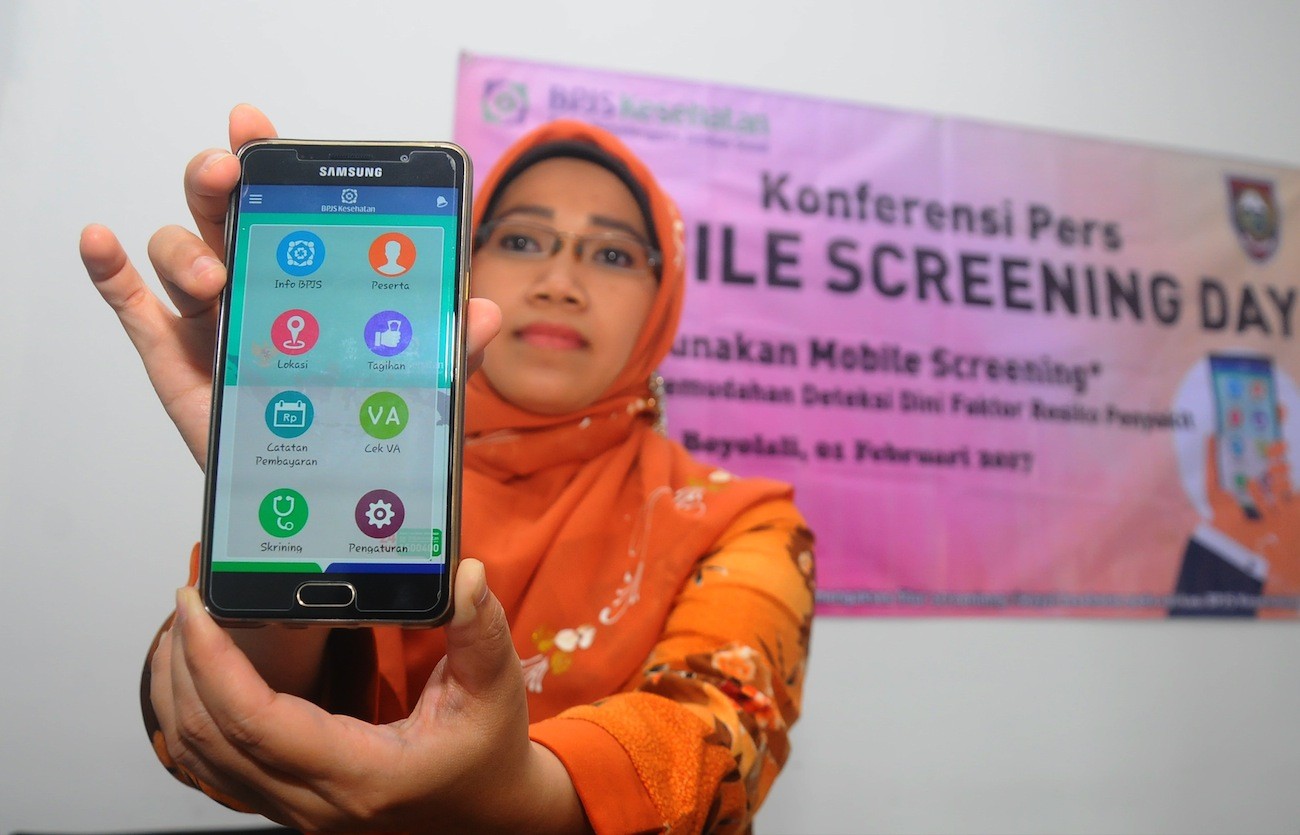 An official of the Healthcare and Social Security Agency (BPJS Kesehatan) shows the state health insurer's mobile application that enables people to access health services and control payments through cellular phones. (Antara/Aloysius Jarot Nugroho)
Cardholders of the universal health coverage scheme can now enjoy the benefits of the smartphone app as described in a BPJS advertorial in this newspaper on Nov. 17. This shows another way that the BPJS Kesehatan, the provider of the National Health Insurance – Healthy Indonesia (JKN-KIS) program, is harnessing technology to create a better national health system to serve all Indonesians. Let us hope this is just the beginning.
"Big data" is the engine that drives some of the most successful global companies of this era – Google, Facebook and Amazon are the standard-bearers. These companies have found ways of refining the mountains of information they can access to make valuable products, such as search engines and targeted advertising that they sell for vast profits.
On the other hand, BPJS-K aims to improve the lives of Indonesians through better health care, rather than make profits. But they share with the big data companies access to a huge volume of information that they can refine to not only improve Indonesians' health but also provide a global public good of high quality research to advance medical science.
By the end of 2019, BPJS will have the largest health care administrative data base in the world. Potentially covering more than a quarter of a billion people, for those who seek the health services from JKN, the data base will have basic demographic information of patients, their medical complaint, diagnostic tests performed, treatments provided and possibly some health outcome information. These data can be used in three main ways to improve health and the health care system.
One way is to use the data as a diagnostic tool for the health of Indonesians collectively. The burden of disease from specific conditions, both in costs to BPJS-K and the impact it places directly on patients and their families, can be ranked so resources for prevention and mitigation measures can be assigned in proportion to the impact it has on society.
Another way is to feedback the information to hospitals, community health centers (Puskesmas) and other provider facilities so that they can benchmark their performance against local, regional and national standards. There is ample evidence that feeding back such information to health care providers can by itself markedly change provider behavior. Sometimes, a doctor may only need to find out she is ordering five times as many x-rays as the national average for patients with the same diagnosis for her to question why this is the case and change her pattern of ordering x-rays if necessary.
A third way is to allow access to these data to researchers so they can use it to answer the burning questions on health, from the patient level all the way to the national system level. This is happening to a certain extent already. A study funded by USAID examined the quality performance of hospitals that have been assessed by the Hospital Accreditation Commission (KARS) compared to hospitals that undertook both assessment by KARS and the Joint Commission International Accreditation.
Data made available by BPJS, where patients are not identified to protect confidentiality, can therefore help answer countless important questions that can help make the Indonesian health system more effective and efficient. For patient-level research, one can easily envisage a time when the JKN-KIS app could expand to allow patients report their own health status on their smartphones to give real-time health outcome data. This would help their health care provider manage the condition while also allowing this information to be used in clinical trials to determine the effectiveness of therapies.
BPJS-K has a massive job to provide health care financial coverage for all Indonesians. It cannot be expected to improve the health care system as well. The Health Ministry's Directorate of Accreditation and Quality is charged with this responsibility and BPJS-K should collaborate with them to use their health data for this purpose.
Overlying this use of big data is the need for openness. BPJS-K has operated with a budget deficit since it began and transparency with the health system performance and cost information would allow the public and politicians to see where the money is going; and if the cause of the deficits is management or inadequate funding.
Insightful analysis of the wealth of data should troubleshoot the problems to allow us all to work together to find evidence-based solutions. This is happening but there is much opportunity for it happen more. Indonesia has the tools and the will to help create a truly great health system for all its citizens. We look forward to watching it happen.
***
The writer is Director of Research and Evaluation for the USAID ASSIST Project and Principal Investigator for the Hospital Accreditation Process Impact Evaluation (HAPIE) Study conducted in nine hospitals in Indonesia.
---------------
We are looking for information, opinions, and in-depth analysis from experts or scholars in a variety of fields. We choose articles based on facts or opinions about general news, as well as quality analysis and commentary about Indonesia or international events. Send your piece to [email protected]
Disclaimer: The opinions expressed in this article are those of the author and do not reflect the official stance of The Jakarta Post.
Topics :
Join the discussions