Reviving 'waqf' institutions in Indonesia
Fahmi M. Nasir and Hidayatul Ihsan

-
Kuala Lumpur/Padang |

Mon, December 11, 2017

| 03:36 pm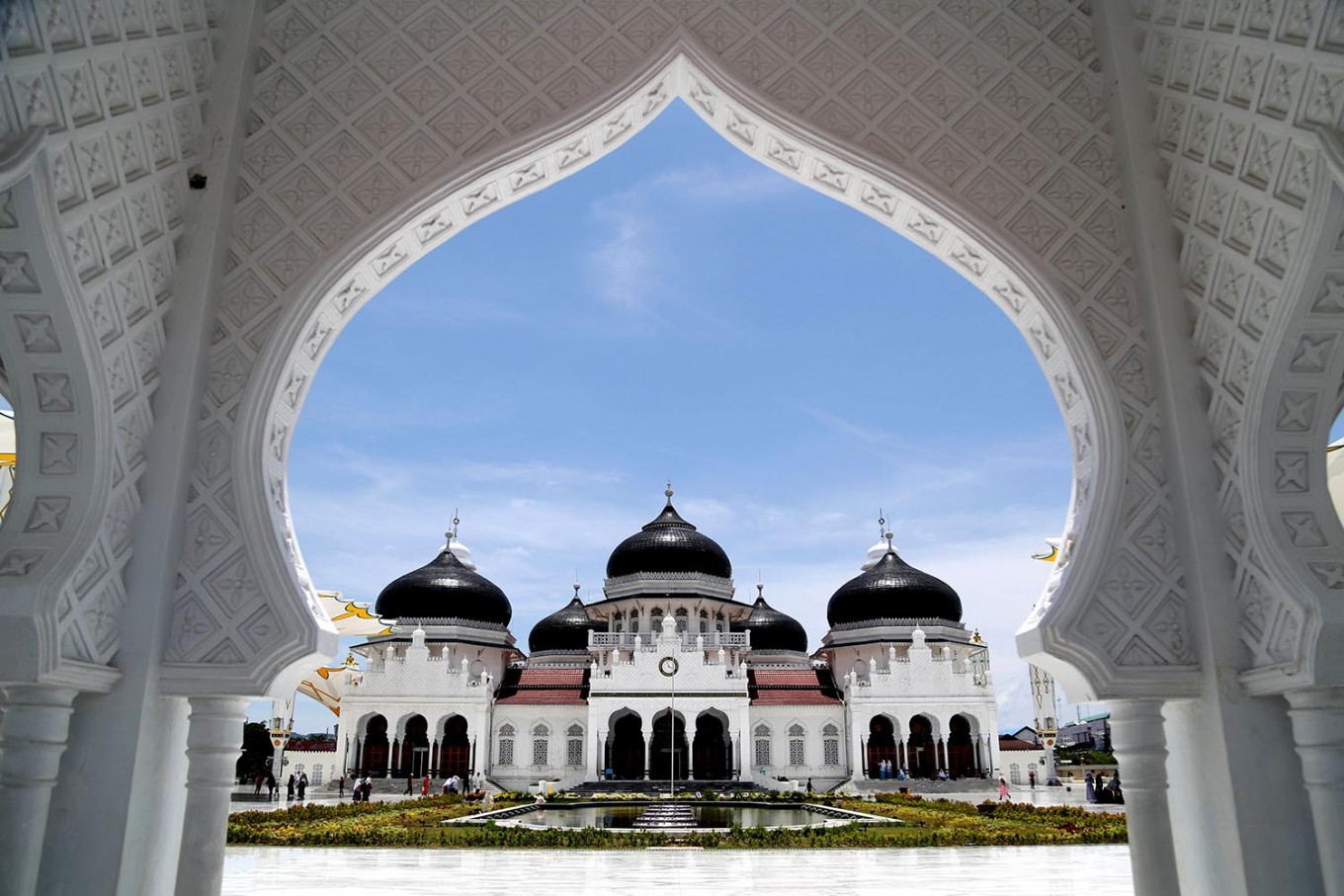 Under the blue sky: The Baiturrahman Grand Mosque stands tall in Banda Aceh, Aceh province. Back in 1948, endowments from Acehnese Muslims helped Indonesia buy its first two airplanes to fight colonial aggression. (JP/ PJ Leo)
Endowments from Muslims or waqf have played an important role in the social and economic development of Muslim societies. However, many waqf properties in Indonesia suffer from abuse and neglect due to many reasons.
Newly elected chairman of the Indonesian Waqf Board (BWI) Mohammad Nuh in his inaugural speech urged the transformation of the great potential of waqf into a real force to increase welfare in various fields and to support the national economy.
Current development of waqf is hindered by five core issues i.e. misperception, legislation, governance, professionalism and the availability of funding, according to Securities Commission Malaysia in 2014.
First is the misperception. Waqf is traditionally associated with religious purposes such as mosques and Islamic boarding schools or pesantren. However, Daud Bakar, the chairman of the shariah advisory council at the Central Bank of Malaysia, has pointed out that waqf is a financial institution with potential to finance various projects. Murat Cizakca of Turkey, a leading scholar in the comparative economics and Islamic civilisation, explains that waqf can significantly reduce government expenditure by providing many essential services such as health, education, infrastructure, municipal, and etc. Back in 1948, endowments from Acehnese Muslims helped Indonesia buy its first two airplanes to fight colonial aggression.
Second, regulation plays an important role in revitalizing waqf institutions. To some extent the Law No. 41/2004 on waqf has encouraged the government and civil society to manage waqf assets productively, while many previous regulations on waqf did not cover the issue comprehensively, according to Uswatun Hasanah, an Indonesian expert earlier involved in the drafting of the law. Among others this law lay the basis for the BWI for developing and improving Indonesia's waqf assets.
However, some important issues such as the provisions of a survey or census on waqf and tax incentives are lacking in the current law.
A survey on waqf is crucial in mapping the current problems and status of waqf assets. Existing literature often mentions the big potential of Indonesia's waqf assets, no precise data is available so far. Certainly, many stakeholders are eager to know the real potential. The survey could also provide the updated database of waqf properties across the country, which in turn would influence the development and governance of waqf in the future.
Hence, revision towards Waqf Law No. 41/2004 is necessary, particularly related to census and tax incentive. Provisions for a census in the waqf law could enforce allocation for the purpose in the national budget. Meanwhile, the inclusion of tax incentive could encourage more people to create a new waqf.
The next pressing matters are governance and professionalism. The BWI could learn from the Religious Council of Singapore (MUIS) in managing waqf effectively and efficiently. In 2000, MUIS corporatized its Property Development Department into a wholly owned subsidiary called Warees Investments Pte Ltd (Warees). Subsequently, MUIS handles all administrative and regulatory matters, while Warees focuses on the income-generating development of waqf assets.
In discharging its responsibility, Warees is putting the right people in the right jobs. Zaini Osman, Chief Executive Officer (CEO) of Warees asserted that its staff comprise task-oriented, technology-savvy individuals and most importantly are professionals in various fields such as finance and accounting, real estate, engineering, architecture, economics and statistics, Islamic finance, business administration, marketing, construction management and project management.
Finally, the issues of financing waqf properties should also be addressed to speed up the revival of waqf. Sadly in Indonesia waqf institutions are largely not bankable and hardly have a channel to financial institutions in financing the development of their properties.
With the current development of Islamic finance in Indonesia and across the globe, various modes of financing are available to support waqf institutions. Magda Ismail Abdel Mohsen and other researchers have examined 95 cases of waqf development in 11 countries. They found that Turkey, Malaysia, Singapore, Sudan, Indonesia, Iran, New Zealand, Kuwait, India, Pakistan and Bangladesh used 13 classic and innovative modes of financing waqf properties.
Among the modes of financing are substitutions, long lease, construction financing, diminishing partnership, build, operate and transfer schemes; build, lease and transfer schemes, joint ventures, sukuk/partnership bond, partnership, self-finance/donations, waqf shares, corporate waqf and waqf entrepreneurship.
We can also learn from the successful sukuk issuance for the development of waqf assets in Singapore and Saudi Arabia. In Singapore, sukuk musharakah (Islamic investment certificate which allows investors to have rights of ownership of the asset) was introduced to develop commercial building on waqf land in Bencoolen Street in 2002. In Saudi Arabia the issuance of sukuk al-intifa' (timeshare) has been successfully implemented to develop the Zamzam Tower in Makkah.
Back in 2006, there were sparks of interest towards waqf in Indonesia when every pilgrim from Aceh province received supplementary money for accommodation in Makkah from the provincial administration. From then on, every pilgrim from Aceh has been receiving between Rp 4.3 million to Rp 7.2 million from the income of the local waqf body, the Bait al-Asyi Waqf, which was established in 1809 through crowd-funding by the Acehnese community of that period. This indicates that, if the waqf properties are managed effectively, the profit generated from those assets would be very promising.
The newly appointed Indonesian waqf board commissioners should identify priorities in the near future. With good planning, careful implementation and better administration, the revival of waqf institutions in Indonesia is only a matter of time.
***
Fahmi M. Nasir is the founder of the Center for Study and Consultancy of Waqf, Jeumpa D'Meusara and Ph. D Student in waqf law and governance at Ahmad Ibrahim Kulliyyah of Laws, International Islamic University Malaysia. Hidayatul Ihsan is a lecturer at Padang State Polytechnic.
---------------
We are looking for information, opinions, and in-depth analysis from experts or scholars in a variety of fields. We choose articles based on facts or opinions about general news, as well as quality analysis and commentary about Indonesia or international events. Send your piece to [email protected]
Disclaimer: The opinions expressed in this article are those of the author and do not reflect the official stance of The Jakarta Post.
Join the discussions