Navigating risk landscape amid political disruption
Aishwarya Gupta and Ossama Ayesh

-
Jakarta |

Thu, February 8, 2018

| 04:08 pm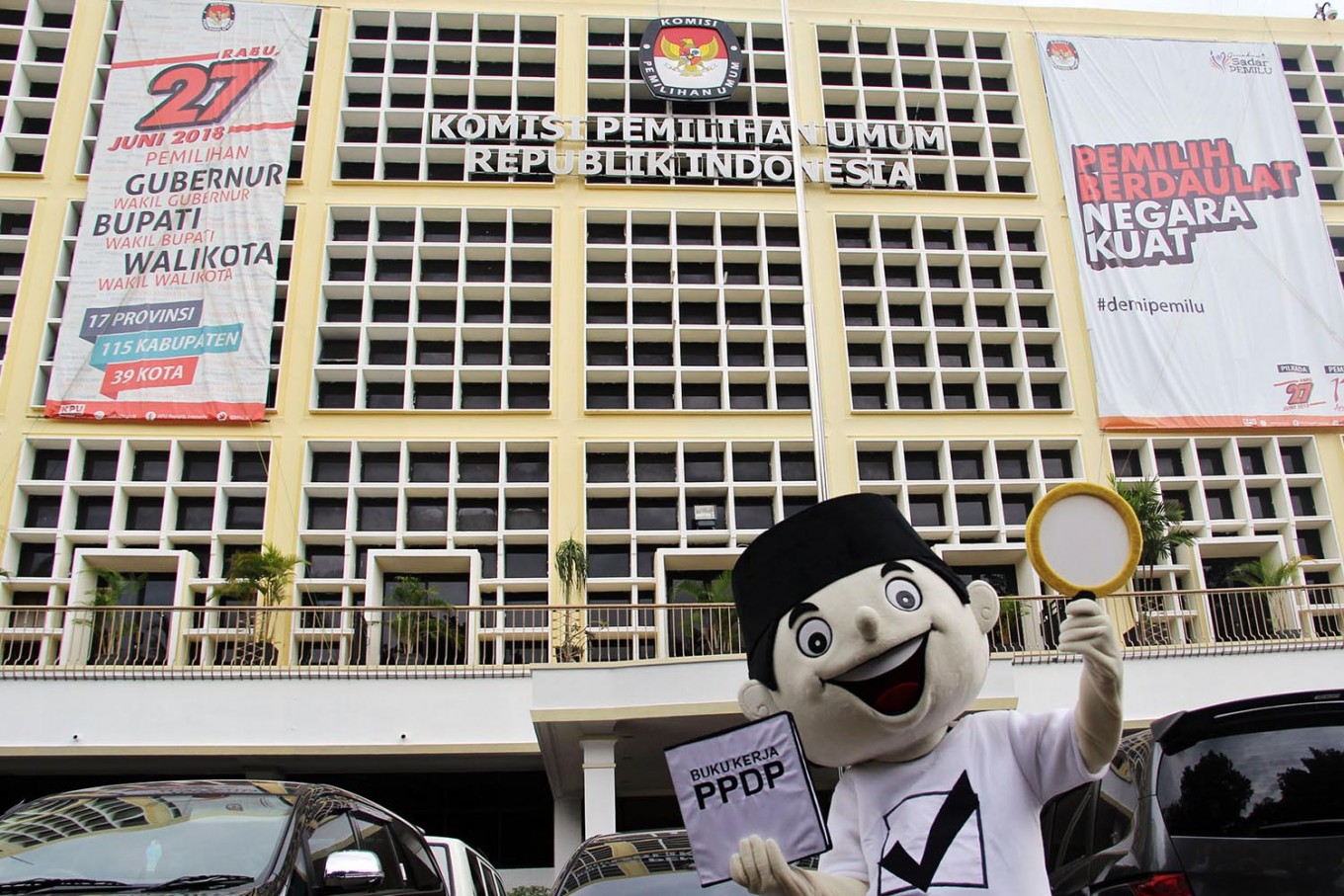 A General Elections Commission (KPU) mascot for the 2018 regional elections named Coklit stands in front of the KPU building in Jakarta on Thursday, January 18. The mascot is being used to raise awareness of a KPU campaign to verify and update voter data. The campaign will be launched on January. 20 in 381 regencies and municipalities and 31 provinces. JP/Rifky Dewandaru (JP/Rifky Dewandaru)
As one of Southeast Asia's largest emerging markets, Indonesia has been at the forefront of investments in the region. However, the current political, security and socio-economic paradigms capture risks and uncertainties that affect the investment climate of the country.
Besides a thaw in coalition politics and significant reforms in the crackdown on corruption, there are significant risk factors posed by regional dynamics with a growing bubble in the banking sector that does not seem promising. Even though growth projections remain positive for the upcoming year, Indonesia's investment climate remains somewhat stagnant with manufacturing industry taking a dip and a slump in tourism.
The year 2018 will prove to be a significant year as 171 administrative regions will simultaneously hold gubernatorial and mayoral elections. To understand the risks posed by all of these different factors, it is important examine them all individually alongside some key indicators, beginning with today's domestic climate.
Indonesia paves forward with the slogan of "unity in diversity" as it houses many diverse ethnic groups and religions. The country has a long history of separatist movements, be it in former East Timor and Papua. The divergent ethnic groups in the amalgam of islands have created fractured identities that have been a source of conflict. Today, ethnic tension is seen in a number of cities as well as expressions of discontent with Chinese and non-Muslim groups.
The impending 2018 regional elections and 2019 presidential election are likely to pose significant risks for the country as ethnicity and religion could play a key role. The gubernatorial and mayoral elections set for 2018 are likely to witness a play on religious and ethnic sentiments. In West Java, Ridwan Kamil, touted as the leading candidate by the Muslim conservatives, was deemed a "lesser Muslim" following his open support for incumbent President Joko "Jokowi" Widodo. It is possible that Jokowi himself might face challenges such as this during his re-election.
The more concerning aspect remains the espousing of religious rhetoric with respect to candidates' suitability for office. Following Jakarta's governor Basuki "Ahok" Tjahaja Purnama's sentencing for alleged religious insult, it is apparent that religion in some way, shape or form will play a part in the country's election. As religious rhetoric increases, there is a stark possibility that sectarian divides will deepen and violence is likely to follow.
Indonesia will also face hurdles when dealing with its staggering youth bulge and lack of infrastructure development.
The country has continued to face a lack of technical and vocational training despite the growing youth bulge. Unemployment and underemployment rates amongst the youth in the age group of (15-24) are 22.6 percent, indicating a need for more education and soft infrastructure development programs. Without the critical education and training programs, it is hard for the nearly 60 million youth aged 10 through 24, to find gainful employment.
Given the general distance of the islands from one another, the interconnectivity and communication has been lacking. Though Jokowi has promised infrastructure development and investment throughout the country, many of the proposed projects are big ticket items that may only provide temporary relief, draining the overall budget.
In the lead up to the Asian Games this coming year, the country has allocated US$411 million in the infrastructure development budget. Of the country's Rp 2.081 trillion (US$156 billion) budget for this year, over 9 percent has been committed to infrastructure development. In addition, the infrastructure development projects contain poverty reduction and relief programs.
While the investment in infrastructure is a positive sign, some infrastructure projects, like the ones related to the Asian Games, are only likely to provide temporary economic growth. Should infrastructure costs related to the Asian Games ramp up in the months preceding the event, it would take away from essential infrastructure needed by the country.
Lastly, a critical risk that the government will have to tackle head on is the effects of climate change.
In the past year, Indonesia has witnessed multiple climate disasters, recording 2,341 natural disasters in 2017 alone. Reports have indicated that the Java Sea is rising and as weather conditions become more extreme, Jakarta appears to be sinking faster than any other large city in the world. In 2014, 2.6 million people had been displaced as a result of natural disasters. Every year, with increasing climate related disasters, Indonesians will see mass displacements, increasing climate refugees, destruction of infrastructure and overall disruption in livelihoods. These are all factors that must be addressed by the government as they will most definitely pose a socio-economic burden on the economy.
Indonesia is one of the riskier markets in Southeast Asia primarily due to its domestic dissonance. These political factors will continue to bog down Indonesia's growth unless they are remedied. Even though the economy presents a stable outlook, the political landscape of the country paints a bleaker picture.
The government might be able to achieve economic growth targets, but unless they address some of these core issues domestically, the country's growth will be met with multiple obstacles in the near future.
***
Aishwarya Gupta is an analyst at Morgan Stanley with a Master of Science in global affairs from New York University. She has previously worked with UN Women, Advanced Energy Group, UN Security Council's Counter Terrorism Executive Directorate and various other organizations.
Ossama Ayesh is an analyst at JP Morgan with a Master of Science in global affairs from New York University. He has worked with various international firms and organizations, including Advanced Energy Group, Eurasia Group and the UN Security Council's Counter Terrorism Executive Directorate.
Disclaimer: The opinions expressed in this article are those of the author and do not reflect the official stance of The Jakarta Post.
Topics :
Join the discussions