Migrant workers' protection: Quo vadis?
Analiza Perez-Amurao

Assistant professor and currently the chair of Mahidol University International College's Humanities and Language Division
Salaya |

Mon, March 12, 2018

| 03:56 pm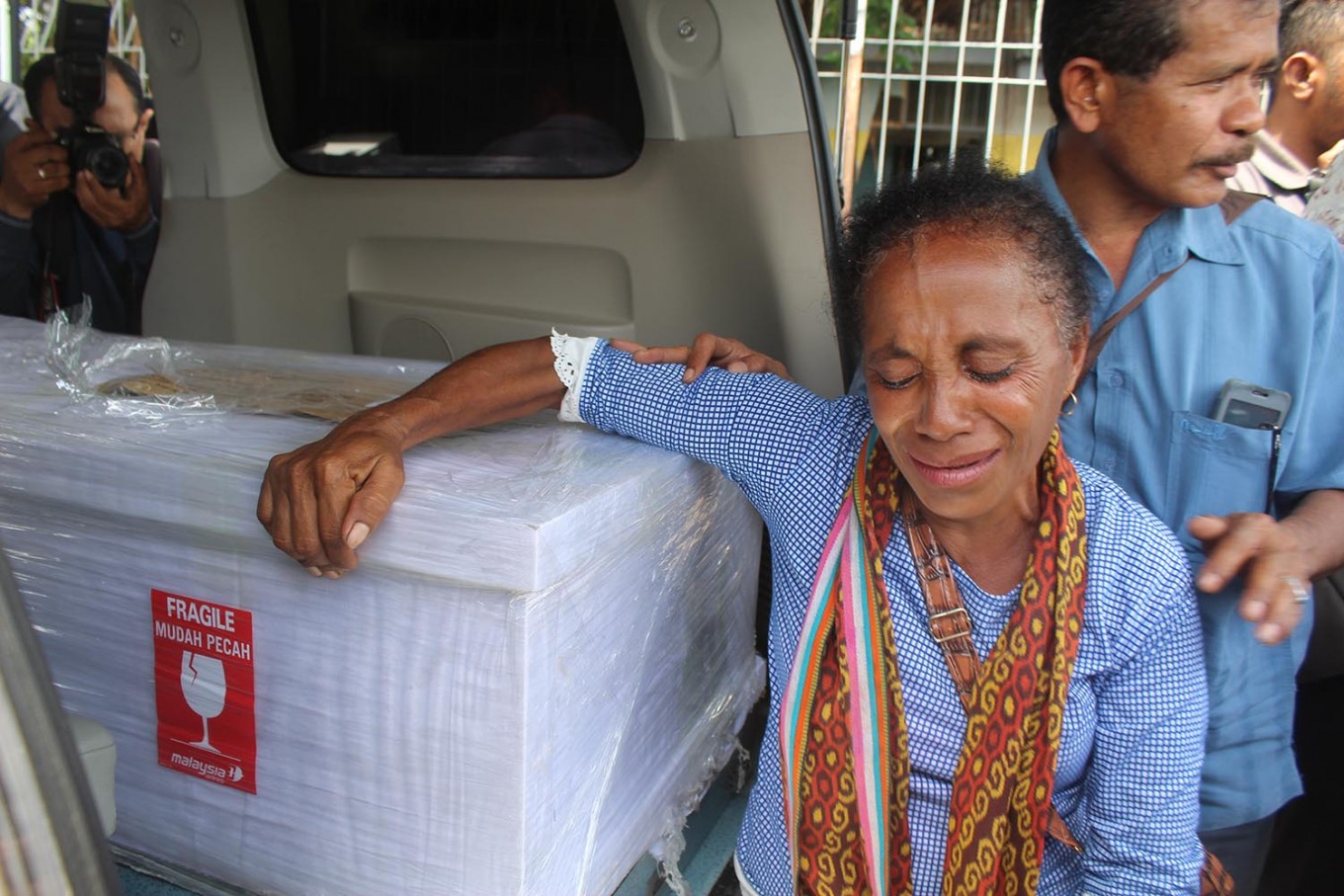 Petronela Koa hugs the coffin of her niece Adelina Sau at El Tari airport, Kupang, East Nusa Tenggara province on Saturday, February 17. (JP/Djemi Amnifu)
Once again, the world bears witness to the cruel realities that migrant workers face everyday in their host countries.
During the first quarter of 2018 alone, two senseless deaths — of Filipina Joanna Daniela Demafelis and of Indonesian Adelina Lisao —reminded the world that migrant workers live precarious lives in a place they can hardly call home.
These stories tell how their own governments have failed them and their families.
Demafelis, employed by a Lebanese man and his Syrian wife, was found dead in a freezer in a Kuwait apartment on Feb. 6. Tortured, she was found to have sustained stab wounds on her neck.
Her remains were flown home on Feb. 16. The sixth from a brood of nine, Demafelis was 29 years old when she left the Philippines four years ago. She came from a family of farmers in Iloilo province.
Adelina was a 21-year-old Indonesian woman working as a domestic helper in George Town, Malaysia. She died on Feb. 11 due to multiple organ failures. Her head and face were found to be distended. She also bore arm and feet injuries. Photos revealed she was made to sleep on the porch for a month, accompanied by her employers' Rottweiler.
In 2017, 103 overseas Filipino workers (OFWs) in Kuwait returned to their loved ones in cold boxes. Their deaths could have been avoided if only their sending countries did their job.
A knee-jerk reaction that migrant labor sending countries typically have to such situations is to threaten host countries with a ban, discontinuing the deployment of their citizens to countries of destination that are deemed problematic.
Philippine President Rodrigo Duterte, for instance, has recently declared a total ban on deploying Philippine workers to work in Kuwait.
Another typical reaction sending government takes is to pledge to review agreements and work conditions their citizens have once they reach their countries of destination. This usually comes with a demand that justice be upheld for the victim.
But are bans on migrant worker deployment and demand for justice for the victims enough?
Since the 1970s, the Philippine and Indonesian governments have officially facilitated their labor export to various parts of the globe.
Officially implemented by the dictator Ferdinand Marcos to address rising unemployment problems, he started sending Filipino migrant workers to the Middle East for contract labor. Meant as a stopgap measure in response to employment shortage, it turned out to bea surefire formula to stimulate a "stagnant economy."
The United Nations cites figures of the Philippines' Department of Foreign Affairs in 2015, showing there were 9.1 million Filipinos working overseas. It also cites 5,000 Filipinos leave the Philippines every single day to work abroad. Considered as the third top receiving country of remittances, the Philippines enjoys 9.8 percent of its GDP from cash sent by OFWs.
An International Organization Migration (IOM) country report states that migrant workers from Indonesia also engage in overseas work for the same reasons: "…lack of employment opportunities, poverty, and wage differentials between Indonesia and destination countries."
A 2017 World Bank report titled Juggling Opportunities and Risks states there were more than 9 million Indonesians working overseas, more than 75 percent of which were classified as low-skilled workers. The report cites similar effects of migration on the country's economy as well:"[I]n 2016 migrant workers remitted more than Rp 118 trillion (US$8.9billion), equivalent to 1 percent of Indonesia's total GDP."
Given the long history of the Philippines' and Indonesia's global labor arbitrage, it cannot be claimed that the experience of both states is insufficient, not to be abreast of their migrant workers' shaky migratory experience.
Despite having "developed a sophisticated policy regime to promote and regulate labor emigration," to the extent that OFWs are annually "honored" by different award-giving bodies for their migrant work contributions, the Philippines continues to be accused by cause-oriented groups for not doing enough to help the very same people whose remittances have been helping boost the Philippine economy.
For instance, Michele Ford's study reveals, "Over the last two decades, the government [Indonesia] has been constantly criticized by NGOs, human rights agencies for being more focused on remittances than on the protection of migrant workers' rights."
In an effort to address said issues, ASEAN country leaders signed in November 2017 the "ASEAN Consensus on the Protection and Promotion of the Rights of Migrant Workers." Duterte proudly said the consensus was the "centerpiece" of his ASEAN chairmanship —after a decade of putting the migrant workers' issues at bay. In reality, however, the signing was fraught with more questions than answers.
In 2017, Philippine-based Migrante International and Singapore-based Transient Workers Count Too argued that because of the decentralized approach stated in the agreement, namely, "Pursuant to the prevailing national laws, regulations, and policies of ASEAN Member States…," the consensus remains optional and not legally-binding.
Migrante International asserts: "The concept of 'non-interference' has been effectively instituted in ASEAN through the ASEAN Charter and had been used consistently as a method to avoid state human rights obligations in deference to the need to 'respect state sovereignty.'"
If, within ASEAN, attending to issues that should be considered central and beneficial for the very people who serve as the backbone of their economy is left non-mandatory, and that its member states cannot bring themselves to fully commit to protection and promotion of the rights of their own migrant workers, how many more Joannas and Adelinas will have to continue to sacrifice their lives all because ASEAN leaders, and the regional association that should "be bonded together… in a community of caring societies," are reneging on a fundamental moral human obligation?
***
The writer is an assistant professor and currently the chair of Mahidol University International College's Humanities and Language Division, Thailand. A PhD in Multicultural Studies candidate, her publications include language education issues and migration studies in Southeast Asia. Visit her at www.analizaperezamurao.com.
---------------
We are looking for information, opinions, and in-depth analysis from experts or scholars in a variety of fields. We choose articles based on facts or opinions about general news, as well as quality analysis and commentary about Indonesia or international events. Send your piece to [email protected]
Disclaimer: The opinions expressed in this article are those of the author and do not reflect the official stance of The Jakarta Post.
Join the discussions