Indonesia demands justice for Adelina
Marguerite Afra Sapiie

The Jakarta Post
Jakarta |

Tue, February 13, 2018

| 05:50 pm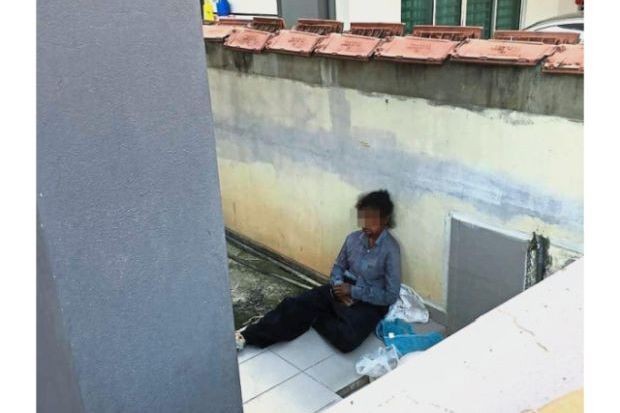 A picture of Indonesian maid Adelina Lisao sitting on the porch of the house of her employer in Taman Kota Permai, Penang, Malaysia. (ANN/The Star )
The Indonesian government has demanded that justice be upheld for Adelina Lisao, an Indonesian migrant worker who died after allegedly suffering abuse from her employers in Penang, Malaysia.
The 21-year-old died in Bukit Mertajam Hospital on Sunday after reportedly being tortured for more than a month and forced to sleep outside with the family's Rottweiler.
Foreign Minister Retno Marsudi said she had coordinated with the Indonesian Embassy in Malaysia and the Indonesian Consulate General in Penang to demand justice for the deceased Adelina.
"The Indonesian Consulate General will provide legal assistance to ensure that [the victim's] rights are fulfilled, particularly the rights to obtain compensation or remedial justice," Retno said on Tuesday.
"What happened to [Adelina] cannot be accepted," she added.
Retno also clarified that Adelina was not from Medan as reported by some news outlets and that she was in fact from East Nusa Tenggara (NTT).
She went on to say that Malaysian authorities had moved to investigate the case, and that the Penang Chief Minister had also sent a letter of condolences to Indonesia on Monday.
Previously, the Star reported that Adelina, who had swollen bumps on her head and face as well as injuries to her arms and legs, was seen sitting on the porch of her employers' house the day before she died and appeared too terrified to respond to rescuers.
Malaysian authorities, as reported by the Star, have detained a 36-year-old woman and her 39-year-old brother for allegedly abusing Adelina. The Police are reportedly seeking a third person believed to be involved in the case. (ahw)
Join the discussions