EDITORIAL: Afghanistan: A bridge too far
EDITORIAL

The Jakarta Post
Jakarta |

Wed, March 14, 2018

| 08:15 am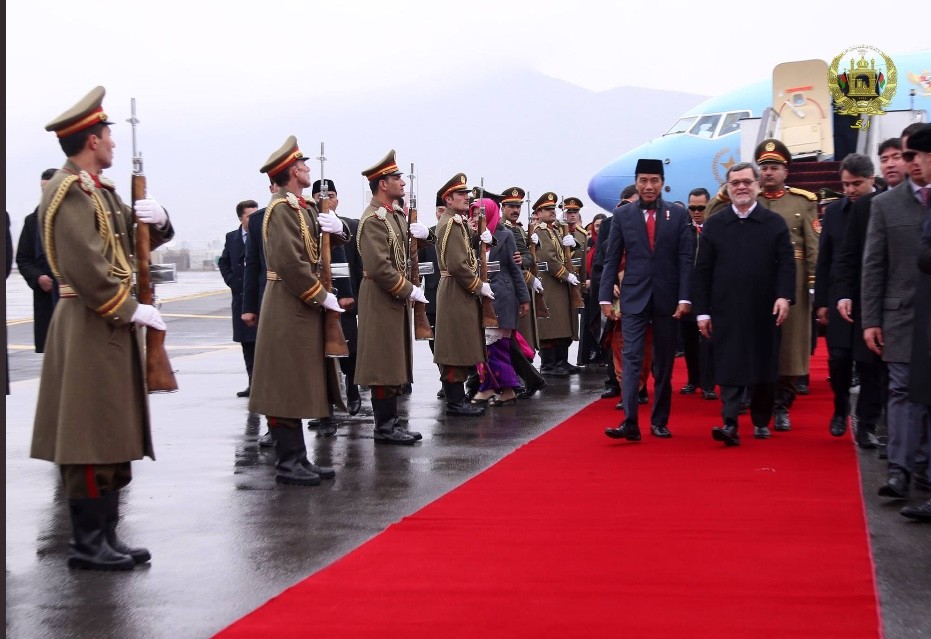 President Joko "Jokowi" Widodo arrives in Kabul, Afghanistan for a state visit on Jan.29. (The Jakarta Post/Pajhowk Afghan News)
The Taliban has humiliated President Joko "Jokowi" Widodo's peace initiative for Afghanistan by branding the plan as engineered by infidels. The group, identified as a terrorist organization by the UN, has vowed to boycott the scheduled trilateral ulema conference between Indonesia, Afghanistan and Pakistan later this month in Jakarta. In a statement posted on its official website on Saturday, the Taliban said the peace talks masked malicious objectives.
Jokowi, however, insists that the plan will go ahead despite the Taliban's absence. He is eager to follow up on his visit to Afghanistan last month, by offering himself as an honest peace broker for the war-torn state.
Jokowi's motives for advancing his credentials as a Muslim world leader from the peace-making effort is understandable because his political detractors brand him as anti-Islam, despite his efforts to help the Palestinians and Rohingya. His re-election bid will receive a significant boost if he can bring warring parties in Afghanistan, who have tried to crush each other for over 40 years, to the negotiation table to strike a peace deal.
The President must realize that he faces mission impossible, but he is out to turn it into mission possible with the help of Vice President Jusuf Kalla. The Vice President is experienced as a peace broker in his role when mediating reconciliation talks with the government and Aceh separatists, and warring Muslims and Christians in Maluku and Poso in Central Sulawesi.
Despite the noble aim, however, the government has to remember that the root causes of the protracted Afghan War are too complicated to deal with. Geographically, Afghanistan is far away from us too. The war has lasted for more than 40 years and involved major powers like the United States.
Afghanistan is a bridge too far for Indonesia. There is another threat to regional peace that is more up close and personal for Indonesia. Ending the genocidal acts against the Rohingya in Myanmar is much more pressing for Indonesia.
Indonesia is among the few neighbors the Myanmar military and government can trust and therefore give access to in Rakhine state, where millions of Rohingya have endured atrocities. Indonesia has won the confidence of Myanmar's military, whose generals learned much from their Indonesian counterparts, especially during the Soeharto era.
Myanmar's de facto leader Aung San Suu Kyi can hardly stop the crimes against humanity not only because the military holds significant power but also because of the hatred against minority groups in the predominantly Buddhist nation. As a leading member of ASEAN, Indonesia deserves a key role in coordinating international peace-making efforts in Myanmar. Convincing the military to end the suffering of the Rohingya and restore peace in Myanmar is imperative for Indonesia.
Jokowi's loud and clear support for Palestinian independence has won domestic and international praise and his attempts to solve the Rohingya crisis, though a work in progress, is yet another landmark of his diplomatic record. Afghanistan is simply too remote for Indonesia.
Topics :
Join the discussions