EDITORIAL: Know your candidates
EDITORIAL

The Jakarta Post
Jakarta |

Wed, April 4, 2018

| 08:16 am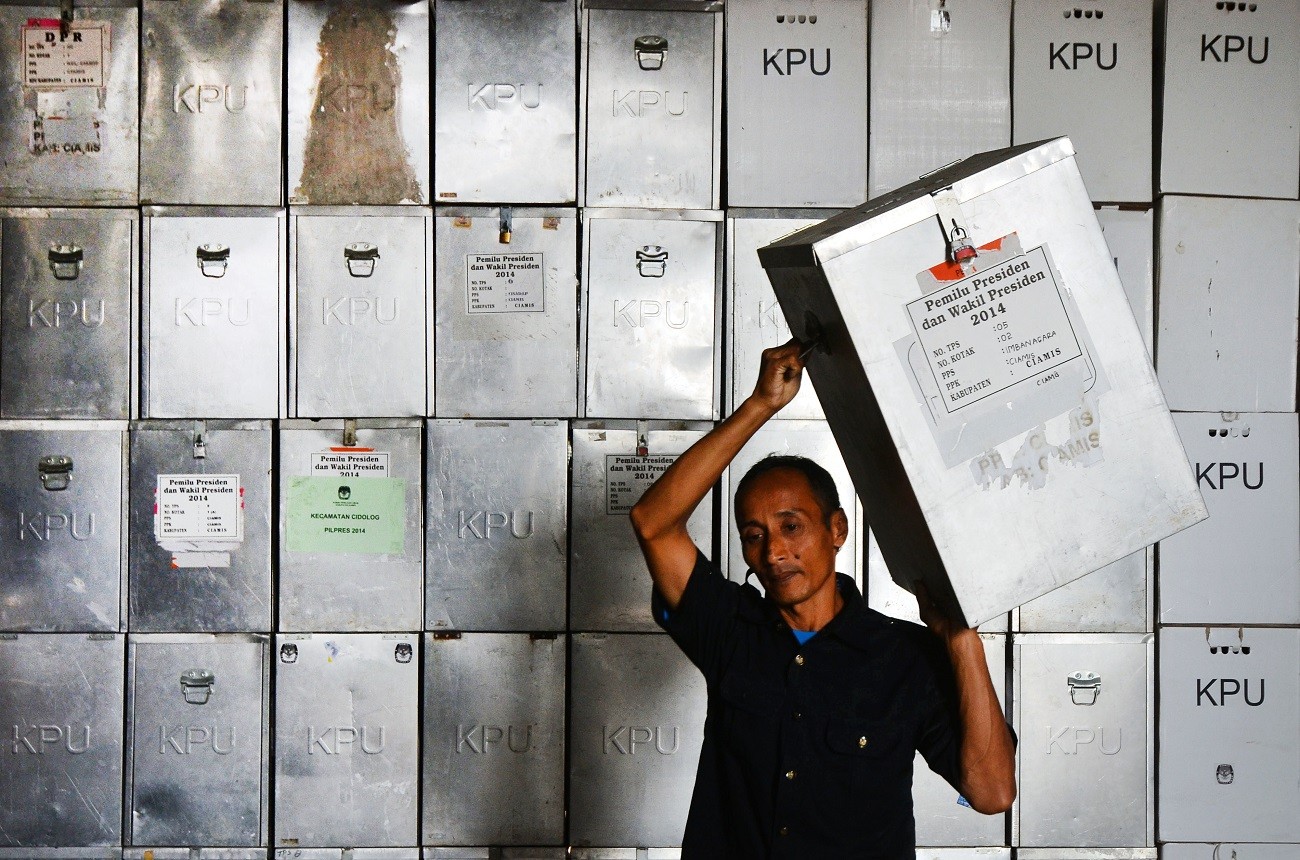 Get ready: An election officer moves a ballot box at the Ciamis Regional Elections logistics warehouse in Ciamis regency, West Java, on Feb. 28. (Antara/Adeng Bustomi)
Since their inception in 2005, direct regional elections have been touted as the fairest mechanism to select local leaders regarded by their people as the best and most trustful. To win their hearts and minds, candidates for regent, mayor or governor must know the people well, including what they want.
This will not change as Indonesia braces for its third round of simultaneous regional elections scheduled for June 27 across 171 regions, except that seven candidates, two of them incumbents, may be contesting in absentia after the Corruption Eradication Commission (KPK) arrested and declared them graft suspects. The figure could increase to eight if the KPK detains another candidate after recently naming him a suspect.
Of course, enforcing the law on candidates has tainted not only the regional elections, but also democracy in general. Worse, the graft cases involving these politicians have sent the wrong message that democracy begets corruption. This misperception will further find justification when we look at the Home Ministry's data, which shows that as of September last year, 313 democratically elected regional heads have been implicated in corruption cases, 77 of whom had been caught in the act in one of the KPK's sting operations.
In an effort to promote corruption-free elections, the KPK has intensified its crackdown on candidates who may have collected ill-gotten money to fund their aspirations. The antigraft body has so far ensnared Asrun, Mustafa, Marianus Sane and Ahmad Hidayat Mus, respective gubernatorial candidates in Southeast Sulawesi, Lampung, East Nusa Tenggara and North Maluku, as well as incumbent Subang Regent Imas Aryumningsih and incumbent Jombang Regent Nyono Suharli Wihandoko.
The KPK has gone further to suggest that the General Elections Commission (KPU) revise its regulation so it may disqualify candidates who have been named graft suspects. The existing regulation, in reference to the 2016 Regional Election Law, opens up the possibility to replace candidates only if they die, are medically unfit or are convicted by the Supreme Court of committing a crime.
KPU chief Arief Budiman said the polling body would require approval from the House of Representatives to amend the regulation, which is unlikely to happen. Politicians deem the disqualification of candidates as unfair because the KPU had declared them eligible in the first place and they had already embarked on their campaign trail.
While resistance from House factions to amend the KPU regulation is easy to understand, the KPK's argument makes sense and falls in line with the noble aim of elections as a democratic process to choose the best leader. An election that smacks of corrupt practices will only produce a government that steals its own people's money, which is far from the hopes of voters when they make up their mind in the polling booth.
As we cannot expect the KPU to remove the candidates-turned-graft suspects from ballot papers, the polling body, as well as anticorruption watchdogs, should remind the voters of criminal investigations involving these politicians. A free and fair election is ideal, but a clean one would be perfect.
Topics :
Join the discussions