EDITORIAL: State-sponsored ghetto
EDITORIAL

The Jakarta Post
Jakarta |

Mon, April 9, 2018

| 08:13 am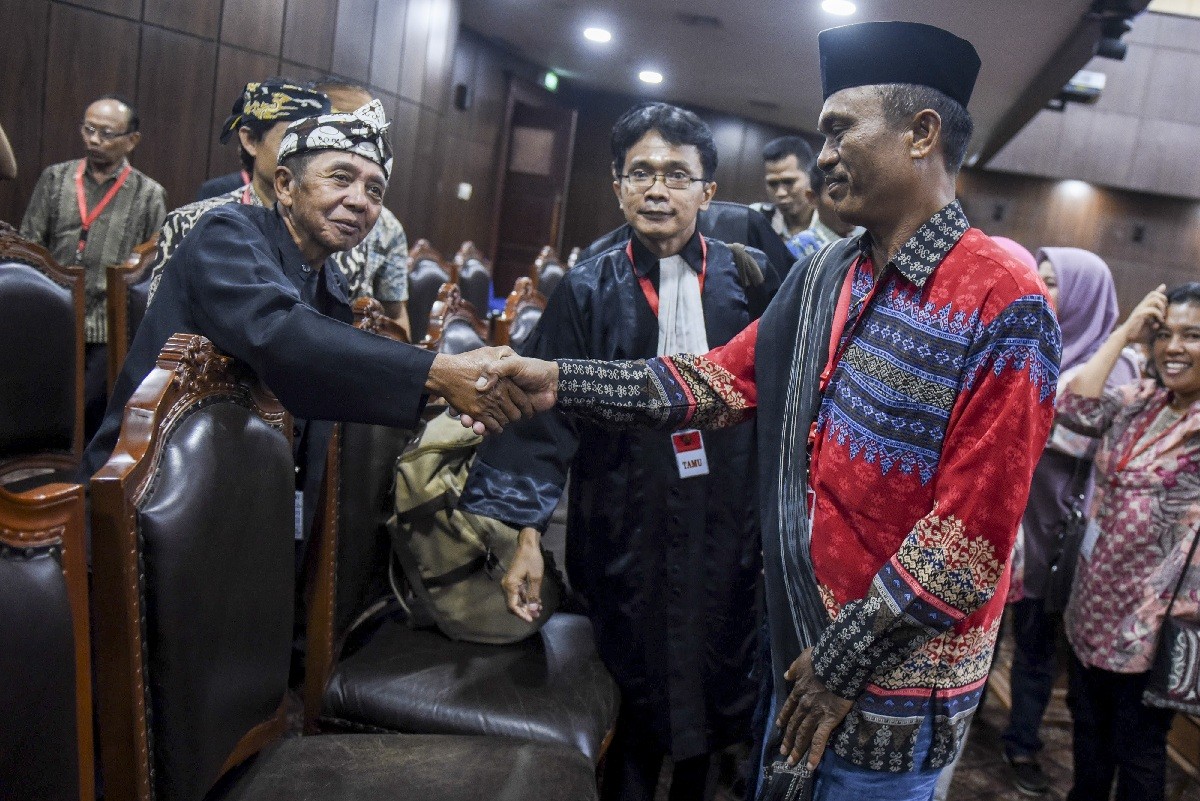 In many ways, the government's decision to design a special identity card for believers of native faiths is a retrograde move, which turns back the clock to a time when an authoritarian government designed a bureaucratic instrument to punish groups of people whom the majority thought as failing to conform with regular norms or beliefs.  (Antara/Hafidz Mubarak)
Last week, in true Kafkaesque fashion, the government decided that in response to demands that native faith followers be granted recognition from the state, it would issue a different type of identity card.

Although this decision is the best the government could do, it is wrong-headed on so many levels, adding yet another bureaucratic layer to the already complicated bureaucracy.

Firstly, on the face of it, the decision was not consistent with the landmark ruling from the Constitutional Court in November last year, which demanded the state grant native faiths the same status as established religions.

The decision is also more proof that the government of President Joko "Jokowi" Widodo is capitulating to the demands of conservative groups, who have fought tooth and nail to oppose any efforts to grant official religion status to native faiths.

Soon after the court's ruling, the Indonesian Ulema Council (MUI) issued a recommendation suggesting the government issue special ID cards for native faith followers.

With the presidential election only months away and after being hounded by conservative Muslim groups,
which had frequently taken to the streets to oppose him, the latest decision is the most convenient for the President, who although taking a commanding lead in opinion polls, will have to choose the right running mate to secure a second term.

But for a leader, not every decision should be motivated by political expediency, not when it involves the fate of millions of native faith subscribers who have fought against discrimination for decades. The latest decision will only entail changes in administrative matters, but as students of history know very well, all types of persecution begin with the paperwork.

During the New Order regime of president Soeharto, as if sending them to Buru prison island without due process of law was not enough injustice, people alleged to have been members of the Indonesian Communist Party (PKI) had "eks tapol" (former political prisoner) stamped on their ID cards upon release.

All forms of discrimination ensued, from having trouble applying for jobs to their children having problems applying for schools (although at least these alleged communists had the same identity cards as regular folks).

The holocaust against European Jews began with the German authorities stamping their passports with an identifying letter 'J' and a decree stipulating that Jews should wear the Star of David when they traveled around German cities outside of their ghettos.

In many ways, the government's decision to design a special identity card for believers of native faiths is a retrograde move, which turns back the clock to a time when an authoritarian government designed a bureaucratic instrument to punish groups of people whom the majority thought as failing to conform with regular norms or beliefs.

The government of President Jokowi should do better than this, especially due to his campaign pledges to uphold human rights.
Topics :
Join the discussions