Strengthening bilateral ties
EDITORIAL

The Jakarta Post
Jakarta |

Mon, May 7, 2018

| 08:50 am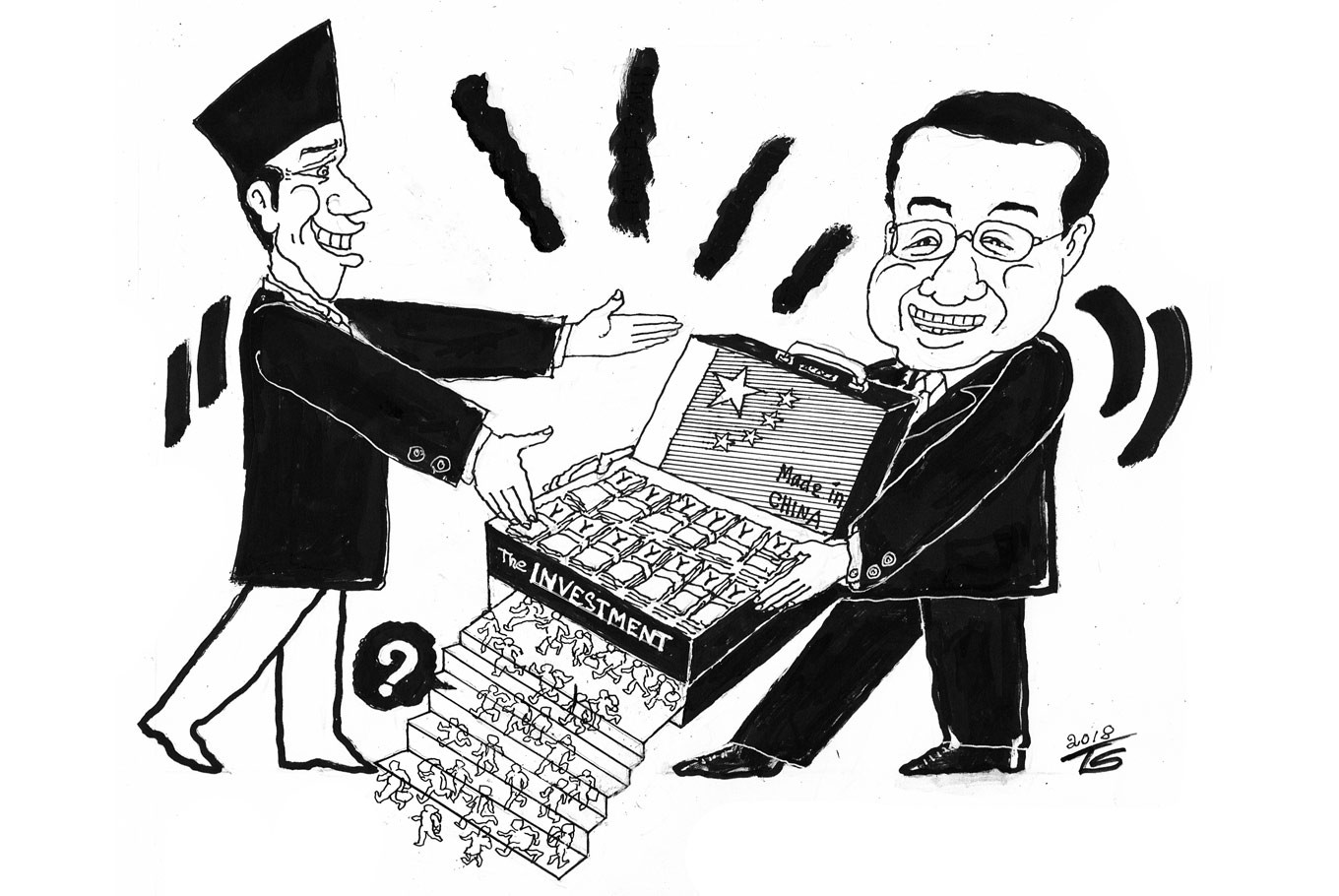 China is committed to investing in Indonesia and helping to develop its much-needed infrastructure, which in turn will create jobs, especially for young Indonesians. (JP/File)
The historic visit of Chinese Prime Minister Li Keqiang marks the fifth anniversary of the China-Indonesia Comprehensive Strategic Partnership and the 15th anniversary of the strategic partnership between China and ASEAN, the latter of which Indonesia is often regarded as the informal leader.

China is committed to investing in Indonesia and helping to develop its much-needed infrastructure, which in turn will create jobs, especially for young Indonesians.

The strategic importance of Indonesia is evident in the fact that it is the first country visited by Li during his second term as the premier of the State Council of the People's Republic of China. Previously, Li visited Indonesia in December 2008 at the invitation of Vice President Jusuf Kalla, during the first term of then-president Susilo Bambang Yudhoyono.

Li's current visit further enhances the strong economic foundations laid by President Xi Jinping during his visit here in October 2013, in his first year as president of the world's most populous country and currently the world's second-largest economy.

If Xi introduced the 21st century maritime Silk Road to be coupled with Indonesia's global maritime fulcrum vision, Li is expected to talk more about the trade balance, in which Indonesia still suffers a deficit, despite being able to narrow the gap to 11.63 percent between 2015 and 2017.

Indonesia plans to promote to China its agricultural products, such as palm oil, coffee and cocoa as well as various tropical fruits including mangosteen, salak(snake fruit) and bananas.

China is Indonesia's third-largest investor with a total of US$3.36 billion in 2017, up from $2.66 billion in 2016. However, Indonesia also wants to ensure that investments come with transfers of technology to add value to the labor force and to improve the environment.

There have been complaints that Chinese-funded projects entail not only capital and equipment but also Chinese workers, who take jobs that locals could easily fill. What is worse, many of the Chinese workers do not have proper work permits.

As the premier will focus more on economics and development, it is unlikely that he and President Joko "Jokowi" Widodo will talk much about possible solutions to the South China Sea disputes. China has reportedly installed anti ship cruise missiles and surface-to-air missile systems on three man-made structures in the South China Sea.

While Indonesia is a non-claimant, China claims some of the waters around the Natuna Islands as its "traditional fishing grounds", leading to several skirmishes between Chinese fishing vessels and Indonesian authorities.

As a good friend, Jokowi should ask China to restrain itself, respect international law and avoid any measures that could stir tension in the South China Sea. It is also high time that Jokowi persuaded China to prioritize negotiations on the Code of Conduct in the South China Sea, hopefully a document that would be binding on all related parties. Such a document would couple beautifully with China's own good-neighbor policy, which calls for common welfare with neighboring countries, including those in disputes in the South China Sea.
Join the discussions