Commentary: Skills are best buffer for disruptive impact of technological change
Vincent Lingga

The Jakarta Post
Jakarta |

Tue, May 8, 2018

| 09:04 am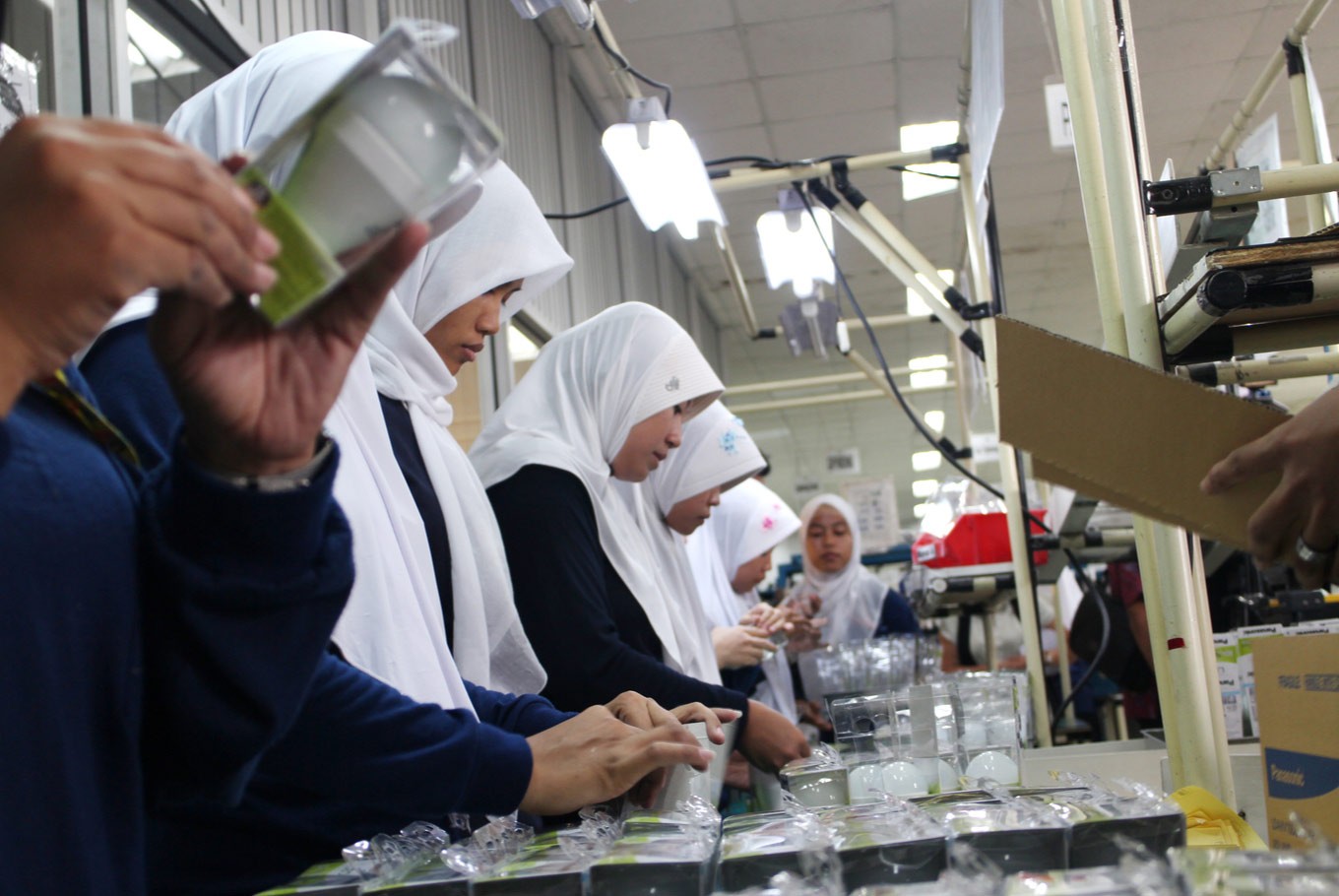 A wide variety of business models showcased at the seminars show how the application of digital technology has enabled people to enhance their lives, giving them access to education, better healthcare and other personal care services. (Shutterstock.com/INDONESIAPIX )
Technological changes and jobs are taking center stage, becoming the central theme of four out of more than two dozen seminars and meetings held on the sidelines of the 51st Asian Development Bank (ADB) Annual Meeting of the Board of Governors which ended here on Saturday.
The rationale is quite obvious. In previous industrial revolutions, technology and jobs usually had symbiotic relationships and changes were more gradual. But the latest wave of digital technology amid the fourth industrial revolution tends to be disruptive, not only causing job losses — at least — in the short term.
The searing pace of the technological changes has also swamped regulatory institutions, often catching them off guard due to difficulties in anticipating changes. But even though technologies are inherently disruptive, most panelists at the seminars shared the same views that countries with flexible policies, steady improvements in education, an economy open to foreign investors and professionals, and a stronger and broader social safety net will be able to take great benefits of the changes.
A wide variety of business models showcased at the seminars show how the application of digital technology has enabled people to enhance their lives, giving them access to education, better healthcare and other personal care services.
Yet more encouraging is that digital technology also serves to lower barriers to market entry for entrepreneurs and enable organizations of all sizes to be more efficient, innovative and increase their market reach, as well as help governments efficiently provide better public services.
Finance Minister Sri Mulyani Indrawati, a member of the ADB Board of Governors, described at one of the seminars how new service enterprises have been mushrooming in Indonesia using the digital technology as their driving force.
"Now we can have food and even massage services delivered to our homes by Go-Jek riders. This massage service could become popular during the World Bank-IMF annual meetings in Bali in October," Sri Mulyani jokingly said, referring to Indonesia's biggest app-based ride-hailing service.
Digital technology has enabled the Philippines to become the world's second-largest business process outsourcing (BPO) center for companies overseas after India, employing more than 1.3 million workers with revenues of up to US$23 billion last year, almost matching the $25 billion the country received in remittances from migrant workers.
Supported by the government with the right policies, which are friendly to foreign investors and workers, and strong information and communication technology (ICT) infrastructure, the Philippine BPO industry started in the early 2000s with call service centers, then moving up to higher value-added jobs as medical transcriptions, back office operations in accounting and finance and software development.
Most of the BPO services involve repetitive tasks that are considered low-skilled in much of the developed world. However, such services are often provided by high-skilled professionals in the developing world who are attracted to the sector by higher wages.
According to the Philippine Public-Private Partnership (PPP) Center, which is responsible for preparing bankable infrastructure projects for private investors, the BPO industry now accounts for about 6 percent of the country's gross domestic product (GDP).
An ADB report credited the remarkable achievement of the Philippine BPO industry to the establishment in 2001 of the Information Technology and e-Commerce Council (ITTEC) to serve as the country's highest policymaking body. It provides policy direction on information and communication technology to develop the country as an e-services hub.
In 2005, the government launched the Philippine Cyberservices Corridor, an "ICT belt stretching over [965 kilometers] from Baguio City to Zamboanga", capable of providing a variety of BPO services. It covers at least three primary urban centers in Luzon, Visayas and Mindanao, as well as 15 other provinces across the country.
For BPO investors, the key factors that can greatly affect their location decision are costs, infrastructure, human capital and governance. The expansion of the BPO industry will greatly depend on high-quality, reliable and lowcost infrastructure services.
Like in India, the explosive growth of the Philippine BPO industry has been generated by the inflow of foreign direct investments, as overseas firms started looking for low-cost locations to outsource service delivery. In fact, the first wave of growth occurred as multinational companies from the United States and Europe started establishing subsidiaries in the Philippines.
Study reports by the ADB and International Labor Organizations (ILO) presented at the seminars here concluded that due to technological advancement, more and more routine tasks are being automated or taken over by machines, and jobs are becoming more polarized.
Many jobs requiring routine tasks will be replaced by machines. In such an environment of change, skills development and human capital will play an even greater role in future economic development.
The problem though, is that Indonesia has a wide skill gap that urgently needs to be addressed, otherwise future economic development will be constrained. As the experiences of Vietnam and Thailand have shown, one way of addressing the skill gap within the short to medium term is by massively expanding vocational education.
Implementing well-resourced, well-targeted vocational training can prove to be a better long-term investment in skill acquisition that helps workers — whose prospects look to be quite bleak — cope with the difficulties they face.
Improved access to better vocational education can contribute greatly to higher income for workers and help bridge the skill mismatch. Economists have deemed skill mismatch as the cause of structural unemployment, whereby the job opportunities cannot be filled by the skills available.
Topics :

Join the discussions