Commentary: Are we really not afraid of terrorism?
Ary Hermawan

The Jakarta Post
Jakarta |

Wed, May 23, 2018

| 09:13 am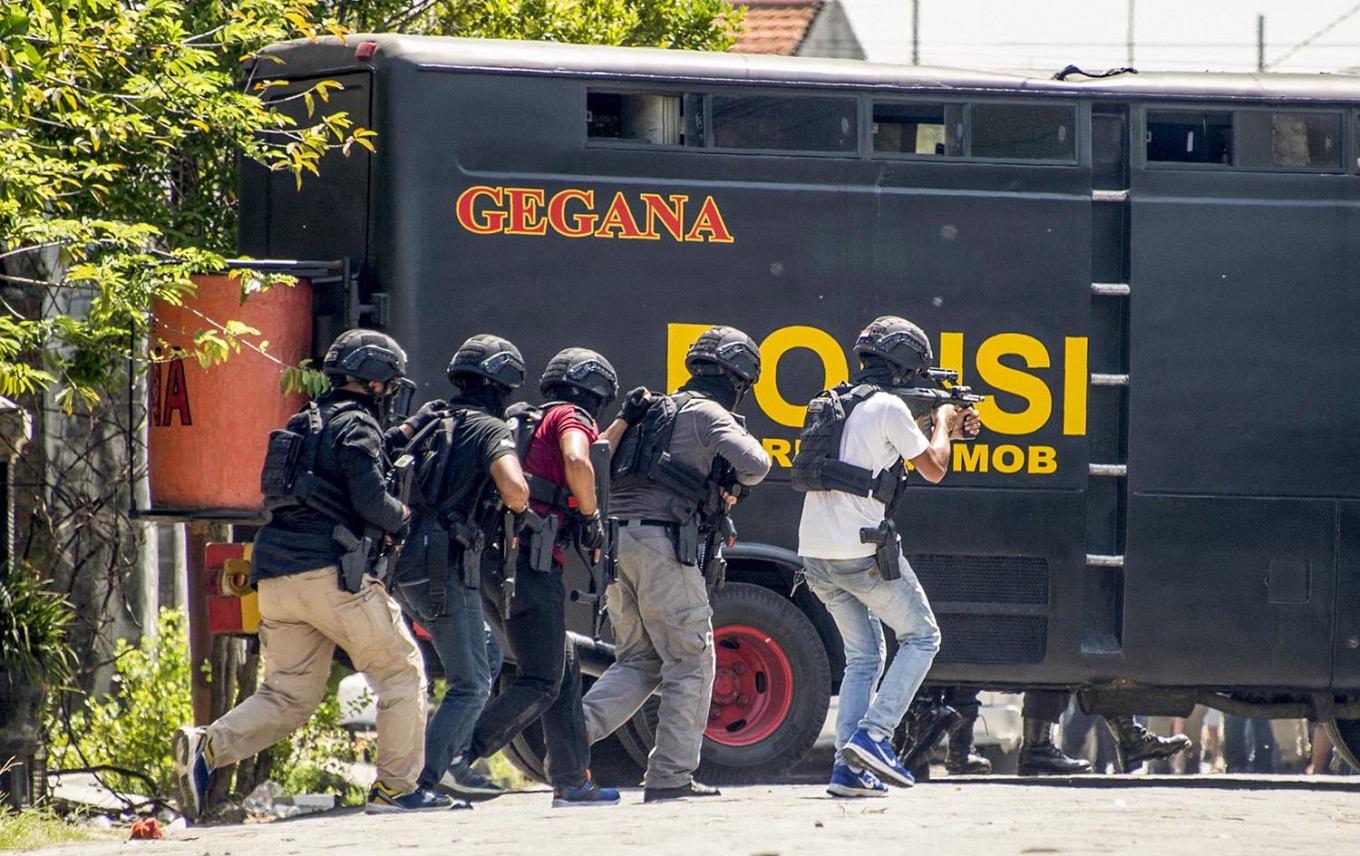 Members of Indonesia's Densus 88 counter-terror police squad conduct a raid on the residence where a family suspected of taking part in recent suicide bombings resided in, in Surabaya on May 15, 2018. Indonesia's elite anti-terror force Densus 88 conducted raids nationwide May 15 in the wake of a deadly wave of suicide bombings as calls grow to pass a stalled security law. (AFP/Juni Kriswanto)
The message we have sent to whoever is responsible for a series of deadly terrorist attacks in our country is loud and clear: We are not afraid.

It has become our mantra to cope with terror and grief. We created the hashtag#KamiTidakTakut (We are not afraid) when the first Islamic State (IS) group-inspired attack hit the nation on Jl. MH Thamrin, Central Jakarta, in January 2016. Only hours, if not minutes, after a family of suicide bombers attacked three churches in Surabaya, East Java, on May 13, the hashtag #SurabayaOraWedi (Surabaya is not afraid) was trending on Twitter.

The idea behind the hashtag offensive is simple. The main purpose of any terrorist attack is to spread fear. By telling the terrorist groups "we are not afraid", we render the attacks worthless.

It is—in the context of national resilience—a symbolic manifestation of Nietzsche's oft-quoted saying: That which does not kill us makes us stronger.

But such a campaign may belie our true reactions to those terrorist attacks, which is exactly what the terrorist groups want—an overreaction, a willingness to give up our freedom for security and, worst of all, increased suspicions against our fellow people.

One example of how fear gripped the nation after the recent attacks was how easy it was for us to support the idea of involving the Indonesian Military (TNI) in the war on terror and ignore its grave consequences on our civil liberties.

President Joko "Jokowi" Widodo was quick to approve a proposal to reinstate the suspended military's Joint Special Operations Command (Koopsusgab) to help the police fight terrorism, even though the policy lacked a legal basis.

The National Commission on Human Rights (Komnas HAM) has questioned the need for reviving the "super-elite" military force, saying that despite the rising intensity of its attacks, the local IS-linked terrorist group has low capability and that the police alone can handle the situation.

According to Komnas HAM commissioner Choirul Anam, bringing back Koopsusgab to fight terror is nothing but an overreaction.

It is important to note that the latest attacks on Indonesia are not the result of weak antiterrorism legislation or weak law enforcement institutions.

The Mobile Brigade headquarters (Mako Brimob) prison riot was a preventable disaster.

The police's Densus 88 elite counterterrorism squad has actually won kudos from foreign governments for its ability to weaken Jemaah Islamiyah (JI) and thwart many attacks plotted by Jamaah Ansharud Daulah (JAD) militants.

Even though the prevailing Terrorism Law does not give the police the authority to arrest people for plotting terrorist attacks, Densus 88 has killed many suspected terrorists in many of its deadly raids, prompting concerns from human rights groups over its penchant for extrajudicial killings.

The only problem is that the police are not trained to handle terror inmates, whose number has increased as a result of the counterterrorism squad's success. The detention center at Mako Brimob was not designed to house terror inmates, and given Indonesia's chronic prison problems, the deadly riot could have easily been planned to overpower the outnumbered officers.

The Surabaya attacks, meanwhile, were a massive intelligence failure.

IS militants have a knack for carrying out attacks ahead of and during Ramadhan, here and in other parts of the world. The May 27, 2017, attacks on three police officers in Kampung Melayu, East Jakarta, for example, took place only days before Ramadhan began.

Therefore, the problem was not that the law enforcers knew about the suicide bombers and were unable to act but that state intelligence agencies failed to detect the threat, allowing the militants to launch attacks three days in a row.

The President should have reviewed his top security officials rather than drag the military back into the civilian sphere.

Security policies aside, the bigger problem might be the growing suspicions against certain Muslims after the recent attacks. People, Muslims and non-Muslims alike, have spoken about how they feel anxious around Muslim women wearing the niqab or Muslim men with beards in Salafi attire.

It is ironic that what has been described as "Islamophobia" in Western countries is now happening in the country with the largest Muslim population.

In the past few weeks, we have seen a number of people accused of supporting terrorism for suggesting that terrorist attacks were false flag operations. Some of them of have been arrested on charges of spreading fake news.

Conspiracy theorists and hoax mongers are certainly a problem. However, they are not necessarily supporters of terrorism, and the fact that those arrested for spreading conspiracies about terrorist attacks are largely detractors of the current government has made the issue of terrorism highly political and divisive.

We should remain united and rational in the face of terror. We should never be afraid, but it takes more than a Twitter hashtag to show that we are not.

Some of us have accused some Muslims of being in denial for refusing to accept the fact that the perpetrators of the recent terrorist attacks were Muslims. But, alas, they are not the only ones stuck in denial—with many of us screaming "we are not afraid" while begging for protection from the military and engaging in an online witch hunt against our fellow people and accusing them of supporting terrorism without a shred of evidence.

Are we really not afraid?
Topics :

Join the discussions