Commentary: Hijab or tight skirt: Airlines still use women's body image to sell tickets
Evi Mariani

The Jakarta Post
Jakarta |

Fri, May 25, 2018

| 09:13 am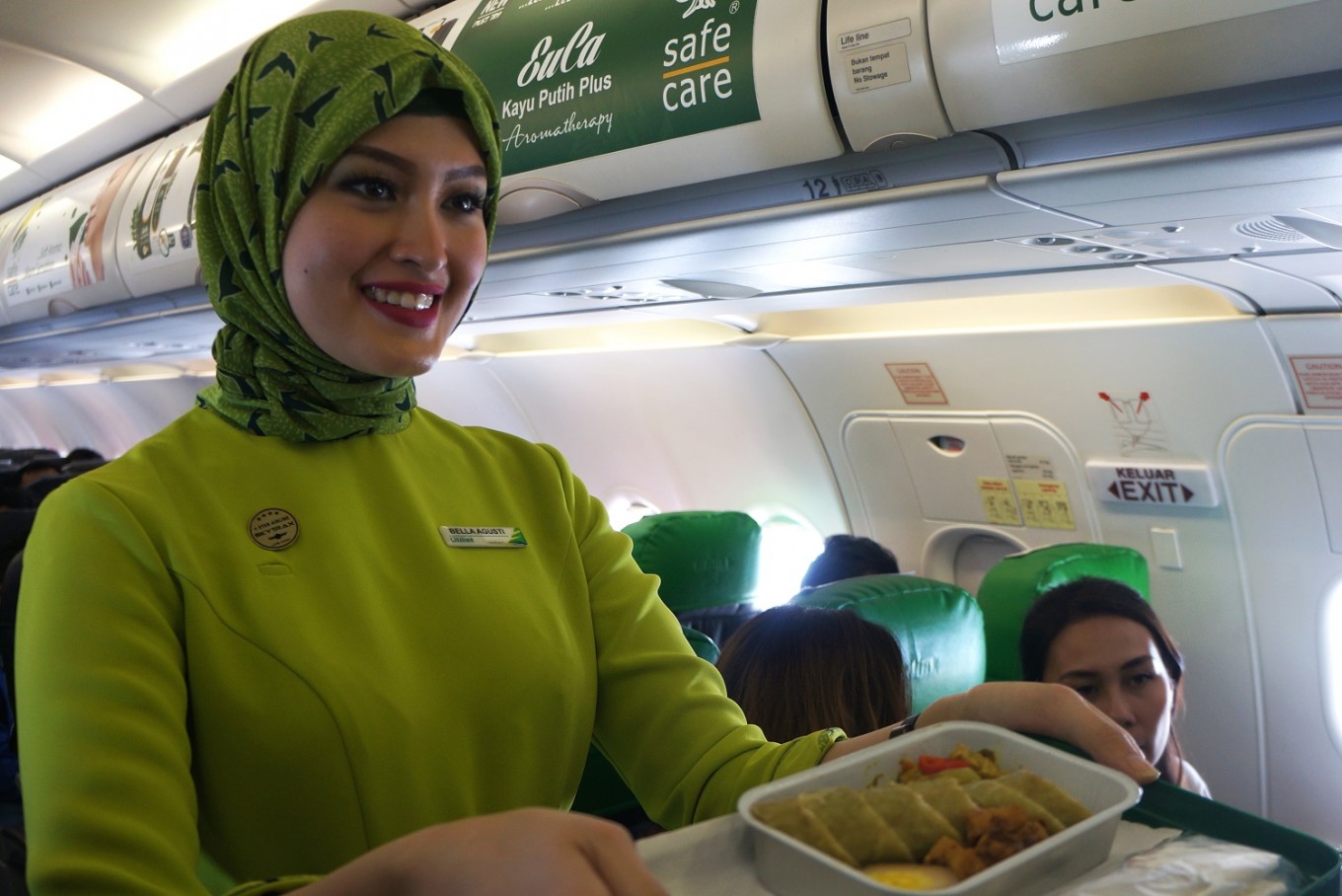 Citilink Indonesia introduces a new hijab-style uniform. (JP/Jessicha Valentina)
Citilink Indonesia, the low-cost subsidiary of Indonesia's flagship carrier Garuda Indonesia, unveiled its new flight attendant uniform that features a hijab. The announcement came in the spirit of Ramadhan, which began on May 17.

Such a corporate measure is welcome because it respects Islamic beliefs regarding women's clothing and the desires of many working Muslim women.

The airline will still retain the old uniform that includes a tight skirt cut above the knee. Tight skirts and body hugging uniforms are in fact a staple of all Indonesian airlines. Some have long skirts, but the slits are high.

Indonesian airlines use the same formula as their Southeast Asian counterparts. Singapore Airlines has the Singapore Girls and their famous body-hugging kebayas and sarongs. Vietnamese airline VietJet took the uniform game even further — it featured flight attendants in bikinis.

And while putting scantily clad attendants on board a plane is outrageous, having a hijab as part of the uniform and using women to boost your brand is actually the same principle: Airlines use women's bodies to sell tickets. Whether showing an image of a bad girl (bikini) or nice girl (hijab), it is women who are put on display.

However, uniforms are actually not the core problem if you look at airlines from a feminist perspective. I have nothing against bikinis, tight skirts or the hijab and as long as women wear them with the freedom to choose, why not? The operative word here is "freedom".

The main issue is the certain body image requirements they demand from their employees.

If you search for any pictures of Indonesian pramugari (flight attendants) on Google Images, you will see a similar body image: All of them are young, slim and mostly fair-skinned. After several searches of various airlines, I haven't seen one with curly or short hair.

And once recruited, they have to stay slim. And where are the flight attendants when they reach 50?

If you are someone with a convivial nature, can take charge of a crowd, competent and calm under pressure you should be able to become a flight attendant. But if you are all those but not young, not slim, not fair skinned and not beautiful under the popular standard, being a flight attendant is just a dream if you live in Indonesia, Singapore, Vietnam or other Southeast Asian countries.

Singapore Airlines is probably the pioneer of the concept of women bending over and smiling to serve male businesspeople.

In 1992, The New York Times ran a piece on the Singapore Girls, and there was one interesting sentence in that report: "Feminism has been slow in coming to Singapore Airlines, and the exotic, ever-smiling young women gliding through its planes' aisles in figure-hugging batik sarongs are still called stewardesses."

The sentence was written 26 years ago and feminism hasn't reached Citilink Indonesia, Garuda Indonesia, Lion Air, Wings Air, Batik Air, Sriwijaya Air or Indonesia AirAsia yet.

As someone who grew up in Indonesia, I thought all flight attendants in the world had to look like the Singapore Girls or like Garuda pramugari. I was quite shocked while flying with Air India, which had more diverse body shapes among its flight attendants.

While I was not charmed by the unfriendly attitude of some of the attendants, the experience I had with a plump matron, who gave me my food tray, and the no-nonsense attitude of the other attendants toward unruly passengers on the flight to Mumbai was eye-opening.

The second time, on board an Air France-KLM flight, was confirmation that flight attendants do not have to look like models. Later experiences on United Airlines and Delta Air Lines just made me think that the dominant image ofpramugari is actually sexist.

Requirements for flight attendants should focus on what is important on board a plane and a certain body image (slim, fair skinned, young) is irrelevant. Several airlines have proven that.

I heard stories about young women, whose looks do not conform to such standards, who aspire to become part of the aviation industry only to have their dreams dashed. What about competent people from eastern Indonesia with their dark skin and curly hair?

With a growing middle class heralded by the arrival of low-cost carriers like Lion Air, with its famous tagline "We make people fly", airlines should change this perception when recruiting attendants.

Customers of the aviation industry in this century are no longer restricted to alpha male executives, a la Don Draper, anymore. And I would like to ride on the "diversity campaign" wave too: With passengers growing more diverse, airlines should reflect that change too.

Passengers nowadays come from all walks of life and more and more of them are aware of gender equality and diversity. The time will come when my son's generation boards a flight and sees such objectification and disrespect to diversity only cheapens the airline's brand.
Topics :

Join the discussions