Transforming trash into treasure
Jakarta |

Tue, June 5, 2018

| 11:35 am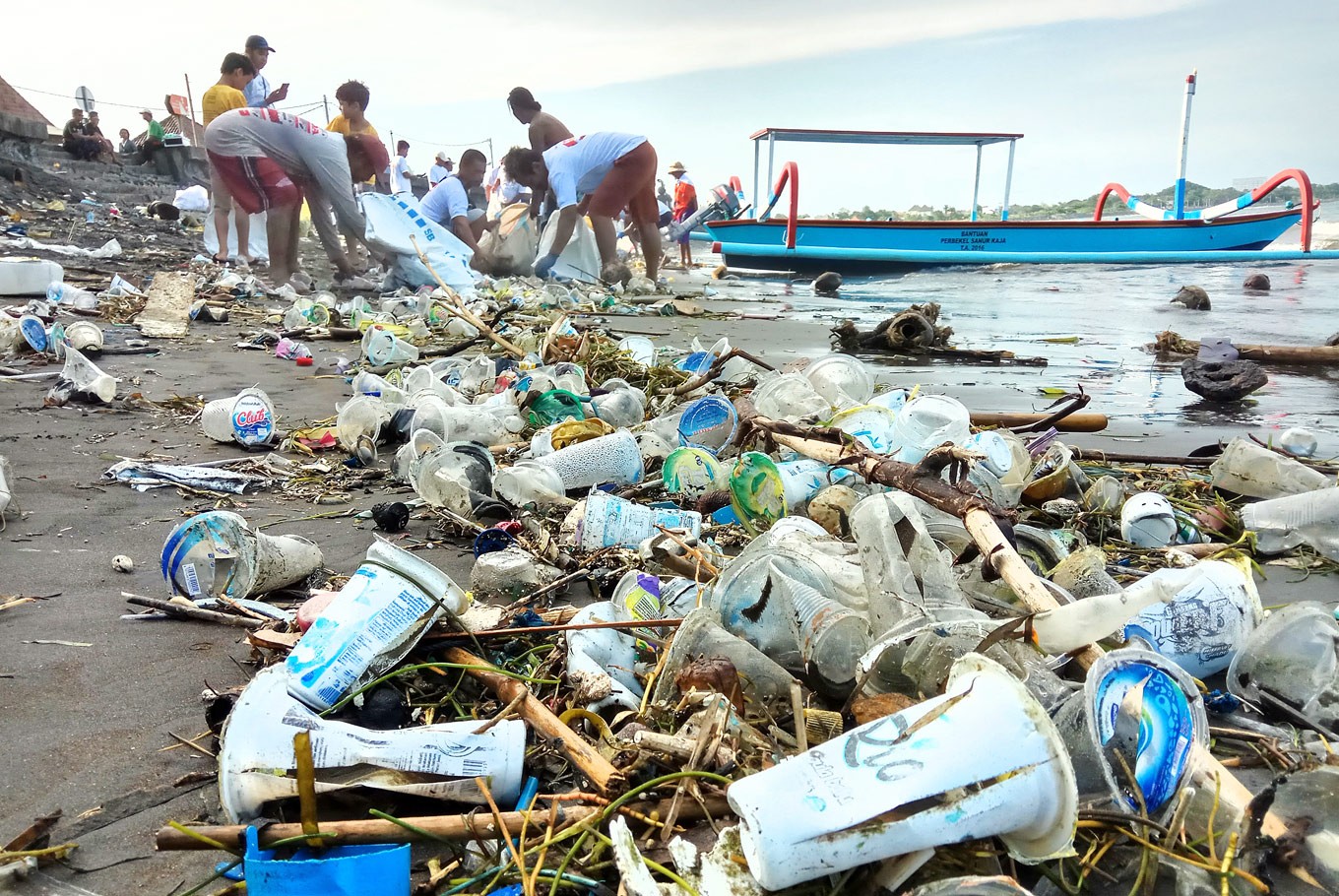 People living near Matahari Terbit Beach in Sanur, Bali, work together to clear trash, mainly plastic bottles and food packaging, from the beach on Monday. The beach is known as one of the best spots to enjoy sunrises in Bali. However, waste has become a major problem, putting tourists off visiting the beach. (JP/Zul Trio Anggono)
The waste issue has become a pressing environmental concern around the world. The theme of this year's World Environment Day on June 5 is "Beat plastic pollution". Bali alone declared a "waste emergency" in December amid viral vlogs showing a massive amount of trash washing up on its shores. Similar declarations of a waste emergency were made by other municipalities and regencies such as Cirebon in West Java, Purbalingga and Wonosobo in Central Java and Pekanbaru in Riau.
Reducing waste at the source is a top priority in waste management. However, the shift in human behavior to reduce the amount of household waste through in-house segregation may take a number of years.
There is no waste management technology that serves as a generic solution, as the method depends on the context of the municipalities/regencies and the types of waste generated. While the local administrations attempt to strengthen the role of materials recovery facilities (MRFs) and identify the most suitable endof-pipe technologies, one of the interim solutions local residents are applying is community-based waste management (CBWM).
However, CBWM is not a panacea for Indonesia's waste problem. My case studies of existing CBWMs in Jakarta showed that successful initiatives tended to be initiated autonomously by community members. In contrast, top-down initiatives that were imposed by the government or external institutions tended to fail.
Besides attempting to identify the most preferred methods of waste management, we should also consider the use of waste materials for durable and long-lasting products rather than shortterm consumptive items, such as recycling plastic waste for asphalting roads and construction materials (Mongabay, Sept.10, 2017). Yet, further analyses on environmental and lifecycle impacts as well as toxicity tests should be conducted thoroughly.
Not all types of plastic can be reused sustainably or economically, so careful sorting and selection processes should be applied to plastics appropriate for constructing roads and buildings. In our tropical climate, we need to understand the extent to which heat may impact the structural strength of plastics used for roads, along with the exposure of microplastic particles and their impacts on human health and the environment.
As regards the end-of-pipe measures, last year the Asia Development Bank (ADB) argued that converting waste to energy through moving grate incinerations was the best available option for developing countries. However, other than the high cost of such technology, incinerators have generated controversy as evident from recent protests in Bandung, West Java, where activists argued that composting and waste recycling were more suitable for managing urban waste.
Nevertheless, the perceived ideals of the most preferred waste management methods should also be assessed against the reality. Arguably, composting is a silver bullet for the organic fraction of Indonesia's waste conundrum. This is because feedstock for composters may derive from uncontrolled mixed waste that might contain hazardous contaminants. The above ADB report also noted that composting schemes utilizing food scraps commonly failed, unless there was a local, sustainable demand for compost.
The typical "last resort" scenario of waste management is sanitary landfilling, which involves lower costs and is thus more affordable for developing countries. To this end, the combined solar photovoltaic and landfill-generated methane gas power plants might also be an option to explore, as ESC Indonesia, an environmental consulting firm, raised in 2015.
Regardless of all the options for treating waste residuals, we all have a responsibility. As citizens, we should aim to reduce waste and to sort waste at least into two categories, organic and inorganic waste. This would help inorganic recyclables be retrieved in dry form that retains the original value of the materials, as impure recyclables tainted by wet waste would have less value. Segregated waste is also far easier to process mechanically, potentially reducing recycling costs.
Companies that produce consumer goods should be mandated to make durable products and prevent "planned obsolescence", or products designed to have a limited life span that become obsolete after a certain period of time. This is particularly applicable to electronic products such as mobile phones, computers and digital tablets.
In developing countries, foreign donors and development banks have been providing assistance in project preparatory support for sound waste management through developing feasibility studies as well as pilot projects. The challenges are typically due to the extensive requirements for producing well-prepared documents at international standards, which often raises the need for qualified consultants, and with regard to the appropriate systems based on local contexts.
The actual construction of waste treatment plants and system implementation would essentially be the responsibility of the local governments. Therefore, financial assessment of the proposed scenario(s) should confirm governments can afford to implement and operate the waste treatment technologies.
Amid the grim outlook for overall waste management in Indonesia, the light at the end of the tunnel is foreseeable. The government recently enacted Presidential Decree No. 35/2018 to accelerate waste-to-energy installations. This new policy has brought a breath of fresh air and optimism to the development of waste-to-energy processing in Indonesia. Yet again, financial feasibility and forecasting are a prerequisite to ensure its sustainability.
As Einstein once said, "We cannot solve our problems with the same thinking we used when we created them." Therefore, all stakeholders should take immediate and concerted efforts and to go beyond the "business-as-usual" way of thinking to deal with "waste emergencies" across the country.
Composting is a silver bullet for the organic fraction of Indonesia's waste conundrum.
***
The writer is the waste management and energy specialist at CDM Smith, Jakarta, for the German KfW-funded project Emission Reduction in Cities (ERIC 2) — Advanced Solid Waste Management Program for Selected Cities and Regencies in Indonesia
Disclaimer: The opinions expressed in this article are those of the author and do not reflect the official stance of The Jakarta Post.

Join the discussions