Commentary: Sleepless Moon: Before Kim triumphs over 'MacArthur' Trump
Kornelius Purba

The Jakarta Post
Jakarta |

Wed, June 13, 2018

| 09:13 am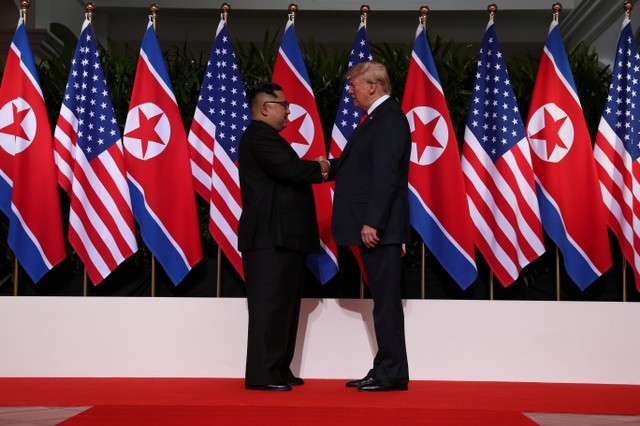 U.S. President Donald Trump shakes hands with North Korean leader Kim Jong Un at the Capella Hotel on Sentosa island in Singapore June 12, 2018. (Reuters/Jonathan Ernst)
Millions of people watched the live coverage of the historic summit between United States President Donald Trump and North Korean leader Kim Jong-un in Singapore on Tuesday.

Few might remember that it all started with South Korean President Moon Jae-in's PyeongChang Winter Olympic diplomacy earlier this year. When Trump abruptly threatened to cancel the scheduled Singapore meeting, it was Moon who came to Kim's rescue once again by intensively lobbying Trump to change his mind.

Moon said he could not sleep the night before the Singapore summit took place. "I had a sleepless night. I, along with all our people, sincerely hope that it will be a successful summit that will open a new era of complete denuclearization, peace and a new relationship between South Korea, North Korea and the United States."

Moon's patience, sincerity and belief — Pope Francis also prayed for the summit's success, partly because Moon is a Roman Catholic — in persuading Kim to end the prolonged North Korean nuclear crisis, paid off.

Kim apparently is confident enough with his nuclear weapon technology, but at the same time realizes that the key to his political survival is pinned only on the economy. The US-sponsored United Nations sanctions have been so punishing that it is just a matter of time before the North's economy collapses.

The joint statement, signed by both Trump and Kim after their meeting, referred to Kim's commitment to denuclearization in the Panmunjom Declaration, which was signed by Moon and Kim last April. "Reaffirming the April 27 Panmunjom Declaration, the DPRK commits to work toward the complete denuclearization of the Korean Peninsula," the third point of the statement says.

What is Trump's main motivation to make a deal with Kim? The US president reportedly idolizes US Korean War commander Gen. Douglas MacArthur so much that he keeps hold of his ambition from his school years to conclude the war that could not be finished by his idol.

The New York Times in its Monday edition quoted Trump's schoolmates and former advisor as saying that MacArthur is always on Trump's mind.

Trump has never tried to hide his ambition to win this year's Nobel Peace Prize, thinking that he deserves the prestigious award more than his predecessor Barack Obama, who won the prize just a few months after assuming the US presidency in 2009 for his "extraordinary efforts to strengthen international diplomacy and cooperation between peoples".

Trump's supporters have been campaigning in support of his bid for the Nobel as they believe the world will be much safer thanks to his brave statesmanship to reach a permanent peace deal with the North Korean leader.

"He knows the Korean War hasn't ended, and he can accomplish what destroyed his idol, Gen. MacArthur," Stephen Bannon, his former chief strategist, told the Times.

Just a few days after insulting and humiliating the US' close allies, including his host Canadian Prime Minister Justin Trudeau, German Chancellor Angela Merkel and French President Emmanuel Macron during the G7 summit in Canada over the weekend, Trump flew to Singapore. It may take years for the US' allies to forgive Trump because he intentionally wants to drag the G7 into a global trade war.

Trump, who refused to sign the G7 leader's joint statement, proudly inked the document that states he is "committed to provide security guarantees to the DPRK", and "Chairman Kim Jong-un reaffirmed his unwavering commitment to complete denuclearization of the Korean Peninsula."

The US president catapulted Kim's reputation from a ruthless leader of a pariah state to a global trustworthy leader within a day. What happened on Tuesday was out of the wildest imagination of professors and authors of diplomacy textbooks. Trump simply followed his intuition and ambition.

As the host of the historic summit, Singaporean Prime Minister Lee Hsien Loong only spent SG$20 million, much of it on security arrangements. But its impact on Singapore will last for a very long time, because the four-hour TV coverage reached out to a global audience.

President Joko "Jokowi" Widodo needs to learn from Lee as Indonesia is preparing for the World Bank and IMF annual meetings in Bali in October.

Chinese President Xi Jinping was clearly happy with the work of Kim, China's close ally.

Chinese Foreign Minister Wang Yi praised the summit, which he hopes will help "clear interference, establish mutual trust and overcome difficulties so that they will reach a basic consensus on, and take concrete steps toward, the denuclearization of the Korean Peninsula."

Global human rights groups have desperately urged the world not to forget the crimes against humanity that Kim allegedly committed and should be held accountable for.

The global audience, however, prefers to see Kim more as a statesman who has transformed himself into a trusted world leader.

It will take the wish of Korean Peninsula denuclearization years to come true, but whatever happens later, Kim has registered his name and legacy in world history.

So how about this year's Nobel Peace Prize? In my previous column, I said the two Koreas deserve the prize. The award will incentivize real peace on the Korean Peninsula. Do you think Moon, Kim and Trump stand a chance of being named the joint laureates of the Nobel Peace Prize?
Topics :

Join the discussions