Idul Fitri that unites
Editorial Board

The Jakarta Post
Jakarta |

Wed, June 13, 2018

| 08:08 am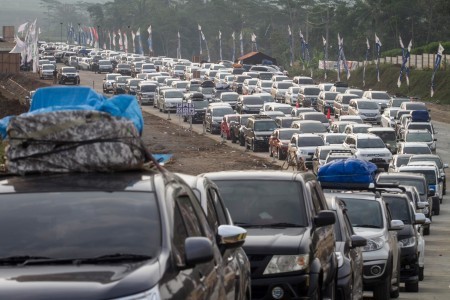 Vehicles queue along Salatiga-Kartasura toll road in Central Java on June 10 due to mass exodus as Muslims traveled to their hometowns to celebrate the Idul Fitri Holiday. (Antara/ Mohammad Ayudha)
In the final analysis, faith has always been about relations between people. Faith should guide people to deal with the here and now rather than what could be. People should define their degree of spirituality based on their relations with others. Adhering to the "do unto others" principle could improve one's lot.

All rituals, whether deed or sacrifice, should have the final objective of bringing people together instead of only serving the Almighty. Every ritual and tradition performed in the name of religion involves elements of social interaction.

Idul Fitri is one Islamic ritual that is rife with social meaning. Unlike the Islamic Day of Sacrifice, where Muslims are obliged to slaughter sacrificial animals, there is no set of rules on how Muslims should celebrate beyond the requirement of fasting the month before and greeting each other to express love and brotherhood. Muslims are so focused on self-purification during Ramadhan that they initially treat the holiday as an afterthought.

In the old days, Muslims wore new clothes at Idul Fitri and visited relatives and neighbors to ask for forgiveness. But things have become more complicated with the growth of modern cities and developing countries like Indonesia joining the ranks of industrialized nations. People are moving to the cities and more rural areas have transformed into urban centers.

The task of venturing out to visit relatives and friends now involves traveling from one part of the country to another, from one urban center to another and mostly from cities to villages in an annual holiday exodus commonly known asmudik.

Only five years ago, the ritual of mudik was a test of strength and stamina for Muslims, given the poor road conditions and lack of supporting infrastructure. Just recently, travelers died from exhaustion while braving heavy traffic on the northern coastal road of Java. Less than a decade ago, it was common to see images on television and newspapers of homebound travelers crammed into economy-class trains.

This year, things have improved and with the partial completion of the trans-Java highway network, travelers can now have a more enjoyable ride home. But even when things do not run smoothly, millions of people are willing to brace the worst traffic imaginable to see friends and relatives back home.

For many, Idul Fitri is the only time of year when they can reconnect with their roots, revisit their past and mend frayed ties with those they have left behind. In a country where most people measure happiness with a strong sense of community, traveling home for Idul Fitri is a very big deal.

Essayist Umar Kayam summed up the Idul Fitri spirit best with his immortal words Mangan Ora Mangan Kumpul (Together, Hungry or Full). It doesn't matter who you are; whether you're traveling home by motorcycle or Mercedes-Benz sedan, Idul Fitri brings us together. Have a safe trip home and Eid Mubarak.
Topics :
Join the discussions