Why people die in earthquakes

Denpasar |

Fri, August 24, 2018

| 12:47 pm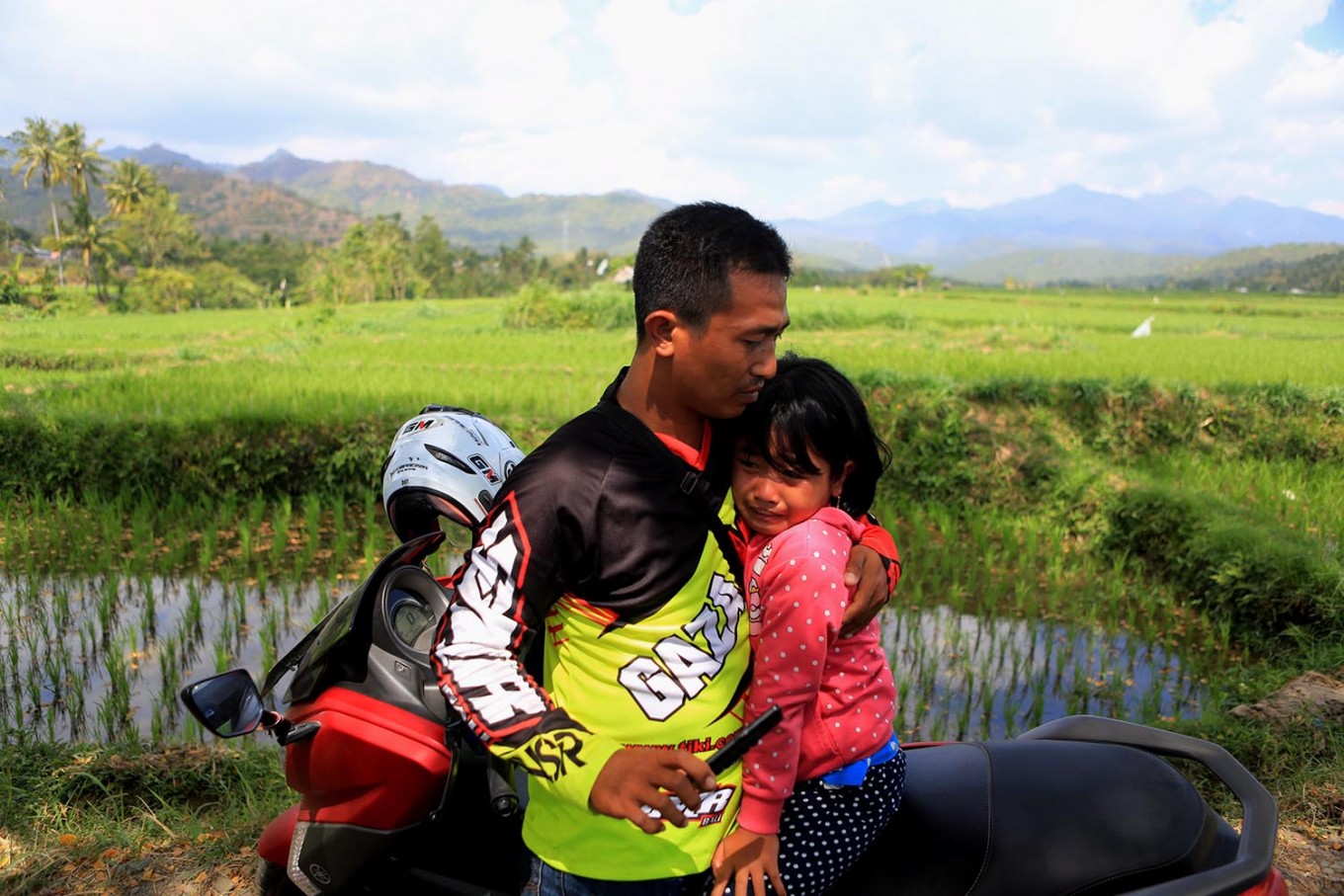 All hope lost: A man comforts a little girl in the midst of uncertainty in Lombok as a result of earthquakes that have constantly hit the island since July 29. JP/ Seto Wardhana (JP/Seto Wardhana)
At 7:45 p.m. on Aug. 5, a major earthquake hit Lombok in West Nusa Tenggara. Well over 400 people have been killed, many more people injured and hospitals are flooded with victims seeking treatment in subsequent aftershocks; North Lombok has been the hardest hit.

Why are so many people killed and injured when an earthquake strikes?

Most are killed or injured by the falling walls and roofs of their houses or any other building they are in at the time. Once out of a building they still may not be safe and can be injured by walls falling over.

In the past there were far fewer casualties, traditional houses were built from wood or bamboo and were far better able to withstand earthquakes. The wooden parts are securely fastened together, the building is flexible and can sway and so is not damaged by the shocks that crack and break the walls of concrete buildings.

Traditional building techniques were developed and refined over thousands of years.

These days most houses are built from brick and concrete, many are poorly designed and constructed and are not able to withstand a strong earthquake. Dangerous construction is not only limited to low cost houses; luxury houses, hotels, schools, government buildings and even hospitals collapse if they are not properly designed and built.

This shouldn't be happening. Indonesia has a comprehensive set of well documented building standards that provide guidelines for how buildings should be built, which include the design and construction criteria needed to ensure that buildings can withstand earthquakes.

All too often, however, these standards are not followed and there are a number of reasons for this. Unfortunately many of the people who build houses have limited knowledge or understanding of the Indonesian building standards or of the correct ways that buildings should be designed and constructed.

There are also many who are either trying to save money or simply do not have the competence to construct safe buildings.

There are designers that put appearance before structural strength, and there are those who renovate buildings and may add extra floors to a building that simply cannot take the extra weight.

Poorer people also need a house to live in but do not have enough money to pay for a well designed and constructed house.

A study carried out after a 6.4-magnitude earthquake that struck Yogyakarta in May 2006 revealed why so many people were killed and injured. During that earthquake as many as 400,000 houses were seriously damaged or totally destroyed, 5,700 people were killed and tens of thousands were injured mostly from falling roofs, houses and garden walls.

Most of the houses in the Yogya area were built using established local methods — red brick or concrete block walls, heavy wooden roof frames and with heavy clay tiles on their roofs. Most lacked adequate foundations or the reinforced concrete columns and beams that provide the strength needed to withstand an earthquake.

If we build our buildings correctly they will be safe in earthquakes. Here are some of the ways that we can build safe houses:

* Always build strong foundations made from reinforced concrete. If building on former rice fields make sure these are at least 2 meters into the ground.

* Use reinforced concrete beams underneath the walls to properly support them.

* Walls should be supported by reinforced concrete columns 20 centimeters by 20 cms for single storey buildings and 30 cms by 30 cms for two storey buildings.

* Build reinforced concrete "ring" beams along the top of walls to fasten the columns together.

* All reinforced concrete should have steel bars that are large enough.

* Reinforcing steel bars should be connected where the foundations, columns and beams meet to "tie" them together.

* The concrete should be properly mixed with enough cement and only a small amount of water.

* Make sure concrete is "vibrated" when it is being poured; this makes it dense and increases its strength.

* Concrete for a column or beam should be poured all at once so the concrete is all in one piece.

* Use lightweight steel or lightweight wooden roof frames with the pieces screwed together.

* Use lightweight materials for roofs such as asphalt shingles, corrugated iron, corrugated plastic or corrugated bitumen.

* If clay or concrete tiles are used the frame must be strong enough for the weight.

* Roof tiles should be firmly fastened to the roof frame using nails or screws.
***
The writer is a chartered engineer and former AUSAID consultant in the construction of earthquake-proof buildings in eastern Indonesia.
Disclaimer: The opinions expressed in this article are those of the author and do not reflect the official stance of The Jakarta Post.

Join the discussions