Indonesia in UNSC: Promote holistic approach to peace
Yulius Purwadi Hermawan and Awidya Santikajaya

-
Bandung/Jakarta |

Mon, August 27, 2018

| 05:12 pm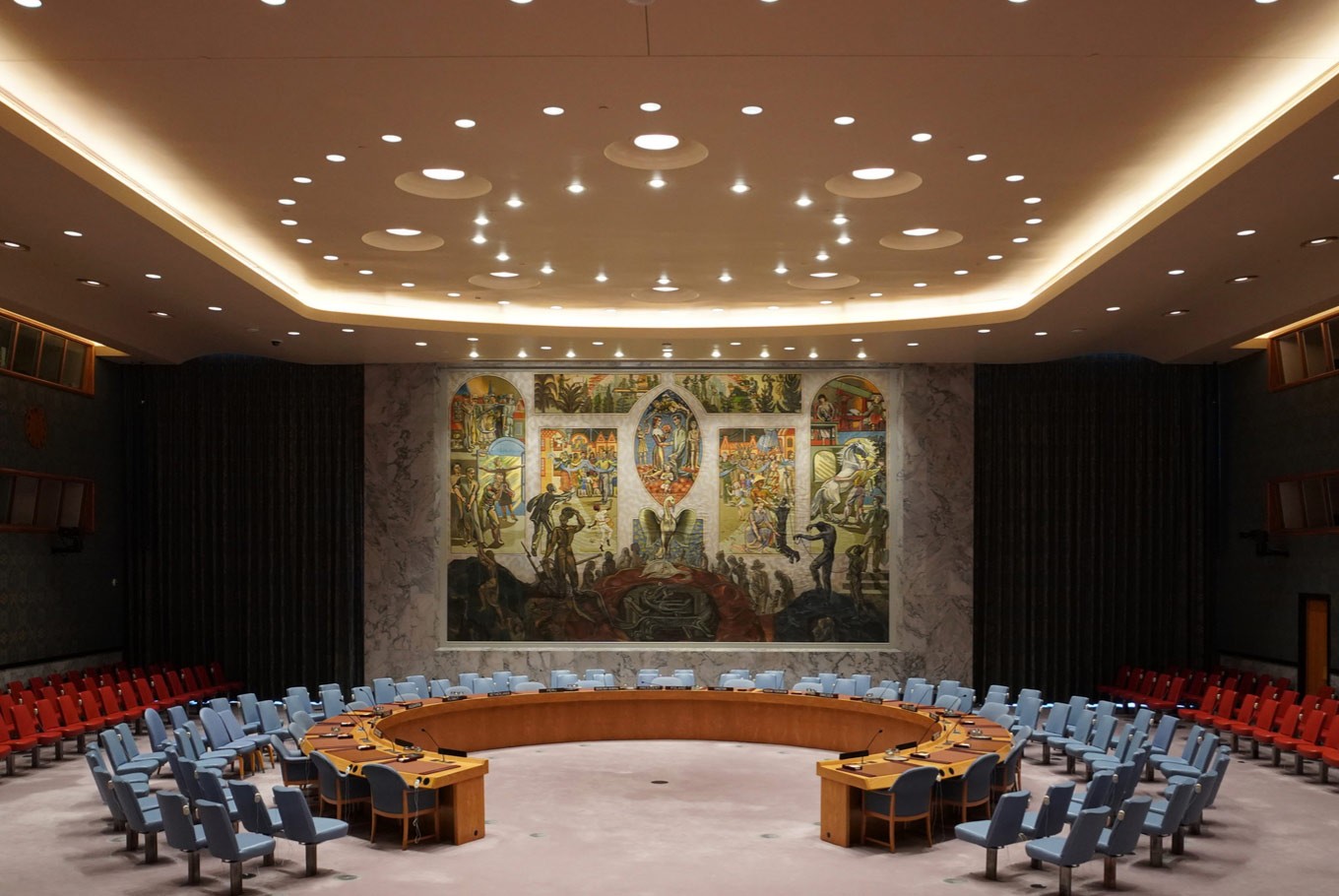 The chamber of United Nations Security Council (UNSC) in New York. (Shutterstock.com/Andrea Izzotti)
Indonesia has been elected as a non-permanent member of the United Nations Security Council (UNSC) for 2019 – 2020 and will serve its tenure beginning from January 2019. The membership is a good momentum for Indonesia to contribute to maintaining and promoting international peace. While there are expectations that Indonesia can create peace in hotspots such as conflicts in Middle East and Korean Peninsula, one area where Indonesia could potentially play a pivotal role is in promotion of a holistic approach to peace and security. Indeed, one priority of Indonesia's UNSC membership is to forge global partnership in addressing security implications of economic, health and environmental challenges.
As the premier international body for maintaining global peace and security, the UNSC has mainly focused on "hard power" politics, where inter-state war is perceived as threat to peace. Nonetheless "non-traditional security issues" such as environmental degradation, energy shortage, disease outbreak and refugees, can evolve into increasingly difficult security challenges if not addressed wisely.
Proposing initiatives on non-traditional security issues in the UNSC will contribute to more preconditions for conflict resolution and peacebuilding. This does not necessarily mean Indonesia's attention to non-traditional security issues will replace its focus and involvement on issues such as situations in Middle East, Afghanistan, and Africa, and non-proliferation of North Korea. Rather, Indonesia's effort to bring non-traditional security issues to the table will complement its contributions in solving traditional security issues.
The UNSC has indeed paid increasing attention to non-traditional security issues. For example Antonio Gueterres, the UN Secretary General, has reminded UNSC members to pay more attention on non-traditional security issues that constitute serious threat to peace and security. The earthquake and subsequent floods in Haiti in 2010, among others, brought complete chaos to the country, hampering the peacekeeping operation by the UN Stabilization Mission in Haiti.
Despite being discussed in several UNSC meetings, non-traditional security issues have not yet been put into a wider context of conflict resolution and peace building. Factors which seem to restrict productive and frank discussion on non-traditional security issues are overlapping between UNSC and other UN institutions which deal with the issues such as health or climate change. Secondly, there are some worries that some of the issues would be politicized for the interest of certain countries.
Thus Indonesia could bring to the table issues where UNSC members can find common ground and show least reluctance. Moreover, these non-traditional security issues should not be regarded as stand-alone matters. Instead, they must be treated as a part of the way to find peace. Three issues which may fit these criteria are refugees, disaster management, and gender.
As conflicts grow in number and coverage and as conflict resolutions are lagging, the number of refugees constantly rises. The presence of these refugees in the already densely populated countries with limited sources, creates a heavier burden for the countries including Indonesia itself.
In that context, Indonesia may urge the UNSC to underline the importance of high commitment to build strong international cooperation in providing humanitarian assistance in transit and destination countries through more coordinated regional initiatives, including the multilateral diplomatic proceedings called the Bali Process.
On disaster management, Indonesia needs to participate in strengthening the capacity of UN peacekeeping personnel to deal with humanitarian crisis and disaster situations. The role of peacekeepers is crucial to provide the emergency needs of the victims, to set up critical facilities, to provide protection to the people, and to maintain environmental stability. Therefore, using its Sentul-based Indonesia Peace and Security Center in West Java, Indonesia could host a training program for peacekeepers on principles, concepts, and procedures of international military aid in disaster relief operations.
Such training and exercises would strengthen disaster preparedness and response capacities of peacekeepers operating in countries such as Haiti and Somalia which are still struggling to recover from natural disasters in addition to prolonged conflicts.
Regarding gender issues, Indonesia could initiate a resolution or presidential statement to call for immediate measures to protect women and children in conflict areas. There must be standardization for peacekeepers to protect women and children as a highly urgent priority in all such operations. Furthermore, Indonesia could take the initiative to ensure a better gender-responsive approach in sustaining peace, among others by organizing pre-deployment gender training sessions for peacekeeping personnel and encouraging a special unit in peacekeeping missions that promotes a gender mainstreaming approach in peacebuilding.
A two-year stint in the UNSC is actually very short. Thus, a smart and realistic strategy is needed. The holistic approach to peace, which sees non-traditional security issues as an integral part of the creation of global peace, could become Indonesia's strong legacy as a non-permanent member of the UN Security Council.
***
Yulius Purwadi Hermawan is vice dean at the University of Parahyangan's Faculty of Social and Political Science in Bandung, West Java. Awidya Santikajaya heads the multilateral affairs section at the Foreign Ministry's Policy Analysis and Development Agency. This article is extracted from a report on suggested positions of the Indonesia's tenure at the United Nations Security Council, written by the University of Parahyangan for the Foreign Ministry.
Disclaimer: The opinions expressed in this article are those of the author and do not reflect the official stance of The Jakarta Post.
Topics :
Join the discussions