Ending soccer's shame
Editorial Board

The Jakarta Post
Jakarta |

Tue, September 25, 2018

| 08:21 am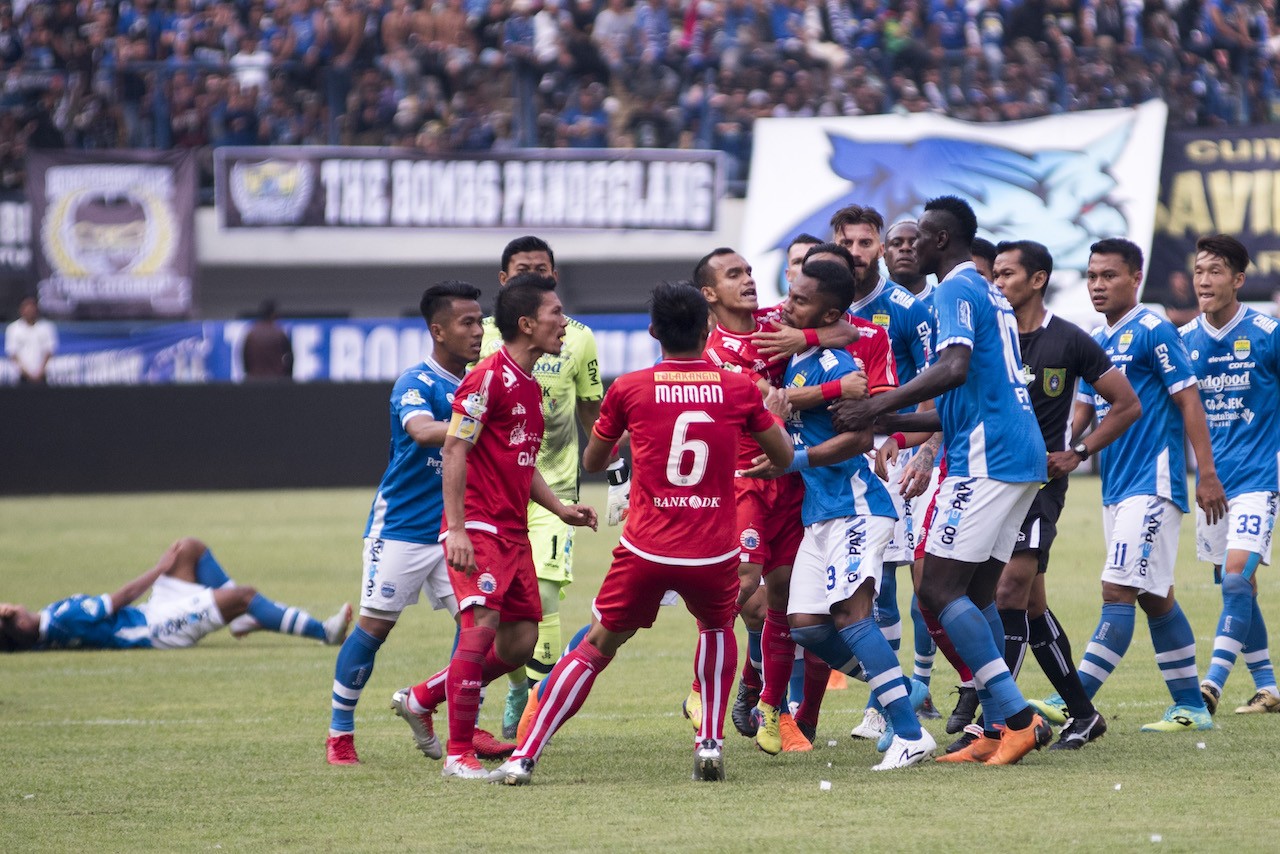 Persija Jakarta and Persib Banding players quarrel during a match at Bandung Lautan Api Stadium in the capital of West Java on Sunday. Persib won 3-2 over Persija in a game during which a Persija supporter was beaten to death outside the stadium. (Antara/Novrian Arbi)
Soccer hooliganism has reared its ugly head again, just as the country was beginning to show to the world it will be a soccer force to be reckoned with in the near future. The death of a Persija Jakarta supporter at the hands of Persib Bandung fans on Sunday should lead to concerted action against hooliganism or it will endanger Indonesia's dream of reaching greater heights in the sport.

Haringga Sirila, 23, was beaten to death outside the Gelora Bandung Lautan Api Stadium just before a match between the archrivals after a number of Persib supporters identified him as a member of Persija fan group Jakmania during an ID card check. The lack of humanity in the subsequent beating is evident in video footage that went viral on social media.

The police have named eight suspects after arresting over a dozen Persib supporters allegedly involved in the mob assault and murder. The police also stood guard at a number of check points at the border between Jakarta and West Java after text messages warning of revenge to be meted out to Persib supporters were circulated.

The animosity between die-hard supporters of the two soccer clubs has now claimed seven lives in the last six years. At the same Bandung stadium in July last year, a Persib supporter died after being mobbed by fellow Persib fans who misidentified him as Persija supporter.

The police had in fact anticipated a repeat clash between the two clubs by warning Persija fans against traveling to watch their team play the match. The Jakmania management issued a similar travel advisory to its members, given the potential ferocity engendered by the derby match.

But prohibiting, if not discouraging, fans from watching their beloved team play for its honor makes no sense and is totally unfair. A club needs its crowd to cheer on and boost its morale, especially in an away match.

Great clubs nurture their supporters and even expand their fan base outside national borders, not only for marketing purposes and hence financial sustainability, but also to share their values with the world.

In Indonesia, the problem of hooliganism dates back to the 1970s when the premier soccer league, Perserikatan (Union), featured nonprofessional teams representing provincial capitals. Regional sentiment fueled the competition and clashes between fanatical supporters broke out quite often.

Calls have mounted for the Soccer Association of Indonesia (PSSI) to suspend its league indefinitely until the causes of the latest fatality are addressed. The PSSI has also considered punishments for Persib, such as requiring the club to play in an empty stadium or a deduction of points.

Disciplinary measures are essential, but as long as they fail to educate supporters, the chronic hooliganism will persist. Strictly organizing supporters, as both Persija and Persib, as well as other clubs have done, should reduce the risk of hooliganism as all group members are identified.

But the problem is that clubs tend to evoke blind loyalty and solidarity among their supporters rather than instilling values of sportsmanship. This is a sad reflection on soccer, which like other sports, should promote peace, friendship and respect for diversity.
Join the discussions