The added value of creativity
Editorial Board

The Jakarta Post
Jakarta |

Thu, November 8, 2018

| 08:49 am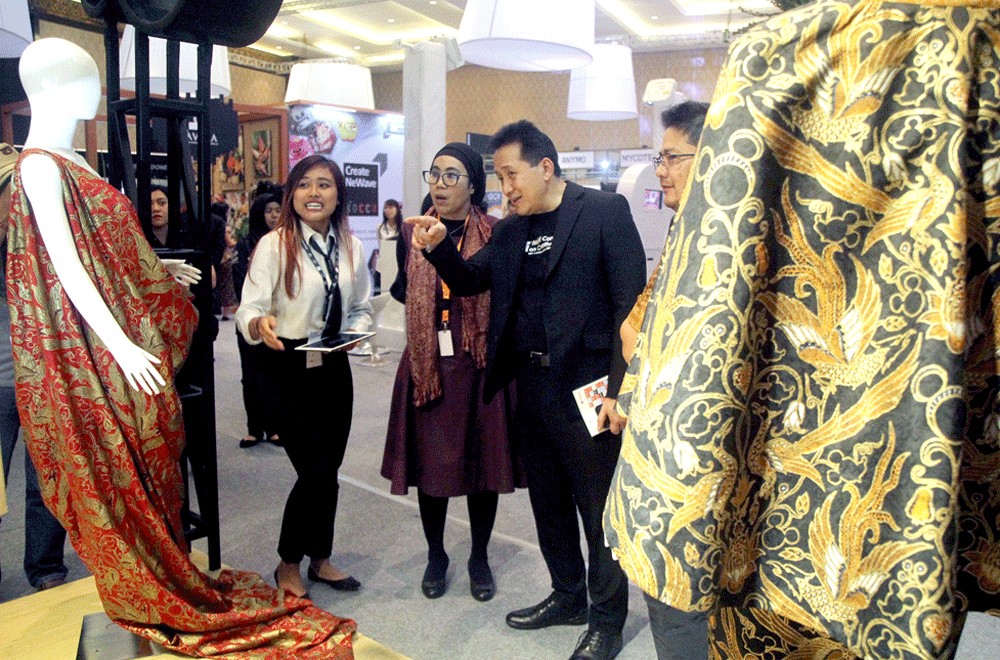 Creative Economy Agency (Bekraf) head Triawan Munaf (third left), accompanied by the deputy head for institutional relations' Endah Wahyu Sulistianti (second left), inspects the Creative Village booth at the World Conference on Creative Economy (WCCE) in Nusa Dua, Bali, on Tuesday. The world's first conference on the creative economy will run from Nov. 6 to 8 with about 2,000 participants from 50 countries. (The Jakarta Post/Zul Trio Anggono)
As the first global forum held to discuss the prospects and challenges of creative industries, the three-day World Conference on Creative Economy (WCCE), which opened in Bali on Tuesday, is strategic because these industries by nature meet all the basic requirements for socially, economically and environmentally sustainable development.

Since the industries classified as part of the creative economy — television, the visual arts, newspapers and magazines, advertising, architecture, books, the performing arts, gaming, fashion, movies, music and radio — all depend on talent and arts- and culture-based activities, they are open to people from all backgrounds.

No wonder then that the main theme of the WCCE, which was initiated by the Creative Economy Agency (Bekraf), is "Inclusively Creative". In contrast to other segments of the business world, which are often surrounded by various kinds of entry barriers, creative industries provide equal opportunities, a level playing field for all peoples of all nations. What makes things more promising is that the internet and other technologies enable talents from all around the world to work together.

It was quite a visionary decision on the part of the government when President Joko "Jokowi" Widodo decided in 2015 to set up Bekraf as the sole government agency in charge of designing and coordinating policies for the development of creative industries because they involve a wide range of cross-sectoral activities related to the generation of knowledge and information with high added value.

We are confident that discussions at the WCCE would be quite productive because the agenda had been well prepared at a preliminary meeting in Bandung, West Java, last December and all stakeholders of the creative industries and representatives of their relevant multilateral regulatory bodies, such as the World Intellectual Property Organization, the United Nations Conference on Trade and Development and the World Trade Organization, are attending the meetings.

Certainly, among the most pressing challenges is how to promote intellectual property ownership and how to monetize that ownership into high value added products.

Concerted efforts to enhance talent growth and development for commercial purposes have become increasingly important. However, we realize that the integration of creative industries into the economic rationale of nations is challenging, especially for those with mixed economies.

As many countries often overlook the potential of creativity in their economies, there is an urgent need for partnership and cooperation among nations for identifying the ways and means of heightening awareness of the strategic importance of creative industries.

Hence, the important role of an international forum like the WCCE. We hope the delegates from 30 countries would be able to formulate a visionary Bali Declaration of policy recommendations related to the issues of social cohesion, regulation, marketing, ecosystems and financing of the creative industry that are discussed at the conference.

The first WCCE can be considered a success if it is able to at least enhance the economic ecosystem to enable the creative economy to serve as a bridge for communications and understanding between countries and cultures.
Topics :
Join the discussions